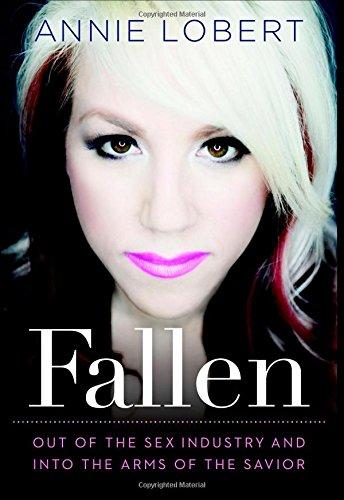 Fallen by Annie Lobert
Published by Worthy Publishing on February 17th 2015
Genres: Christian Life, Religion, Social Issues
Pages: 224
Goodreads

Feeling unloved, used, and abused as a little girl, Annie Lobert struggled to find self-worth. Lured by the almighty dollar, she was drawn toward the seductive whispers and open arms of the sex industry, believing its false promises of security, adoration, value, and love. This is her story of redemption from that life.
WOW! That's what I said when I finished the book. Believe me when I tell you that WOW! describes this book and the story behind it. I received the book, Fallen: Out of The Sex Industry And Into The Arms of The Savior by Annie Lobert as part of my exclusive membership with First Look at Worthy Publishing, and I am so grateful to have had the opportunity to learn Annie's amazing story of redemption and the work she is doing now as a result of her life experiences.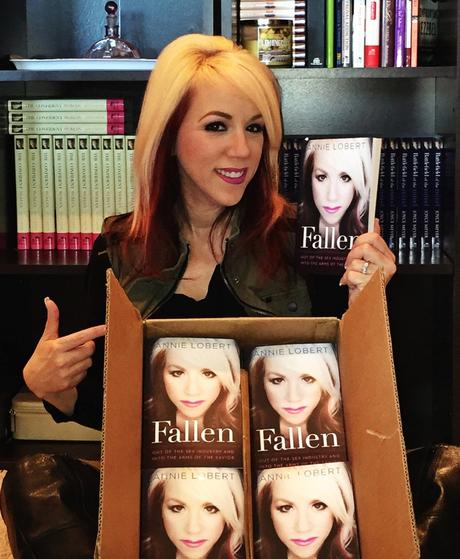 Be warned - this book has a very abrupt beginning that is a bit hard to read. It begins with Annie - whose alter ego, "Fallen" carries her through the tough times - is face down in a pile of animal feces in a yard, having just undergone a horrible, violent beating by her pimp. Once we make it through the beating, readers are led through Annie's life history leading up to this horrific event.
We learn of Annie's early beginnings growing up in a tumultuous home in a small town struggling with the regular issues that young girls experience. Added to the common issues of self worth and feeling unloved, she is sexually abused as a teenager and abused by boys in exchange for the promise of love. Annie gets out of that small town and heads to Hawaii, where she and her friend find it easy to earn thousands of dollars sometimes for as little as taking of their clothes. Annie believes that money will bring her power and power will help her have revenge over men because of the men she felt caused her harm or broke her heart. The lure of money causes her to chase her "dream" and greed consumes her as she heads to California and then ends up in Las Vegas where she became a very sought-after "high-class" escort.
While Annie is in the land of glitter and lights, Las Vegas brings her something entirely different than the fairytale dream she is chasing. It isn't long before Annie's dream of riches and power become darkened by abuse, loneliness, arrests and rapes. She leaves the pimp she believes she loves so dearly in her own very skewed way of thinking, but repeatedly returns to him after his phony promises, only to receive more beatings, more abuse, and more violence. This book shares the details of what I consider to be the unthinkable horrors of the profession. If she stayed and didn't make enough money, she was beat. If she left her pimp, she was beat. Either way, Annie was a prisoner of her captor, her pimp.
Finally, after yet another near death beating, Annie begins her journey toward getting out of the sex trafficking industry of prostitution. After being diagnosed and treated for cancer, Annie finds herself near death from a drug overdose and finally surrenders to the love of Jesus.
While I have never walked in Annie's shoes, I have my own story of God redemption from the terrible life choices I was making. Those who know me really know the depths of my story and know what a walking miracle I am thanks to our Savior. That being said, Annie's story is even MORE powerful than I could ever imagine and it reminds me again how very powerful our Almighty God really is and how much grace he showers over each of us who ask for his safety and love.
Just like me (and many other Christ followers), Annie has been redeemed by God's grace. Annie Lobert's story is yet another example of the fact that no matter how far you have fallen, God loves you and wants to save you from the depths of any pain, trauma, addiction, or abuse, and He wants to give you a new life.
About the Author: Annie Lobert is a survivor of more than a decade of sex trafficking-working as an exotic dancer and a high-class escort prostituted in Hawaii, Minneapolis, and Las Vegas. She is an internationally recognized expert and advocate of ministry to men and women in the commercial sex industry from her personal experience. She and her husband, Oz Foxx, lead guitarist for the rock band Stryper, live in Las Vegas, Nevada. Today Annie Lobert is called to rescue other victims suffering the same pain and traveling the same road of sex trafficking through her organization called Hookers for Jesus.
You can find out more about Worthy Publishing and this book by clicking -> HERE! Watch the video below where Annie shares a bit of her story:
Please make sure to visit my homepage and subscribe to my blog for more great posts on running, fitness and lifestyle topics as well as food, product, music and book reviews, and more!