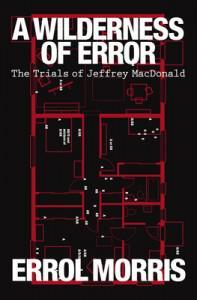 As I mentioned in my 10 Reasons Why Fall Is My Favorite Season post, I have joined the RIP Web Event that is in its 7th year!  My first selection for the challenge is a true crime novel of which two other books (Fatal Vision and The Journalist and the Murderer) and a television movie (Fatal Vision) have been previously created.  I have seen the movie Fatal Vision many years ago and at that time believed in the absolute guilt of Jeffrey MacDonald.
For those unfamiliar with the case, Jeffrey MacDonald was a Green Beret physician with a pregnant wife and 2 daughters, ages 2 and 5.  On February 17th, 1970, MacDonald's wife and 2 children were brutally, ferociously murdered and MacDonald was injured in the "attack."  A Wilderness of Error takes us into the controversy, the trials and subsequent conviction of MacDonald.  We also get an in-depth look at the media created about this case and the controversy surrounding those outlets.
Errol Morris creates a convincing and thorough dissection of the botched investigation and trial.  Over half of the 500+ page novel are actual transcripts, summaries, evidence and timelines that reveal the truly colossal mess this case was and still is – MacDonald has a hearing coming up with the Fourth Circuit Court of Appeals later this year.
This case has fascinated and horrified me ever since I first heard of it.  In one of my psychology courses we had a long discussion about the innocence/guilt and sanity of MacDonald.  What makes someone so brutally and viciously kill another? Collette, the wife and mother, was 4 months pregnant – she was discovered with 24 stab wounds, 2 broken arms, a skull fracture and more knife stabs in her chest and neck.  Kimberley, the 5 year old was found in her own bed clubbed in the head and stabbed in the neck with a knife between eight and ten times.  Kristen was also found in her own bed ~ she had been stabbed with a knife 33 times and stabbed with an ice pick 15 times.  MacDonald's injuries were minor in comparison ~ he had some cuts and bruises on his face and chest, a mild concussion and a stab wound on his chest that partially collapsed a lung.
It is clear that the investigation was biased and sloppy as shown through Morris's research.  It is also clear that the trial was almost a sham.  It is also clear that the 4 hippies MacDonald claimed to have been the attackers were never investigated thoroughly, nor were MacDonald's allegations ever taken seriously.  Think of the mindset of Americans at that time – the Manson murders were all over the news as they had occurred 10 weeks prior to the MacDonald family murders.  The military population were patriotic in a way that we haven't seen in America in years, but the general population had a love/hate relationship with all military personnel and ideals.  Could these 4 hippies in a drug-induced state have killed Collette, her unborn child, Kimberley and Kristen?  That's not such a far-fetched scenario.
Morris lays out the facts of the case for the reader in such a way that we are given the option of believing MacDonald's claims – or not.  Morris is clear in his opinion about the lack of a fair trial, and the facts of the case show MacDonald was not given a fair trial.  It is horrifying to think that MacDonald may have been in prison for a crime he did not commit for over 30 years.  Can you even imagine how that would be?
One thing I noticed throughout the novel is that Morris does not have much contact with MacDonald himself.  As I've thought about it, pondered the reasoning, I've come to the conclusion that it does not matter what MacDonald could or couldn't have said to Morris – it does not matter because the case was botched – a fair trial was not had. Nothing MacDonald said to Morris would change that fact.
A Wilderness of Error brings up several questions for our justice system – is it possible to receive a fair trial? what should be done after the fact when it is revealed a fair trial and investigation were not had?  is it possible to determine, without a shadow of a doubt, after all this time, of MacDonald's guilt or innocence?  A Wilderness of Errors is a truly remarkable dissection of the MacDonald murders that brings up as many questions as it does answers.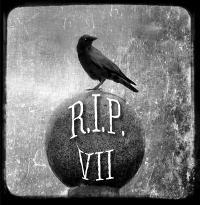 A Wilderness of Error is my first read in the RIP Event.
To find out what other bloggers are saying about A Wilderness of Error please follow the tour below:
Wednesday, September 5th: Psychotic State
Monday, September 10th: It's a Crazy, Beautiful Life
Wednesday, September 12th: Book Journey
Monday, September 17th: Book Hooked Blog
Thursday, September 20th: Life In Review
Monday, September 24th: Man of La Book
Wednesday, September 26th: The House of the Seven Tails
Thursday, September 27th: You've GOTTA Read This!
Friday, September 28th: My Bookshelf
TBD: Ted Lehmann's Bluegrass, Books, and Brainstorms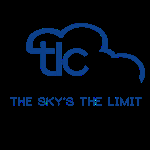 Many thanks to the publisher and TLC Books for the complimentary review copy and including The Novel Life on the tour.