About 3 Heads & a Tail (2012)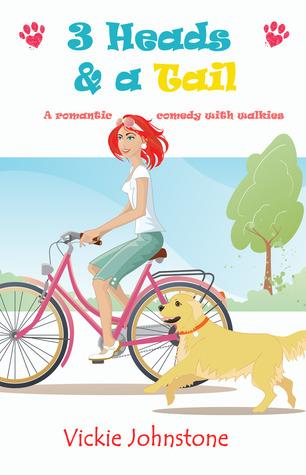 When nature lover Josie moves into a house share with two pals, dreamer Ben and model man David, she sees it as a short stop and doesn't bank on an attraction developing with one of them. Meanwhile, Ben's dog, Glen, has the hots for Miss Posh, the beautiful golden Lab in the park. When dog meets dog it's puppy love, but a complication leads to Glen taking matters into his own paws. In this comedy of errors, romance and walkies, it's anyone's guess who is going to win the girl/dog and live happily ever after.
Review: 3 Heads & a Tail
Ever wondered what our pets are thinking? Vickie Johnstone attempts to get into the mind of a dog, Glen, in this highly amusing comedy romance. The story focuses on Josie who moves into a house with two new friends – Ben and David. It isn't long before we have an awkward love triangle with model David and the more reserved Ben both taking a liking to Josie but which one will she choose? Then there is the small matter of Ben's dog, Glen, who falls in love with Miss Posh, a golden Labrador he sees at the local park. Will love find a way for someone?
Johnstone wrote this book as part of NaNoWriMo and it's a good example of why this annual event is such a worthwhile one for writers.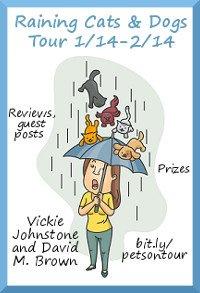 Josie has come out of one relationship and is somewhat lost to begin with. The attentions of both Ben and David are unexpected but they are very different people. David is both a model and a musician who keeps in good shape and thinks he is God's gift to women, while Ben is the nice guy who looks destined to lose out to his house mate. Then there is Glen who has the best moments in the book. Johnstone devotes some sections of the book to Glen's thoughts and these range from incredulity that Josie would consider David over Ben to excitement about the park and, of course, dog treats. Glen also falls in love with a dog at the park and is determined to be with her.
This is a delightful and funny read throughout. David is the guy the readers will love to hate while Ben is the one that we will all want Josie to be with and not just because he owns one very cool dog. Whether she ends up with either house mate or no one at all is not for me to say. The story takes a fascinating turn in its second half with Glen being the star of the show. His thoughts are wonderfully conveyed and you may never look at your dog the same again after reading this.
 3 Heads & a Tail is a warm, funny and entertaining read from start to finish. It has a great bunch of characters, some sharp dialogue and one very special dog tying all the characters together. What more could one ask for?
Verdict: 5/5
(Book source: reviewer received a copy in exchange for a fair and honest review)
Book Review: 3 Heads & a Tail – Vickie Johnstone | Thank you for reading Tweedle Dee and Tweedle Dave