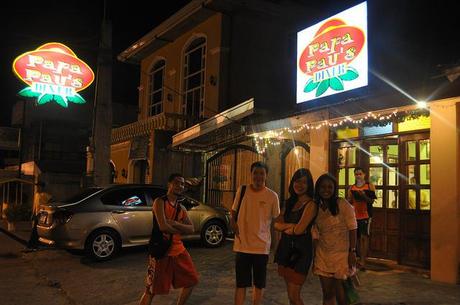 Right after our sand boarding sortie in La Paz wherein we had a mouthful of sand literally speaking we head to our hotel to clean up.  Fresh from cold shower, our tummies rumbled from hunger as we walked the streets of Laoag in search of places to eat.  A few blocks from our hotel we stumble upon the emanating signage of Papa Pau's Diner – which we took as an invitation to our stomach waiting to be filled with glorious food.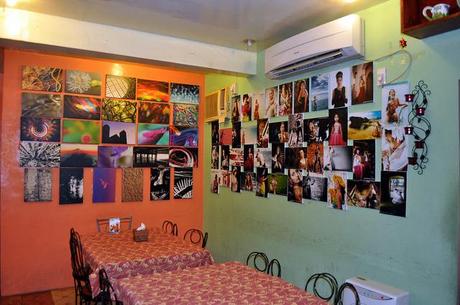 The places wasn't cramped as we seated on long table. We looked at the menu and this is how the conversation goes (pardon as I haven't speak/write in Ilocano for years),
Me: Anya te naimas idtoy? <What's good in here?>Manang:  Diay spare ribs ken sisig. <Spare ribs and Sisig>Me: Awan ti sabali? <Are there any other?>Manang: Try yo daydiay Boodle Feast mabalin ti pito nga tao idyay. <Try our Boodle Feast, it's already good for 7 person>Me: Ah okay. Napardas laeng nga lutuin? <Is it fast to prepare/cook?>Manang: Mga 45 minutes ading. <Around 45 minutes>US: Anooo?!! <Whaaat?!!!>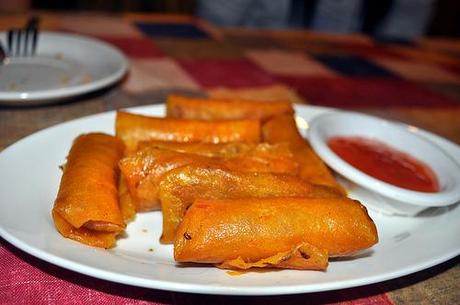 Lumpiang Shanghai
I was the only one who understand/speak in Ilocano in the group but they all replied in chorus.
lol
The reason behind is the preparation for the entire dish in a banana leaf which is  composed of spare ribs, sisig, chopsuey and other meals that  I failed to notice during that time. Since it will take some time before we can eat, we ordered some Lumpiang Shanghai for appetizer.  Good thing my friend brought his IPad, we were able to spend some time playing Scrabble. While waiting for our turn, I was intrigued at the photos on display  on the whole place.  Little did I know that the owner of the place is a bonafide photographer – no wonder stunning shots of landscapes and portraits adorn this diner.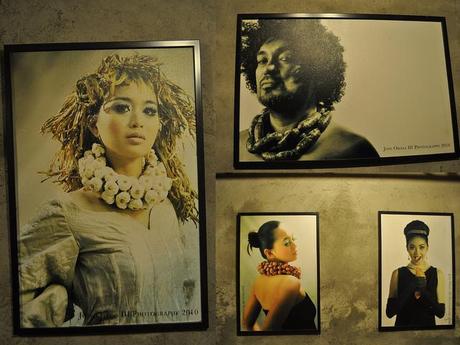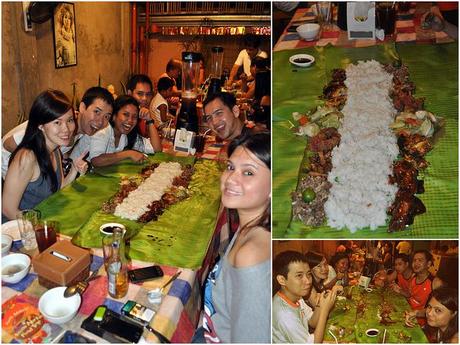 Before and After, 45 minutes to prepare 10 minutes to devour
Upon serving of our much awaited Boodle Feast – it only takes ten minutes before we eventually scraped all the dishes  in banana leaf. After more than a couple of hours of drinking beer and playing Scrabble, it was finally time to go back to our hotel. Besides, it was already 10PM and we were the ones left at the restaurant.
Papa Pau's Diner 
J.P. Rizal St. Cor Don Mauricio Castro St. Laoag City 2900 Philippines
‎
+63 77 771 5185 +63 915 935 5694
(Mobile)