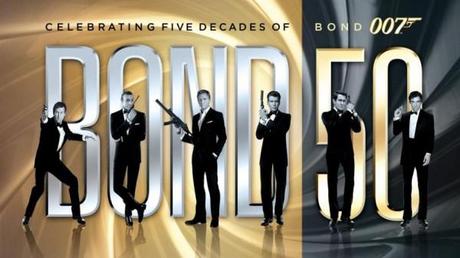 In honor of Bond 50 and Adele's new James Bond theme for Skyfall, I've decided to go through my top 10 favorite James Bond theme songs of all-time.
The theme song for the has always held a special place for me and I'm so glad that they've named the new song after the movie title. There have been countless great artists who have attempted to create the opening for James Bond including; Madonna, Tina Turner, A-ha, Garbage, Duran Duran and of course Sir Paul McCartney. Under each video I will add trivia about the video on what it means to me or basic film facts.
The theme has always been part of the pageantry for the James Bond series and what better way to celebrate Bond's 50 than with a song.
10. The World Is Not Enough – Garbage
Trivia: First Bond film in Dolby Digital EX 6.1 sound.
9. You Know My Name (Casino Royale) – Chris Cornell
Trivia: Originally disappointed it wasn't named after the film. Has really grown on me over the years.
8. Goldfinger – Shirley Bassey
Trivia: First appearance of a laser beam in a movie. In the original script, the scene had a spinning buzzsaw (as in the novel) until it was decided that such an image had become commonplace and unoriginal.
7. For Your Eyes Only – Sheena Easton
Trivia: This was the first Bond film to be based on one of Ian Fleming's short stories (instead of one of his novels).
6. Live and Let Die – Paul McCartney
Trivia: One of the Bond movies I've never seen.
5. The Living Daylights – A-ha
Trivia: Timothy Dalton was originally chosen to play Bond but had to pass on the role because he was committed to film Brenda Starr. When Pierce Brosnan was forced to pull out, the resulting delay in filming allowed Dalton to finish his work on Brenda Starr and take on the new James Bond role.
4. Tomorrow Never Dies – Sheryl Crow
Trivia: First Bond film I ever saw. Although I would play Goldeneye 007 for N64 almost everyday, it took me a long time to finally see Goldeneye.
3. Goldeneye – Tina Turner
Trivia: Although I admit to loving the game, the first watch of Goldeneye left me wanting. I've since rewatched it countless times and would consider it one of my favorites.
2. Nobody Does it Better (The Spy Who Loved Me) – Carly Simon
Trivia: I had never seen the movie before this weekend, but due to the strength of the song, my fiance and I will use it for our first dance at our wedding.
1. A View to a Kill – Duran Duran
Trivia: When I first heard the song I was interested in Duran Duran thanks to Ordinary World. It took me a while to finally find out it was actually a Bond theme song. Too bad the movie is garbage though.
Hope you enjoyed this look at my top 10 favorite Bond theme songs. What are your top five favorites? What do you think about Adele's Skyfall?