I am not referring to the beer. SMB, as might be known by my fellow south peeps, is our most convenient mall, SM Bicutan. My family and I were out for dinner and chose what is now our new favorite restaurant in the area, BonChon Chicken.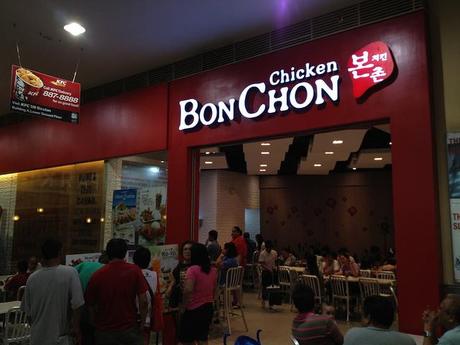 Seems to be everyone's new favorite restaurant too.
BonChon Chicken (or is it Chicken BonChon?) is a fast food franchise that originated from none other than South Korea. This is the real deal, folks. BonChon apparently means "original village" in Korean. Are they also the owners of the original double-fried chicken recipe that has gotten so popular? I wouldn't know, but they might be. Here in the Philippines, at least. After BonChon opened its doors here, it seems like a kazillion and one more restaurants just like it started popping up, including Chicken Charlie, BBQ Chicken (Chicken & Beer) and Smoper in Bonifacio Global City alone.
I like anything spicy or fried and I like chicken, so Korean fried chicken is something I thoroughly enjoy, from pretty much any of those restaurants. Here's how BonChon fared for us.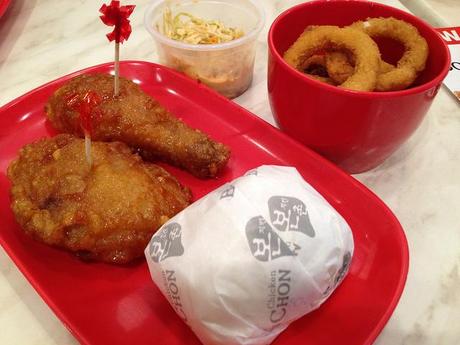 Drumsticks/Thigh Ricebox (2 pieces including drink not in picture), P145.00 and Onion Rings, P60.00
I have no idea why this is called a ricebox, but my dad's order was your standard Korean fried chicken. You can have it in soy garlic or spicy variants. Spicy is always the way to go for me, as I find soy garlic to be utterly boring. You can have thighs or legs or both. My personal preference is always the thigh for more meat and less bone, easier to eat too! A great alternative to the great, but regular fried chicken at KFC. How does this compare to the others of its kind? Well, I haven't tried Chicken Charlie, but I'd say this and Smoper are the best I've had.
The onion rings were not bad. They reminded us a bit of Carl's Jr. onion rings so the little bit of nostalgia was appreciated, too. Here's a closer look at the coleslaw.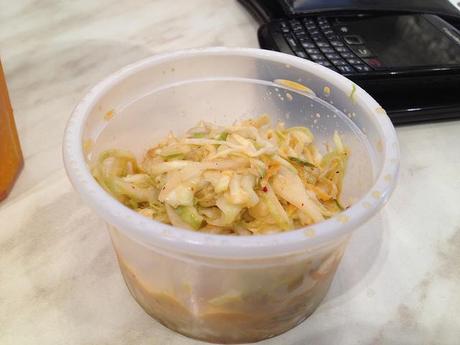 Kimchi Coleslaw, P45.00
This coleslaw tastes
so much
 like KFC's that I suspect they just grab this next door and add some Kimchi before serving. It's fortunate that I really like KFC coleslaw and Kimchi. I do, however, find 45 pesos to be a bit steep for what seems like just one or two full bites of greens.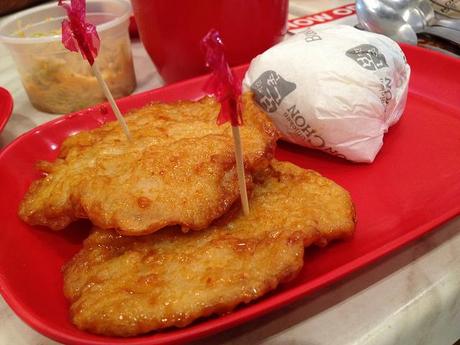 Chops Ricebox (drink not in picture), P145.00
For the same price, my brother Rafa intelligently chose the "ricebox" with less bones. You also get to choose the flavor for these chops. While there is less of a hassle in getting through this meal, I wish the chicken was a little less "chopped". This was about as thin as the Tasty pork chop I recently tried with Alvie. Rafa does prefer it this way, but I would likely choose the regular chicken over this.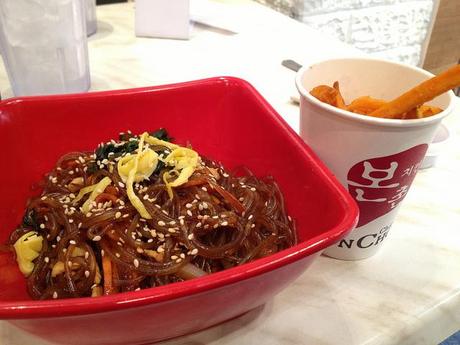 Chapchae, P75.00 and Sweet Potato Fries, P60.00
I was skeptical when my mom ordered the
Chapchae
and said it was good. Once I tried it, well.. let's just say it gave me reason to grant more credence to the phrase "mother knows best". Alvie didn't really believe me either when I told her that it might very well have been the best
chapchae
I have ever had. It was very flavorful and stealing bites off my mom's bowl was chewy fun. I rarely appreciate glass noodles, often stating that bihon and sotanghon are among the worst kinds of pancit for me, but this is one glaring exception. Very worth the 75 peso price tag, too!
The Sweet Potato Fries were nice and soft, and not as cardboardy as Max's. Good, but a bit pricey at 60 pesos.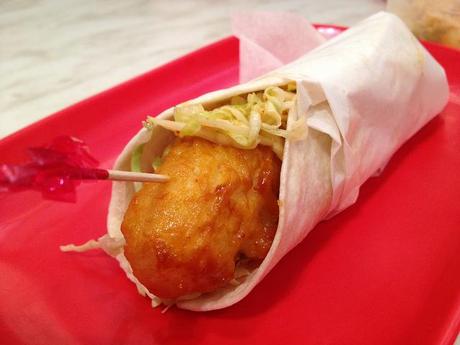 Fish Taco, P75.00
This girly little snack was my order since I wanted something light that night. The wrap was good. The fish tasted a lot like the chicken, after all. I ordered the spicy version, of course. There was a good amount of fish and vegetables, but it's hardly anything more than just a snack.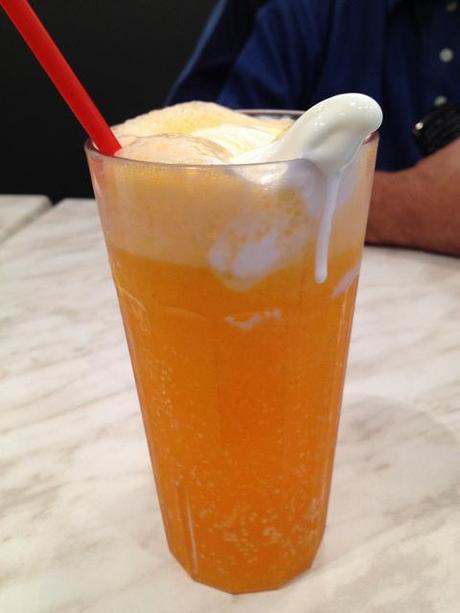 Ko-Yo Float (large), P75.00
I was just about done ordering when I noticed.. a soda float with yogurt in place of ice cream? So much for your light meal, Joaquin. Better luck next time! You can have this intriguing drink with any soda, but I opted for the safer orange soda (who loves orange soda?). Somehow, rootbeer and yogurt didn't sound particularly delicious in my head. I really liked the combination of my float. Fruity, tarty, and sweet. I really can't imagine what it would have tasted had I ordered rootbeer. I guess I'll have to try that someday!
Verdict:
Drumsticks/Thigh Ricebox: Good
Onion Rings: Good (points for nostalgia)
Kimchi Coleslaw: Okay
Chops Ricebox: Good
Chapchae: Great
Sweet Potato Fries: Okay
Fish Taco: Good
Ko-Yo Float: Good
A nice family dinner at BonChon and I look forward to more in the future (might not have been enough to sate our hunger cause we jumped to Razon's for some Halo-halo dessert right after). Thank you for being very conveniently located at SMB! Now, if only Taco Bell moved in too...
Love BonChon? Hate it? Let me know by commenting below, or just
tweet
me!

BONCHON CHICKEN
2nd Flr, SM City Bicutan (Bldg A)
Doña Soledad Ave., Parañaque City,
Facebook: Bonchon Chicken Philippines
Website: http://www.bonchon.com.ph/
View Larger Map