When I was in treatment
We had a body image class every week
One week we had to wear leggings and a tight top
We had to look in the huge mirror (That was kept behind a curtain)
And determine which body shape were
From these shapes here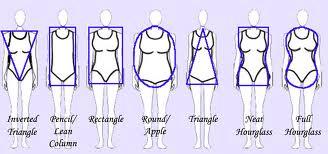 I found it quite easy to recognize others shape
But when it came to my own
I couldn't figure out which one I was
If I remember correctly I thought I might have been an apple shape
But I was told that I was a neat hourglass
I went swimming this morning
And as I caught sight of my reflection
I could see that yes, I actually do have a neat hourglass
I have boobs
I have hips
And I am quite curvy
So am I happy with this body shape?
Well.....
I guess it's not too shabby
Not too shabby at all
Which body shape are you?
Do you find it easy/hard to identify which shape you are?