Today I have a very very healthy n yummy dessert like breakfast for you all.As I said in my previous post,I have been getting requests for easy breakfast recipes,also recipes to deal with fussy toddlers.Toddlers prefer finger food and if we ensure they get their nutrients properly from what they enjoy,then it is surely a win-win combo for us.Muffins fall under toddlers favorite finger food,and this blue berry-raisin-walnut muffin made of whole wheat is very health too,and practically whipped up in 10 minutes.Just prepare the batter,pour n place in the oven,forget it :). Though I am typical idly/dosa person,such sweet delights once in a while for breakfast is of course a welcome change .Try out n let me know :)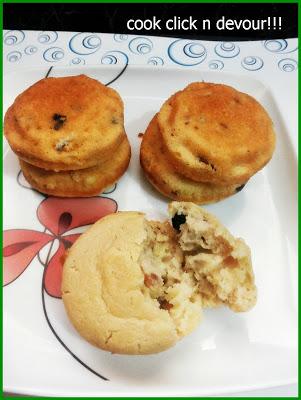 Blue berry-raisins-waltnuts muffins
Star ingredients:Dried blue berries,raisins and walnuts
Time:10+15 minutes
Yield:14 mufins
Ingredients:
3/4 cup whole wheat flour
1/4 cup all purpose flour
50 grams molten butter
1 cup curd
1/3 cup sugar
1/2 cup milk
A pinch of salt
Handful dried blue berries,raisins
2 tablespoon broken walnuts
Method:
1.Mix sugar and butter in a bowl and beat well until it is light and creamy.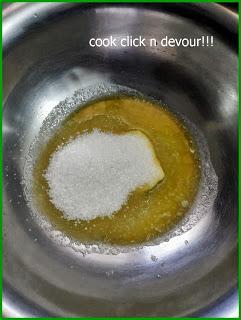 2.Add curd,milk and mix well,whisk for few minutes.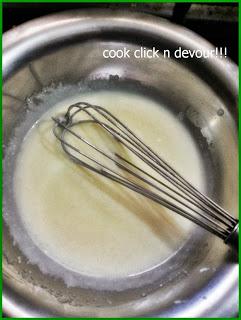 3.Sift whaet flour,maida,baking powder and salt to the wet ingredients and mix well.Start whisking,whisk for 5-7 minutes.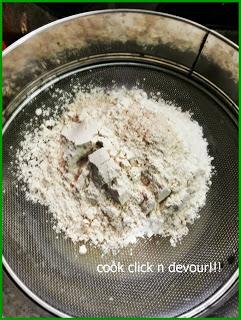 4.Fold in the dried blue berried,raisins and walnuts.Mix well gently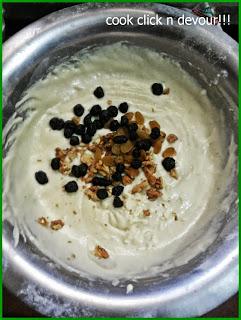 5.Preheat oven at 190C for ten minutes.Prepare a muffin tin by greasing and dusting.
6.Pour the batter up to 3/4th level in each hole and bake for 15 minutes.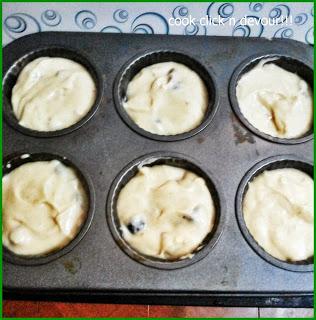 7.Cool on a wire rack and serve warm.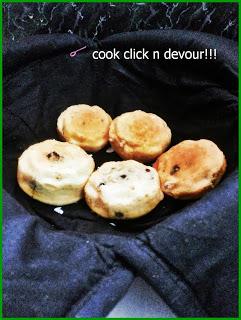 Notes:
1.This is easily the softest muffin I have ever made.Along with butter n curd,the oil from walnuts and moisture from blue berries makes this muffin incredibly soft.
2.You can skip maida and use 1 full cup of wheat flour too.
3.You can add any flavoring like vanilla,cinnamon