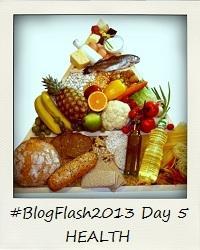 Naughty as I am I skipped yesterday's post but I had a good reason: I wanted to catch up on reading everyone's Day 1-4 entries. I haven't done my commenting yet (SORRY!) but I'm totally gaga over all the incredible posts I read. This is why I love #BlogFlash!
Today, I was just about to do my piece for Health when I read Terri Giuliano Long's entry on Mental Health and how stigmatized mental health illnesses still are. I pretty much did my #BlogFlash post in the comments so I decided to post it here with a link back to Terri's site because this short but beautiful and poignant post is well worth reading.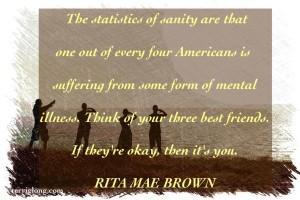 Amazing post. We have to move away from the idea that people can 'snap out of it' where illnesses such as depression are concerned. Appreciate the fact that that person is fighting every day and facing misunderstandings, prejudice and the constant accusation of "it's all in your head" alongside self-hatred, exhaustion, loneliness. Mental illness is life-threatening. It doesn't have to be so destructive but when there is such a stigma about talking about it – particularly admitting suicidal thoughts – people are going to suffer in silence until they can't anymore.
Oops – I think I just #BlogFlashed with my comment!
Thank you so much for posting this though. It's incredibly important.
Related articles (external)
#Blogflash2013: Day Five – Mental Health

Blog For Mental Health 2013

My Year of Mental Health

26,000 sign kids' mental-health petition

The Sequester: A Mental-Health Crisis

#BlogFlash2013: Day Five – Health | Thank you for reading Tweedle Dee and Tweedle Dave