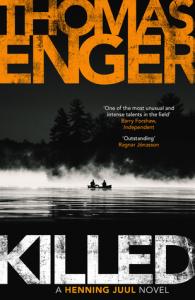 What's it all about?:
Henning Juul sits in a boat on a dark lake. A man with a gun sits opposite him. At the man's feet is a body that will be soon be dumped into the water. Henning knows that the same fate awaits him. And he knows that it's his own fault. Who started the fire that killed Henning's young son? How is his sister, Trine, involved? Most importantly, who can be trusted? Packed with tension and unexpected twists, Killed is the long-waited finale of the internationally renowned series featuring conflicted, disillusioned but always dogged crime reporter Henning Juul, and one of the most chilling, dark and moving crime thrillers you may ever read.
What did I think?:
Thank you so much to Anne Cater, Karen Sullivan and all at Orenda Books for inviting me to be a part of this blog tour. When Anne contacted me via email to ask if I was interested, all I needed to do was read that synopsis, notice it was Scandinavian crime fiction and I literally jumped at the chance. Then I found out it was the fifth and final book in the Henning Juul series and I have to admit, I was a little worried. I get strangely anxious about wanting to read things in order, however I've relaxed the reins slightly in recent times and have read a few books "out of order," where it hasn't mattered a jot and I was crossing my fingers that Killed would be exactly the same. Well, let me assure you there is no doubt that it can absolutely be read as a stand-alone and, better still, provided at the beginning of the novel is such a handy little character list that it was very simple to keep track of who was who in the grand scheme of things.
So our main character in the series is Henning Juul, an investigative crime journalist who has recently lost his small son, in a horrific fire at his flat. As the story begins, he is desperately trying to piece together what happened to his son and more importantly, who was involved. He finds out quite quickly into the narrative that his sister Trine was on the scene just before the accident occurred but why? Furthermore, there are hardened criminals both at home in Norway and abroad that are determined to keep their wave of crimes silent and therefore, anyone who stands in their way or gets a bit too close to the truth has to be dealt with as quickly and as quietly as possible. Henning finds himself in a very real race for his life to uncover the mastermind behind a string of suspicious deaths so that he can finally put old ghosts to rest. He just has to be careful he doesn't become a ghost himself in the process.
I mentioned before that I enjoy Scandinavian crime fiction and Killed is up there with some of the most gripping thrillers I've had the pleasure to read from that beautiful area of the world. I love the darkness, the brooding characters and even Norway almost becomes a character in itself with the picture perfect surroundings and the often freezing conditions. The dark and the cold is just a fantastic setting for any crime fiction and Killed chilled my heart at times with the beauty and brutality of our setting. Of course, this is my first introduction to Henning Juul as a character but I'm already inclined to believe myself a little bit in love with him already. I love the dedication he shows to his work, the memory of his son and his sheer stubbornness in never giving up, even with a couple of bullets in his body! I can't speak for the rest of the books in the series but I thought the ending was pretty much a perfect way to round everything up (although he did give me a little heart attack when I thought he was taking the story a whole different way!). My only concern with the Henning Juul books, and it's a purely personal one, is that I feel I've missed too much of Henning's back story and I only wish I had made time to read the previous four books before starting this one. However, that just means I've still got four more to enjoy now I feel I know the character so very well!
Would I recommend it?:
But of course!
Star rating (out of 5):

AUTHOR INFORMATION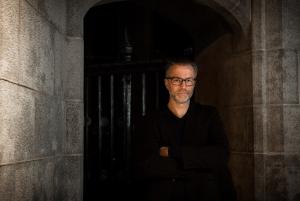 Granite Noir fest 2017. Thomas Enger.
Thomas Enger (b. 1973) is a former journalist. He made his debut with the
crime novel Burned (Skinndød) in 2010, which became an international
sensation before publication. Burned is the first in a series of 5 books about
the journalist Henning Juul, which delves into the depths of Oslo's underbelly,
skewering the corridors of dirty politics and nailing the fast-moving world of
24-hour news. Rights to the series have been sold to 26 countries to date. In
2013 Enger published his first book for young adults, a dark fantasy thriller
called The Evil Legacy, for which he won the U-prize (best book Young
Adult). Enger also composes music, and he lives in Oslo.
Find Thomas on Goodreads at: https://www.goodreads.com/author/show/4471063.Thomas_Enger
on his website at: http://www.thomasenger.net
on Twitter at: @EngerThomas
Thank you once again to Anne Cater, Karen Sullivan and Orenda Books  for inviting me to take part in this blog tour, I've had a wonderful time doing it. Killed was published on the 28th February 2018 and is available from all good bookshops now. If you want some more fantastic reviews don't forget to check out my fellow bloggers stops for some more fantastic reviews!
Link to book on Goodreads: https://www.goodreads.com/book/show/35960953-killed?ac=1&from_search=true
Amazon UK link: https://www.amazon.co.uk/Killed-Henning-Novel-Thomas-Enger/dp/1910633992/ref=sr_1_1?ie=UTF8&qid=1519580458&sr=8-1&keywords=killed+thomas+enger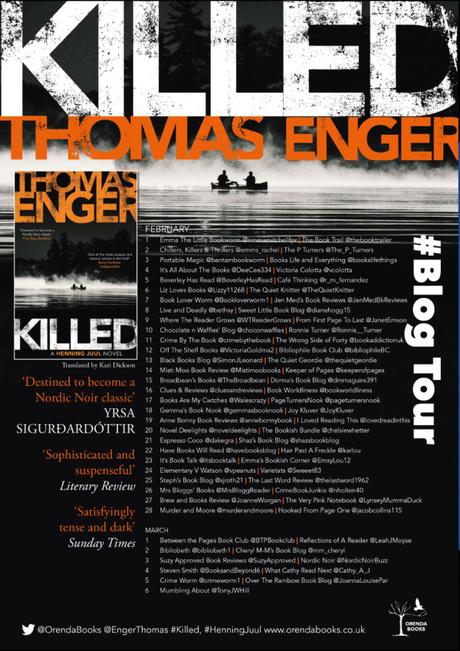 Advertisements
&b; &b;