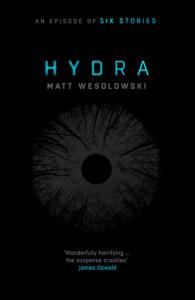 What's it all about?:
One cold November night in 2014, in a small town in the north west of England, 26-year-old Arla Macleod bludgeoned her mother, father and younger sister to death with a hammer, in an unprovoked attack known as the "Macleod Massacre." Now incarcerated at a medium-security mental-health institution, Arla will speak to no one but Scott King, an investigative journalist, whose Six Stories podcasts have become an internet sensation. King finds himself immersed in an increasingly complex case, interviewing five witnesses and Arla herself, as he questions whether Arla's responsibility for the massacre was a diminished as her legal team made out. As he unpicks the stories, he finds himself thrust into a world of deadly forbidden "games," online trolls, and the mysterious Black-eyed Children, whose presence extends far beyond the delusions of a murderess.
What did I think?:
How can I even start writing about a book that knocked me for six? I'm not even sure if any of these ramblings (ok, gushings) about the second book in Matt Wesolowski's Six Stories series will make any sense but I'll try my very best to be somewhat coherent and make you all want to read the book if you haven't done so already. Hydra is the second book in the author's series and if you haven't read my Six Stories review yet, it's structured like a true crime podcast where the host, Scott King, takes a troubling criminal case from the past and interviews six people involved with the victim/perpetrator to get a better idea of what happened. To be perfectly honest, I began Hydra doubting the author could pull off another novel that lived up to the dizzying heights of the first but he completely proved me wrong. This story was even more thrilling, delightfully eerie and as beautifully accomplished as Six Stories. I now consider myself a confirmed fan for sure.
In this new case, Scott is investigating the strange case of the "Macleod Massacre" and at the start of the novel, we are fully aware of our perpetrator, Arla Macleod who beat her younger sister, mother and stepfather to death with a hammer. She was convicted of murder under diminished responsibility due to a fragile mental state and is ensconced in a maximum security institution for other criminals with mental health issues. Scott is the only person who manages to get an interview with her to explain her side of the story and he also talks to other people close to Arla, either friends she went to school with or people that became close to her and could shed some light on the daily mental torments she began to suffer.
As the reader, we already know what happened in this case, unlike Six Stories but the fascinating thing about Hydra is that the author meticulously unpicks the reasons why the murders may have been committed. I'm not going to give any clues or spoilers myself except to say that there's a lot more to this case than meets the eye and a multitude of surprises lurking beneath the surface. It really gives a wonderful insight into the delicate nature of the human mind, how impressionable teenagers can be, the importance of a solid family life and good friendships and the potential dangers of the Internet. Like Six Stories, this book also has an otherworldly, slightly paranormal feel based on urban legends and supernatural games that really reminded me of when I was a teenager myself at boarding school in Scotland. My friends and I used to terrify each other with the Bloody Mary game in our bathroom and more frighteningly, the ouija board and sometimes, I think it's sort of a rite of passage children have to go through i.e. pushing the boundaries of what frightens them.
The scariest part for me about this novel was the inclusion of some very disturbing "black-eyed children," that are written so hauntingly, you really want to look over your shoulder just to make sure they aren't standing behind you or, more aptly, knocking on your door, begging to be let in. I totally believe after reading these uneasy and occasionally startling passages, if Scott Wesolowski wants to forge a career in the horror genre, he's more than qualified. The best bit about this blog tour has to have been the amazing reviews that I've seen from my fellow bloggers. Their feelings and interpretations of Hydra were nothing short of stellar and only served to make me more excited before I read this extraordinary book. So yes, Scott Wesolowski, you have a new super fan and I will be reading everything you write!
AUTHOR INFORMATION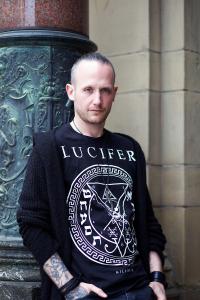 Matt Wesolowski is an author from Newcastle-Upon-Tyne in the UK.
He is an English tutor and leads Cuckoo Young Writers creative
writing workshops for young people in association with New Writing
North. Matt started his writing career in horror and his short horror
fiction has been published in Ethereal Tales magazine, Midnight
Movie Creature Feature anthology, 22 More Quick Shivers
anthology and many more. His debut novella The Black Land, a
horror set on the Northumberland coast, was published in. Matt was
a winner of the Pitch Perfect competition at Bloody Scotland Crime
Writing Festival in 2015. His debut thriller Six Stories was an Amazon
bestseller in the USA, Canada, UK and Australia.
Find Matt on Goodreads at: https://www.goodreads.com/author/show/5303620.Matt_Wesolowski
on Twitter at: @ConcreteKraken
Thank you once again to Anne Cater, Karen Sullivan and Orenda Books for inviting me to take part in this blog tour, I've had a wonderful time doing it. Hydra by Matt Wesolowski was published on the 15th January 2018 and is available from all good bookshops now.The blog tour is running from 2nd January until the 7th February so don't forget to check out my fellow bloggers stops for some more fantastic reviews!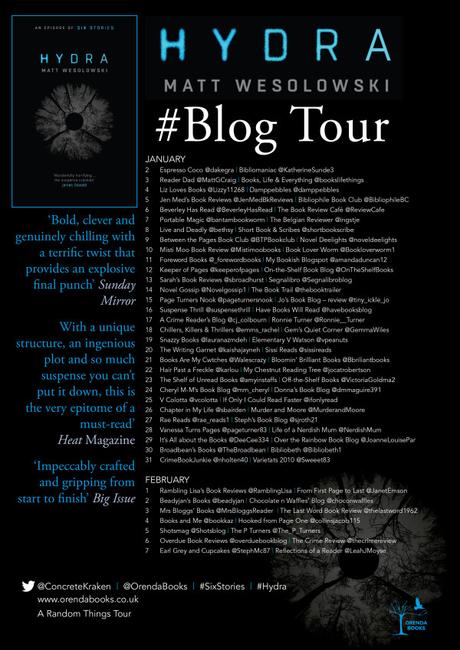 Hydra by Matt Wesolowski is the ninth book in my quest to conquer Mount Everest in the Mount TBR Challenge 2018!
Advertisements
&b; &b;