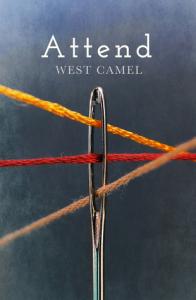 What's it all about?:
When Sam falls in love with Deptford thug Derek, and Anne's best friend Kathleen takes her own life, they discover they are linked not just by a world of drugs and revenge; they also share the friendship of the uncanny and enigmatic Deborah. Seamstress, sailor, storyteller and self-proclaimed centenarian immortal, Deborah slowly reveals to Anne and Sam her improbable, fantastical life, a history of hidden Deptford and ultimately the solution to their crises.
What did I think?:
First of all, thank you so much to Anne Cater for inviting me to take part in this blog tour and to Karen Sullivan from Orenda Books for the complimentary digital copy in exchange for an honest review. I have to admit, when Anne first emailed me about this book I was immediately entranced by that simplistic yet stunning front cover. It really draws the eye (and perhaps also threads the eye?!) and is a perfect example of how beautiful cover art can entice a reader to want to know more about the story. Luckily it had a fantastic synopsis too – I mean, "self-proclaimed centenarian immortal?" I simply HAD to read this book when that line jumped out at me! Please pardon the pun but this is a beautifully woven story that I thoroughly enjoyed. It has its darker moments, which to be honest, I'm always a fan of but there were softer, more gentle periods too that I really appreciated.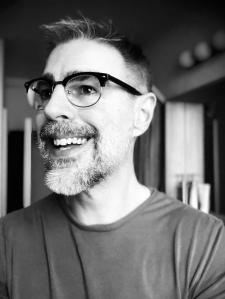 West Camel, author of Attend.
This is the story primarily of three people. Anne is a former heroin addict, mother to Julie and grandmother to Tom. She has been away from her family for some time while she recovers from her addiction and is determined not to see any of them until she can ensure she won't succumb to her demons and let them down again. As a result, she hasn't even met her grandson and at the time the novel is set, she is slowly trying to integrate herself back into their lives whilst attempting to fight her own personal battles. Sam is a young gay man who has also had some hardships in his life and eases his loneliness by going out a lot, desperate to find someone who will finally "see" and appreciate him. Our final protagonist is Deborah, an older lady with a plethora of stories to tell, primarily how she has become immortal through working on a small piece of sewing. All three characters are drawn together by seminal events that occur in their lives and by finding each other, there is an opportunity for each one to eventually find happiness and contentment.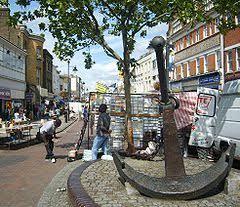 Deptford, South-East London, England where Attend is set.
The more I think about this novel, the more I realize what the author might have been trying to say and how moving the narrative is in general. We have three characters, all three are intriguing, have a story to tell, have had difficulties in their lives in the past and present and crucially, all of them are struggling with being seen by other people. I think my favorite part of the narrative had to be Deborah's story, particularly when she told parts of her past that were incredibly heart-breaking. There's a particular moment during the war when she is trapped in a shelter that was so moving and written so beautifully I couldn't put the book down until I had finished that specific chapter. Additionally, I loved how all the characters find that inner strength they eagerly desire from each other and they emerge more resilient by the end.
Finally, I really appreciated that you can't really categorise this novel. It's such a heady mixture of contemporary fiction with a dashing of historical and crime elements and a sprinkling of magical realism. I feel like the more fantastical, whimsical parts of the story worked very well as a whole and it never strayed into the realms of unbelievable. From that beautiful front cover, to an equally beautiful story within the pages, Attend is an imaginative piece of work that will touch your heart and potentially make you believe in magic all over again.
Would I recommend it?:
But of course!
Star rating (out of 5):

AUTHOR INFORMATION
Born and bred in south London – and not the Somerset village
with which he shares a name – West Camel worked as an editor in
higher education and business before turning his attention to the
arts and publishing. He has worked as a book and arts journalist,
and was editor at Dalkey Archive Press, where he edited the Best
European Fiction 2015 anthology, before moving to new press
Orenda Books just after its launch. He currently combines his
work as editor at Orenda Books with writing and editing a wide
range of material for various arts organisations, including ghostwriting
a New-Adult novel and editing The Riveter magazine for the
European Literature Network. He has also written several short
scripts, which have been produced in London's fringe theatres,
A highly anticipated debut, blending the magical realism of Angela Carter
and the gritty authenticity of Eastenders
and was longlisted for the Old Vic's 12 playwrights project. Attend is his first novel.
Find West on Goodreads at: https://www.goodreads.com/author/show/8283285.West_Camel
or on Twitter at: @west_camel
Thank you so much once again to Anne Cater, Karen Sullivan and Orenda Books for inviting me to take part in this blog tour, I've had a wonderful time doing it. Attend will be published on 13th December 2018 and will be available as a paperback and a digital e-book. If you fancy more information don't forget to check out the rest of the stops on this blog tour for some amazing reviews!
Link to book on Goodreads: https://www.goodreads.com/book/show/41967084-attend
Link to book on Amazon UK: https://www.amazon.co.uk/Attend-West-Camel/dp/1912374390/ref=sr_1_1?ie=UTF8&qid=1544092398&sr=8-1&keywords=attend+west+camel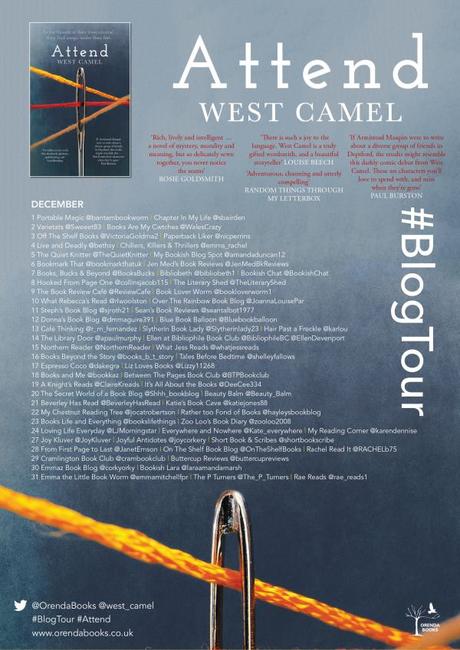 Advertisements