I LOVE my Earth Runners. Not just for wearing around town, or to walk in (I am not a runner these days, but I do walk trails in them). I love how super-comfortable they are; I feel good about wearing this health promoting, truly sensible footwear.
I'm one of those early adopters of grounding principles, and an enthusiast of barefoot 'earthing', as you can tell in this blog. I predict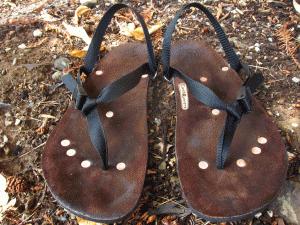 grounding footwear and gear will continue to grow in popularity as people learn more and apply grounding strategies to their everyday lives.
But, I confess – I've rarely worn them to work. You see, as a bodyworker I often lug equipment – massage table, lotions, oils, sheets, heating pad, blankets, receipt books, portable music system, water bottle, snacks, etc…at times I'm rushing out the door with armfuls of gear.
Heading out to work, though I look with longing at my Earth Runners sitting by the front door — if I'm in a hurry, I admit I may forsake my Quantums for thong style shoes; if running late I don't even have an extra minute to empty my arms and sit down to put them on.  At one spa I work Thai style barefoot techniques, so my shoes are off and on several times a day.
My ideal shoes would be grounded footwear with the convenience of slip-ons.
Then, like magic, Mike comes up with this clever super simple SLIP-ON LACING system – the answer to my dilemma!
Since I've reconfigured my laces, my sandals are even more user-friendly…
I've set up my Quantums as slip-ons for days at work — it takes about 10 seconds to put them on and I'm out the door.  My life's just gotten easier; I'm able to get where I'm going with more grace, less stress.
And to go walking, it's just 5 minutes to change the lacing back to its traditional signature lacing style (well, actually – I have 2 pairs of Earth Runners and now I may keep one pair as slip-ons permanently).
So even if you're not a minimalist runner, or you don't hit the trails walking either – these sandals work great for your everyday life.  You'll love the slip-on versatility of your Earth Runners.