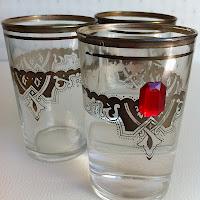 It's no secret that in your crockery cupboard you have many beautiful things.  You may be so used to looking in there that you've forgotten how good your cupboards are.  Go back and really look.  Take out those glasses with the faded gilding.   Reconsider the beauty of an old white plate with its lacy surrounds.  Don't fret that there's an odd number of glasses left of a once-grand set of six.  Why leave pretty ivy-covered cups hidden in the dark until the next time Santa comes calling.  Pull them all out.  Dress them up.  Use them.
If you can't think of an easy way to turn sad into spectacular; add a gem sticker.
You read right.  Nothing ore, nothing less.  Simply stick a gem on it; because bling makes everything better.
Now that you've glammed them up;
turn the glasses into a vase
 and pop in a flower, real or fabric.  Turn an old platter into a picture frame or a birthday display (such as Lotti's 3rd ballet birthday).  Team up an old cup and a mismatched cup for a
quirky centerpiece
.  Experiment with one of those interesting pinterest ideas, and make a mug into a candle... the possibilities are endless... so go on... go explore your crockery cupboard and go get crafty!