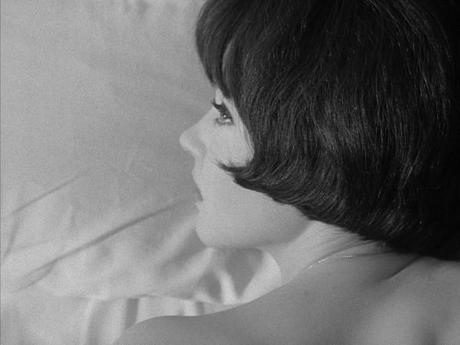 Director Jean-Luc Godard made a statement with Vivre sa Vie. Filmed during the height of the French New Wave period, Vivre sa Vie spits on convention and examines the life of a woman who turns to prostitution for a living. Raw, emotional and brief, Vivre sa Vie continues to show its uniqueness even in this day and age.
Anna Karina plays Nana Kleinfrankenheim, an optimistic sprite who wishes for nothing else but to make it in show business. She understands it will all be determined by who she knows and in some cases who she sleeps with. Her job at the local record store isn't enough to support her dream of stardom, so she turns to prostitution.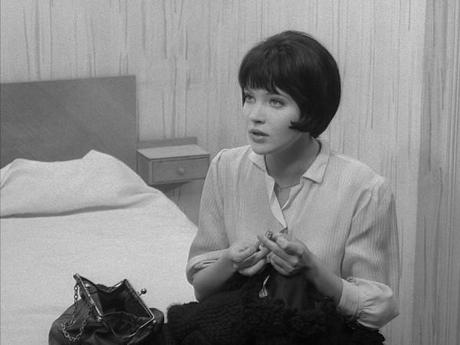 While the story follows conventions that have been seen countless times before, it was the direction and manner that Vivre sa Vie was filmed that is inspiring. Godard spends the entire length of the opening credits familiarizing audiences with Anna's face. He does this so that when he shows the next scene he films her from the back of her head and the memory of what she looks like still exists. It's only the beginning of a number of brave sequences Godard attempts during the film. Speaking of sequences, Vivre sa Vie is actually composed of twelve scenes which are basically unconnected episodes, each presented with an introduction to the events about to unfold. There's no mention about changes of time or how threads are tied together, but it still works as a cohesive piece.
Another important aspect to notice about the direction of Vivre sa Vie is the musical interlude. The influences of this idea are far and wide (In The Mood For Love used a similar technique), Godard plays a small sample of music at different points of the film. That is the summation of the entire score, but it works so well. It could almost be considered a character itself. Speaking about characters, Anna Karina fully commits herself to the vision Godard has in mind. One of the memorable sequences in the film, Nana is dancing around a pool parlor. If for no other reason but to entertain herself, it says a lot about the character and her carefree attitude at the time.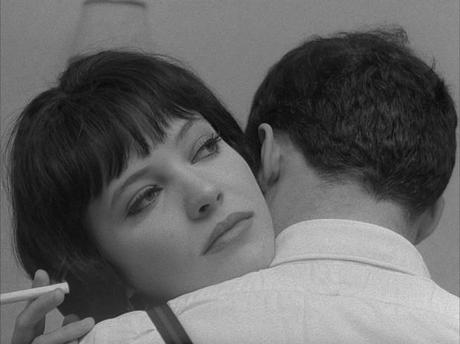 Vivre sa Vie exemplifies the spirit of the French New Wave period. It was heavily inspired by the Cinéma vérité style of film-making and Godard tries his best to constantly alienate the audience by including bizarre jump-cuts, sequences of talking filmed form behind the players, and uncharacteristic sequencing of his film. Vivre sa Vie is unique as it is abrupt, its more about the style than the substance.