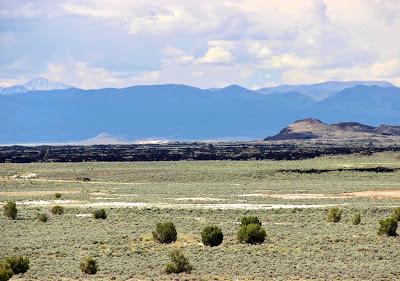 This post is a "finale" in two ways: it's the final post in a series about the Black Rock Desert volcanic field (1), and it features the final act of a six-million-year performance …
maybe
. While it's true that no smoke, tremors or unusual animal behaviors have been reported in recent centuries, the field's youthfulness, geothermal features and weird rocks all suggest it hasn't yet played its finale. If that's the case, what comes next?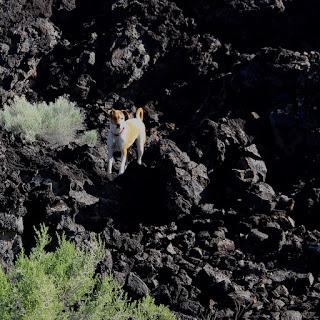 My field assistant exhibited no unusual behavior (for her).
The BRD volcanic field covers almost 2700 sq mi in west-central Utah (2). Eruptions started about six million years ago, but most took place during the last 2.7 million years. Activity was bimodal, ranging from violent eruptions of viscous rhyolite to quietly oozing basalt.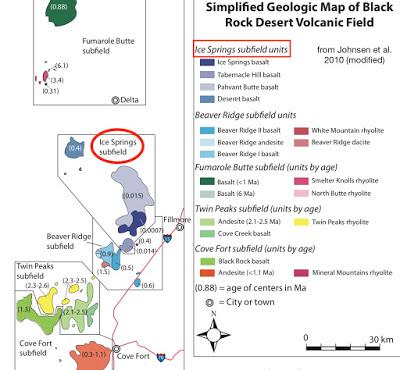 BRD subfields of Johnsen et al. (2010); Ice Springs, the youngest, marked with red.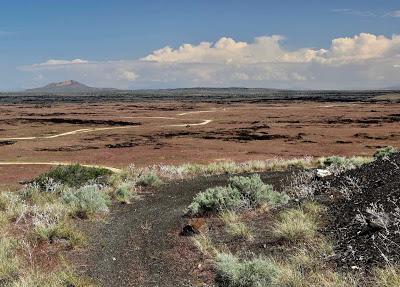 Of the BRD subfields, the Ice Springs is the youngest, with basalt lava flows and cinder cones dating from the last 100,000 years. Three of the most recent eruptions are visible in the photo above, looking north from the lower slope of Tabernacle Hill. On the horizon is 19 Ka (19 thousand years old) Pahvant Butte. The area traversed by the road (and covered in cheatgrass) is a basalt flow from the ~17 Ka Tabernacle volcano. The darker rocks beyond are the 0.7 Ka Ice Springs flow; just 700 years old, it's said to be the youngest rock in Utah.
Pahvant Butte
Pahvant volcanic activity spanned about 6000 years, with three episodes (Johnsen et al. 2010). It started with basalt lava flows, now covered in sediment that accumulated on the bottom of Ice Age Lake Bonneville. Thus they must have erupted prior to lake formation 24,500 years ago. In the second episode, more pre-Bonneville basalt flows partially covered the older ones. Then about 19,000 years ago, things got really interesting. Underwater eruptions marked the birth of Pahvant Butte. It grew to be a volcanic island in Lake Bonneville, contributing widespread ash to lake sediments.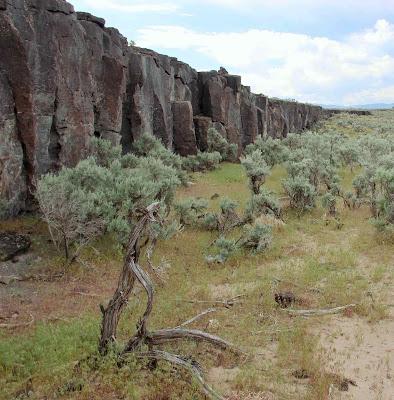 Fault scarp in Pahvant II basalt flow; southeast of Pahvant Butte at the Devils Kitchen.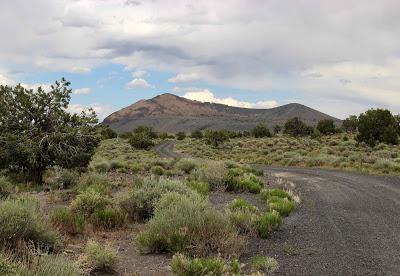 I visited Pahvant Butte last year, but because of a hamstring injury, could only hobble around the base. Even so, there was plenty to see, including relic terraces of Lake Bonneville, a "Lace Curtain" of volcanic rock, and puzzling patterns of weathering and erosion on the upper part of the cone. This year, I hiked to the crest to examine the differential weathering.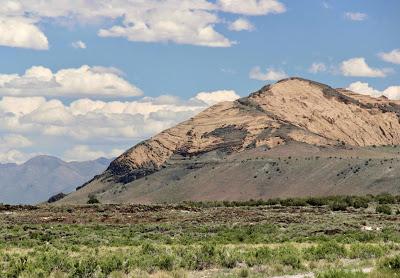 Differential weathering of tuff, above relic Bonneville terrace.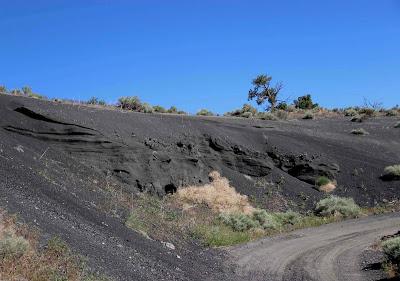 Nice stroll up drainage bottom, through volcanic ash and lapilli.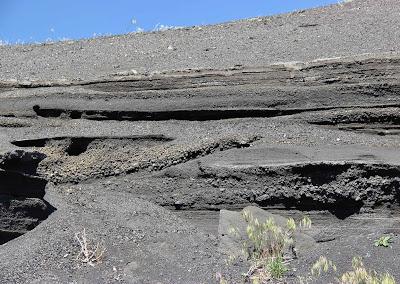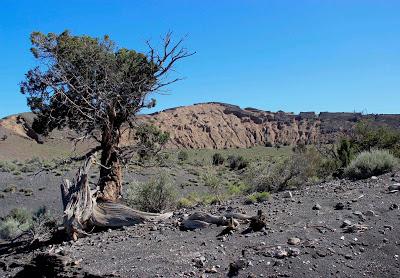 View of crater rim from top of terrace.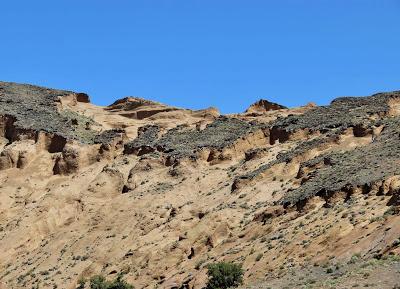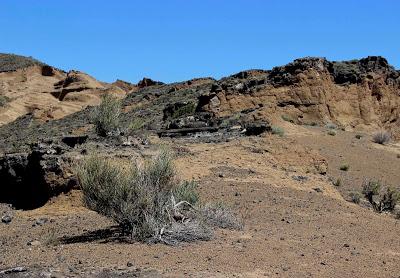 As for the differential weathering—I didn't reach a firm conclusion. Maybe the tuff simply weathers to form a protective surface, which when broken leads to exposure of fresh tuff and erosion, especially on steeper slopes.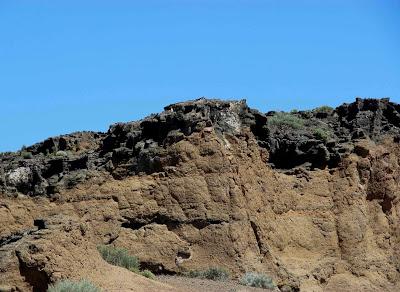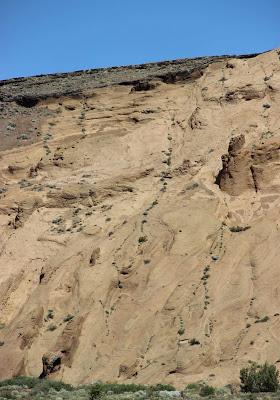 Plants lined up along ... tiny drainages? (click on image for better view)
Tabernacle Hill

The Tabernacle volcano also was active during Lake Bonneville times, but only a bit of evidence of underwater eruption has been found (Johnsen et al. 2010). In its heyday, the Tabernacle area included cinder cones, lava flows, a lava lake and lava tubes that drained the lake.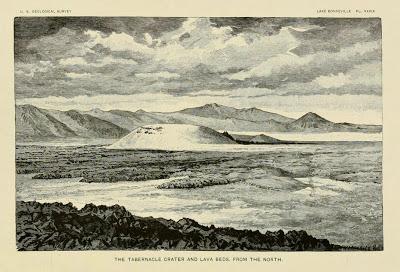 Tabernacle Crater and lava beds from the north (Gilbert 1890).
In his study of Lake Bonneville and the Black Rock Desert, Grove Karl Gilbert noted that the Tabernacle Hill's "profile as seen from the Miter crater (PI. XXXIX [above]) resembles the Mormon Tabernacle at Salt Lake City, suggesting an appropriate name", but I was unable to conjure up a resemblance. No matter, there were far more interesting things to see: fractured ground, collapsed lava tubes, caves, and sculptures made of contorted basalt.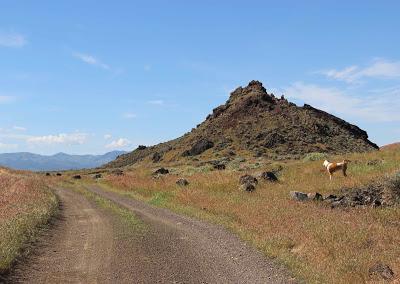 Tabernacle Hill from the northwest.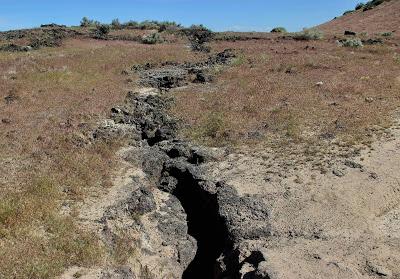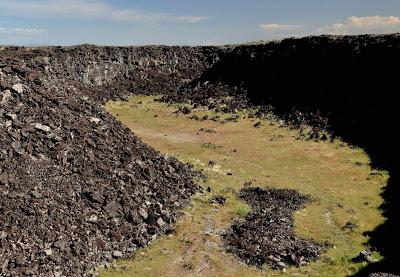 Collapsed lava tube.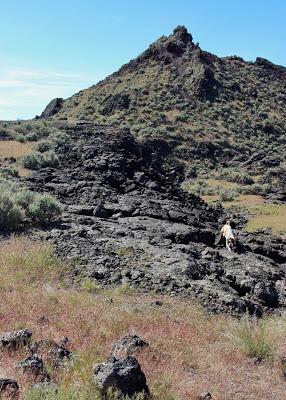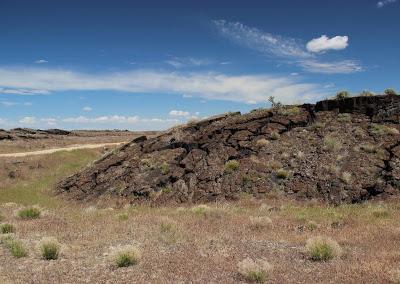 Pressure ridge or tumulus.
With its lava caves and tubes, the Tabernacle area is one of the better known BRD destinations for the general public. It probably would see more visitation except that access is via a slow rough road (2WD high clearance when dry). Due to signage issues and impatience, I took a wrong turn … but it worked out well. Near the gate of a cinder quarry I met guy who had worked in Evanston, Wyoming (my state), grew up in Kanosh where I was staying, and in spite of being 65 years old, had "only been to the Tabernacle caves once, I'm embarrassed to say". Thus we had enough material for a good roadside visit—always a pleasure!
Ice Springs Flow

There's no missing the Ice Springs basalt flow—black tortured rock emerging from irrigated fields west of Fillmore. The lava often looks so fresh that it's hard to believe 700 years have passed since it oozed up from below.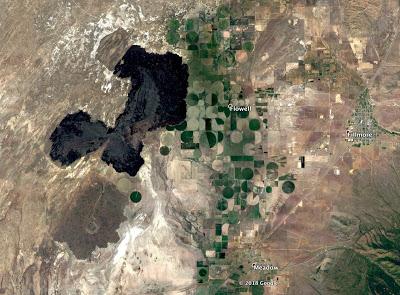 Google Earth view.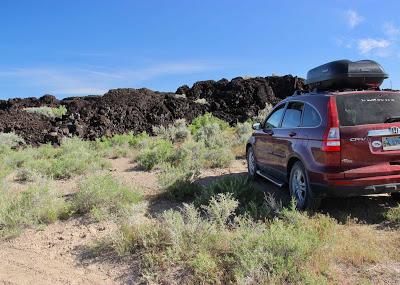 The rugged contorted sharp-edged basalt seemed impossible to explore except at the margins.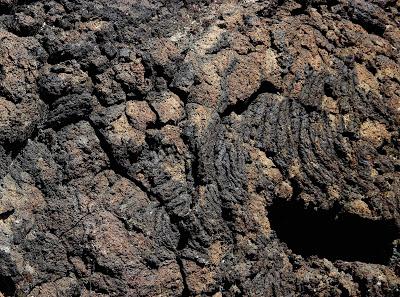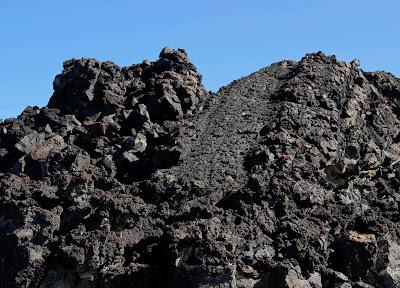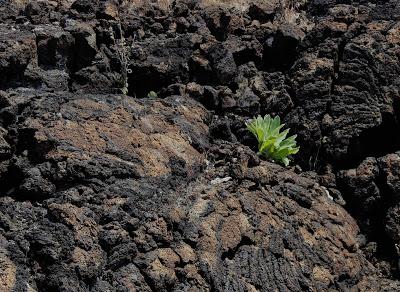 Given the recent occurrence of these eruptions—Pahvant Butte c. 25,000 to 19,000 ago, Tabernacle Hill several thousand years later, and the Ice Springs flow just 700 years ago—it's hard to believe the Black Rock Desert volcanic field is done. But what comes next? Will a cinder cone pop up in Kanosh? Will Baby Pahvant emerge from Clear Lake? Will the hay fields west of Fillmore again crack and ooze molten rock? Or maybe BRD volcanism is a harbinger of something much more dramatic and destructive
…
The Black Rock Desert is located at the eastern margin of the Basin and Range Province, but BRD volcanic rocks differ markedly from those of the same age elsewhere in the Province. Johnsen and colleagues (2010) refer to this as "one of the [field's] most puzzling attributes." In fact, several types of basalt common in the BRD are otherwise rare, except at active plate boundaries. So why are they abundant here, in the interior of the North American Plate?
Actually, this is a tectonically-active region. The Basin and Range Province to the west is undergoing extension, and the Colorado Plateau to the east is rotating (see first post in series). Perhaps anew rift is developing (3) 
… p
erhaps Black Rock Desert volcanism is an early sign that our continent is being torn asunder,
 right here in Millard County!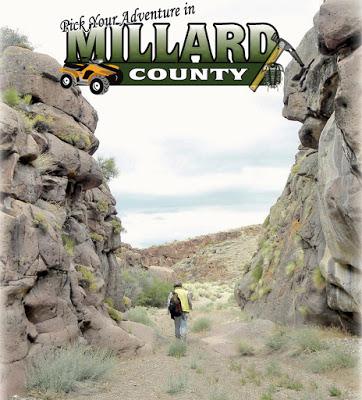 But don't worry … there's still plenty of time for a visit, and plenty of information to make it interesting (see Sources below). Especially helpful is Millard County's detailed travel brochure about local history, geology, rockhounding and recreation (good maps). Most sites of interest are on public land, and accessible via gravel and dirt roads passable with 2WD vehicles, at least when dry. U
sage was pleasantly light when I was there.
Notes
(1) Previous posts in this series: Volcanoes in Utah—how can that be?!, Sunstones at Sunstone Knoll, A Caldera Lake?, and White Mountain in the Black Rock Desert.
(2) The perimeter of the BRD volcanic field encompasses about 2700 sq mi; the extent of volcanic deposits is unknown as all but the youngest are buried under Lake Bonneville sediments.
(3) This possible rift along the western margin of the Colorado Plateau would be in addition to Basin and Range extension to the west—also considered a developing rift (see DeCourten 2003, final chapter). A rift has already developed along the eastern margin of the Plateau—the Rio Grande Rift.
Sources
DeCourten, FL. 2003.The Broken Land: adventures in Great Basin geology.Salt Lake City, Utah: University of Utah Press.
Gilbert, GK. 1890. Lake Bonneville. USGS Monograph 1. Washington DC:GPO. Available online.
Johnsen, R, et al. 2010. Subalkaline volcanism in the Black Rock Desert and Markagunt Plateau volcanic fields, in Carney, SM, et al., eds., Geology of south-central Utah. Utah Geological Association Publication 39.
Millard County Travel. c. 2016. Adventures in Millard County Utah. Available online (PDF) and locally at museums, agency offices, etc.
Utah Geological Survey Geosights: Volcanic Sights in the Black Rock Desert, Pahvant Butte and more.
Volcano Hotspot. 2018-01-09. Recent volcanic activity in SW Utah.