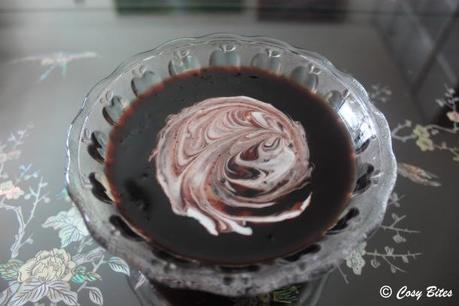 I'm back from my one week's break in Singapore. Well, not exactly a break. I was back to inspect our house as our tenants have moved out. Boy, I never knew so much damage could be done to our house within less than 2 years. It was heartbreaking looking at the state of our once cosy and beautifully renovated house.
The flight from Dubai to Singapore was also one of the worse flights I've taken. There was a 30-minute delay at take-off because of some luggage problem. Then the plane couldn't land when it reached Singapore due to weather condition. After circling in the air for a while, the pilot was still unable to land the plane and had to fly to Kuala Lumpur International Airport for a refuel. With the additional 3-hour delay, we were stuck in the plane for almost 11 hours. As if to get me to do more in-flight exercise, the guy at the window seat had to keep moving in and out. I counted 8 times. To top it off, the flight has an orchestra of people coughing, almost with surround sound. Perhaps that was how I caught the virus.
For our flight back to Dubai, we requested for aisle seats in the center block at the check-in counter as both my son and I were not feeling well and didn't want to be disturbed by another I-can't-sit-still guy. At meal time, an air-stewardess holding a tray of child meal came by, asked me if we have changed seats and walked off, without even bothering to serve my son his meal. By the time standard meals were being served, my son was still not given his meal (despite me highlighting this to another stewardess) and had fallen asleep. Rather disappointing service coming from one of the best airlines in the world. Makes me appreciate the service on Singapore Airlines even more.
On the bright side, it was certainly great to be able to celebrate my dad's and mother-in-law's birthdays with them, catch up with some friends, and stock up on beauty and food products that I can't get in Dubai. My tummy came back fuller too, with all the eating.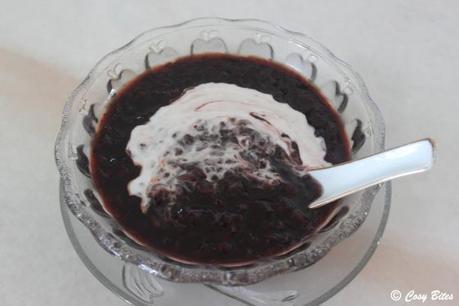 After the Singapore trip, how can I not do a Singapore-related food post? Here it is, a black glutinous rice dessert we have in Singapore. It is also called bubur pulut hitam / orh bee ber / orh chut. In food courts, this dessert is commonly served with coconut cream. Some restaurants may make an "upgraded" (read: more expensive) version by serving it with coconut or vanilla ice-cream.
Here's the recipe for bubur pulut hitam, adapted from A Table for Two. Enjoy!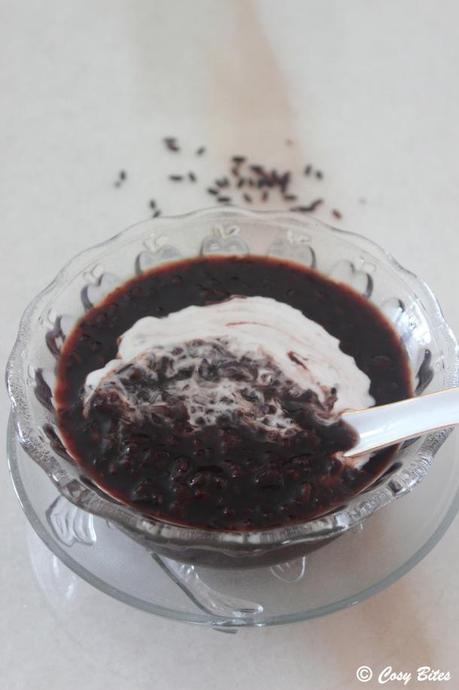 BUBUR PULUT HITAM
Serves 4
Ingredients:
200 gram black glutinous rice

5 pandan leaves (screwpine leaves), washed and tied into a knot

75 gram granulated palm sugar (gula melaka)

10 gram caster sugar, or to taste

1 small pack coconut cream (or coconut/vanilla ice-cream)

Water
Method:
Roast black glutinous rice in a frying pan over medium heat, until the rice starts 'dancing' in the pan. Be careful not to burn the rice.

Transfer roasted black glutinous rice to a pot. Wash and rinse thoroughly. Remove any glutinous rice that floats up.

Fill half the pot with water, add pandan leaves and boil for 10 minutes. Discard the pandan leaves.

Turn the heat down to medium low and keep stirring every 5 minutes or so to prevent the rice from sticking to the bottom of the pot. For a shorter cooking time, put a porcelain spoon into the pot. Add more water if the glutinous rice becomes too dry.

Cook until the black glutinous rice is soft and mushy. This should take 1½ hours with the porcelain spoon in pot, 2 to 3 hours without.
Add gula melaka and stir until it is completely dissolved.
Add caster sugar to taste and stir until it is completely dissolved.
Remove black glutinous rice from heat.
Serve bubur pulut hitam while it's still hot in a bowl and top with a few spoonfuls of coconut cream or 1 scoop of coconut or vanilla ice-cream.