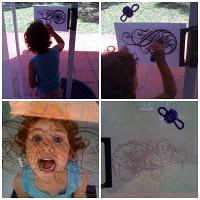 It's no secret that humanity is a superstitious lot.  Today being Friday the 13th, I thought I'd share a little black magic with you... craft magic that is.  I was going to do a how-to make a black cat, but I'll do that tomorrow when I announce some other exciting silhouette-news.
So then, today's tutorial is on how to make a beautiful spiderweb for your window;
Find a drawing of a spider web that you like.  I found a beautiful vintage one on the graphics fairy website; look for one that's bold in it's design and relatively simple in it's detail.
Print or photocopy it in black and white, and stick it on the outside of the window or glazed door, in the location you desire the finished product; I suggest in a corner or near a handle.
Using a whiteboard marker, or similar, draw a small test line in a remote corner of the window, leave to dry, and then be certain that it will rub off before proceeding.  My marker came off some time later with the swipe of a serviette, but I take no responsibility for a permanent marker remaining permanently on your window!
Using the photocopy as a guide, start tracing the design onto the glass.  If you press your hand, or drag a finger across the drawing and smudge the texta, I suggest you wipe it all off and start again.
Once you're happy with the detail, remove the template from the other side of the glass.  
Lastly, add a spider sticker nearby (or if you're spider-phobic like my four year old daughter Mimi, make a friendly furry fly or other bug.) 
The photographs show that this is a great project for toddlers, although you might be tempted to add a few flourishes to their drawing, as I did for Mimi.  It's a fairly subtle result, which shows up best when you see it against a plain background (such as a closed blind.)  Mimi was quite happy to be photographed trapped in the spider's web (apologies about the half-eaten grape in her mouth!)  This simple idea would be fun for Halloween, and remember you don't have to stop at spiderwebs, the same process can apply to any design you like, such as a person's name, or birthday graphics.
Take care... and if you're suspicious about the date; take extra care!