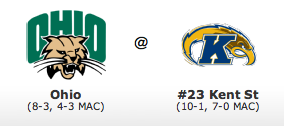 The Ohio Bobcats travel across state to visit #23 Kent State Golden Flashes.  This is a match-up that has lots of college football meaning.
Th meaning for this game is about ranks.  Kent State looks to improve upon their #23 ranking.  Kent State has already clinched a date with Northern Illinois for the MAC Championship Game at Ford Field in Detroit.
Ohio looks to knock Kent State out of the rankings.  Ohio was previously in the top 25 prior to their second loss of the season.  Thought they have now lost two straight.
Kent State is hoping to help the Mid-American Conference grow into a stronger conference by gaining a win and increasing their ranking.  This year the MAC has two current 10-1 teams (Prior to this weekend).  Only one, Kent State, is currently ranked.  If both Kent State and Northern Illinois (10-1) win this weekend, it could be the first time that the MAC has two ranked teams facing each other in the Championship game.
Ohio Bobcats are lead by Tyler Tettleton who has passed for 2,281 yards and 16 touchdowns and Beau Blankedship who has run for 1,355 yards and 11 touchdowns.
Kent State Bobcats are lead by Spencer Keith who has passed for 1,504 yards and 10 touchdowns and Dri Archer who has run for 1,284 yards and 14 touchdowns.
Ohio @ #23 Kent State @ 11 a.m. on ESPNU
Be sure to vote on who you think will win!
<a href="http://polldaddy.com/poll/6712383">Take Our Poll</a>
Also be sure to check out our BCS Standings voting as well!