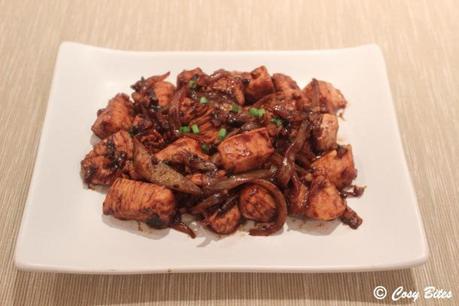 Black bean sauce 豆豉汁 is a type of sauce made with fermented black beans. The taste of the sauce is pretty strong so you rarely need to add other seasoning to it.
Black bean sauce chicken is a simple, no-fuss, stir-fry Chinese dish. It's quick and easy to prepare and tastes great with plain rice.
Here's the recipe for black bean sauce chicken. Enjoy!
BLACK BEAN SAUCE CHICKEN
Ingredients:
300 gram chicken breast, cut into bite size
2 cloves garlic, finely chopped
¼ onion, sliced
2 stalks spring onion, chopped (for garnish)
2 tablespoon black bean sauce (I used Lee Kum Kee's black bean sauce)
1-2 tablespoon oil
Corn starch mixture (1 teapoon corn flour + 2 teaspoon water)
Method:
Heat up oil in a wok and saute garlic and onion till fragrant.
Add black bean sauce and chicken and stir fry till chicken is cooked.
Stir in corn starch solution, do a few quick stir fry and garnish with spring onion.