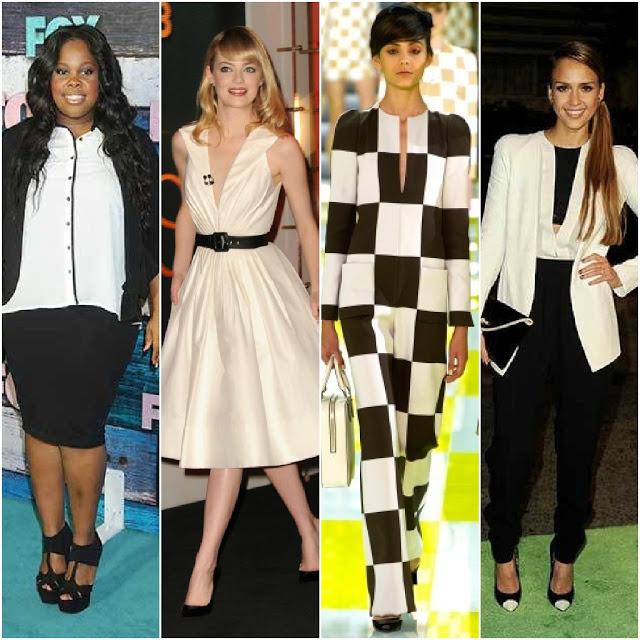 Left to Right: Amber Riley, Emma Stone, Louis Vuitton NYFW and Jessica Alba
From the runway to the red carpet, this black and white trend is hitting everywhere! This traditional, ageless color mixture is the go to look lately. When I initially saw this, I thought to myself, "great, now my best friend Michelle will have an excuse to why she is always wearing black"(I fight about this issue with her all the time!) BUT it's not just the black and not just the white, it's the amazing formula the two colors bring together. 
I love adding color to my look but I also love the simplicity that is fashion and style. This is the exact mixture of innocence that is fashion, I live for. Adding this black and white trend to your look is easy peasy! I mean, if you have been shopping lately you must have noticed all the stripes and bold black and white pieces that are hanging on those racks. 
When picking your favorite black and white combo, you want to make sure you are catering to your body type. If it doesn't look right or feel right, it probably isn't right. Tall and thin? Take to something more tailored. A nice pant suit like Jessica Alba is wearing in the picture above is super trendy and sexy at the same time. I'm short, so I would definitely go more for the Emma Stone look at the Oscars shown above also. If you are full figured pairing this color combo together is simple. Amber Riley, from Glee (above pic) looks amazing with the perfect touch of white to her black and white look. 
Here are some of my favorite black and white pieces! What do you think?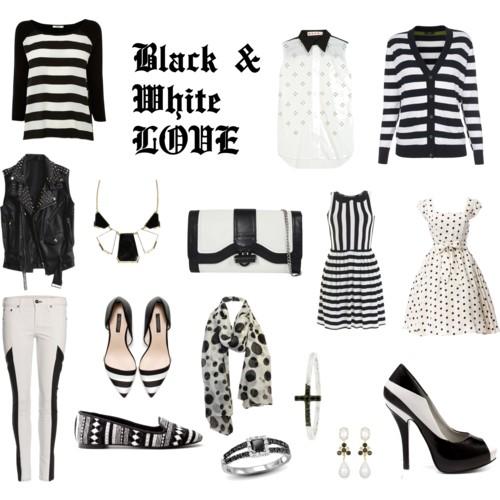 Will you be adding more black and white to your closet this season? I know I definitely will! I already wore black and white stripes this week to work and know I am never stoping. With everything, make sure you do it in moderation. I try to mix these particular pieces with something bright and and colorful. BUT that's just me!