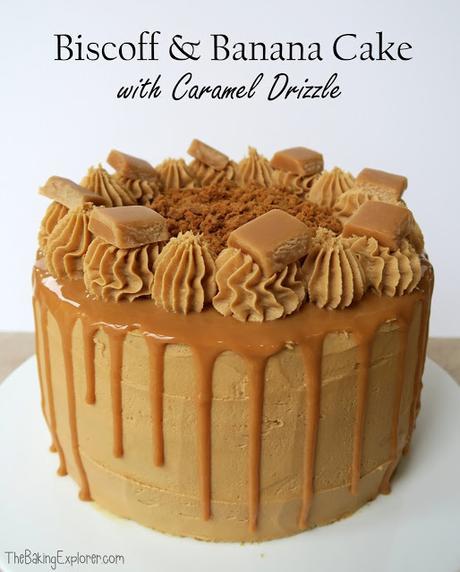 I think I severely underestimated how much time moving into a new house takes up even after you move. I've been so busy recently doing very grown up things like going to the tip on Saturdays, spending scary amounts of money on furniture and attempting to pick paint colours. I had some bananas that were slowly going brown in the fruit bowl and I decided that it was the perfect excuse to fit in some baking. My boyfriend is obsessed with Lotus biscoff spread and he loves it on sandwiches with banana. He's been working so hard recently that I wanted to combine those flavours into a cake for him to enjoy and this is what I created!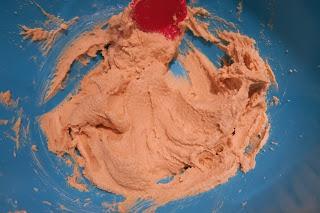 To make the sponge I started by mixing together 360g butter, 150g golden caster sugar and 150g light brown sugar.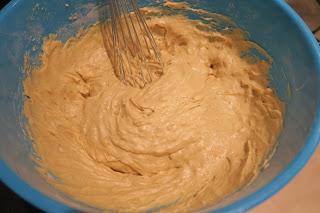 I then added 3 eggs and 1 1/2 tsp vanilla extract and whisked in, then I mixed in 4 mashed up bananas. Finally I folded in 450g self raising flour and 1 1/2 tsp baking powder.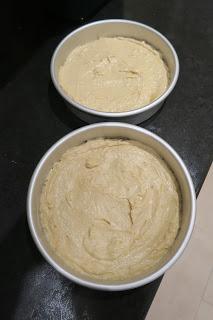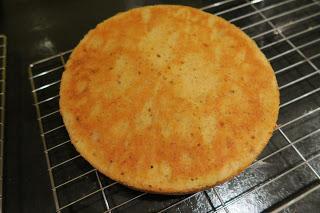 I seperated the batter into three 20" sandwich tins, and baked on 160C for 25 minutes. I left them to cool completely.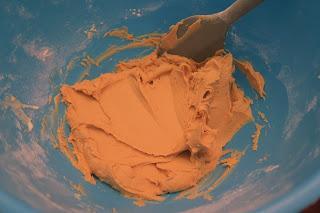 For the biscoff buttercream I started by mixing together 300g butter with 600g icing sugar. I then added 540g Lotus biscoff spread and 6 tbsp double cream and mixed it well until smooth.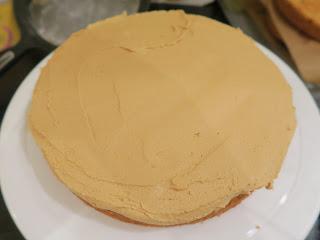 I put the first sponge on my turntable to start decorating, I spread on a layer of buttercream and smoothed it over.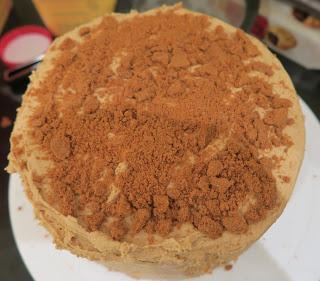 Then I sprinkled on some crushed Lotus biscuits for extra crunch between the layers, I then did the same for the next layer and then topped it with the final sponge.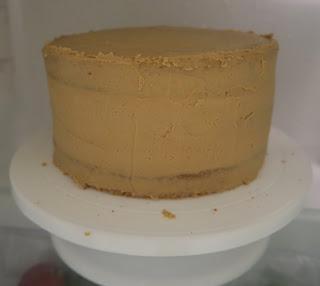 I covered the whole cake in a layer of the buttercream, then put it in the fridge for 30 minutes.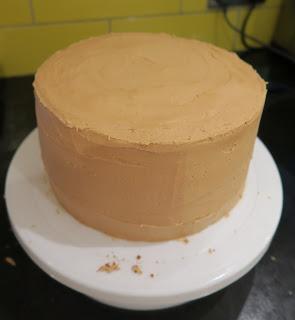 I took it out of the fridge and smoothed on a final layer of the buttercream, I used a palette knife to make it as smooth as I could all over. I refridgerated it again for 30 mins.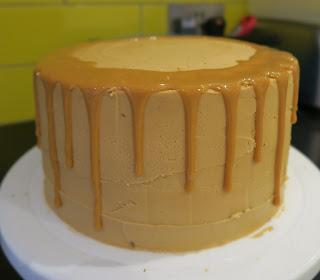 I was going to make my own caramel, but I had a bit of a disaster as I burnt the sugar. My new house has gas hobs rather than the electric hobs I've been used to for the past 5 or 6 years living in flats, so I'm still getting used to how hot they can get so fast! Luckily I had some Carnation caramel in the cupboard. I tipped about half the jar into a bowl and stirred it to smooth it out. I added 1 tsp salt to give it a salty kick, then put it in a piping bag.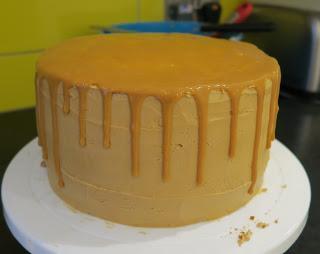 This the first time I've made a 'drip' cake so I carefully piped blobs of the caramel on the edge of the cake, I was quite stingy with the amount as I knew it would carry on dripping more than I would realize. I then covered the whole top of the cake with a thin layer of the caramel. I put it back in the fridge for 15 minutes to firm up the caramel.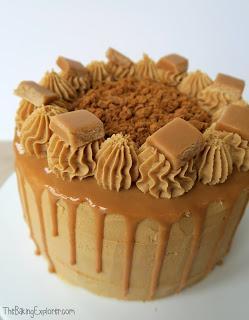 I put the rest of the biscoff buttercream in a piping bag and piped rosettes around the edge using my Wilton Number 6B Open Star tip. I then crushed up some more Lotus biscuits and filled the middle of the cake with crumbs. Finally I chopped some pieces of dairy fudge in half and placed them neatly on top of the buttercream.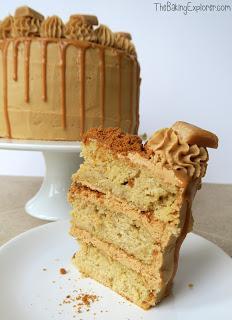 And the cake was done! I was pretty pleased with my first 'drip' effect cake, as I think it does give a really professional finish. You just have to be as stingy as possible with the amount of caramel, so it doesn't flood the cake. The cake was a huge hit at work, I had some lovely comments from my happy colleagues on both it's looks and taste. The banana cake was super moist and full of banana flavour, the crunch between the layers gave the cake some added texture, and the buttercream was pure biscoff heaven!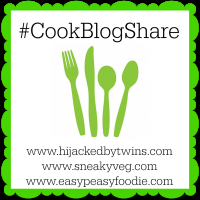 I'm linking this recipe up with Cook Blog Share hosted this month by Hijacked By Twins.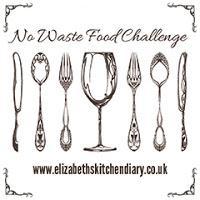 And with The No Waste Food Challenge hosted by Elizabeth's Kitchen Diary as I was making use of 4 ripe bananas languishing in the fruit bowl, and the fudge pieces were also left over from a previous cake decorating session.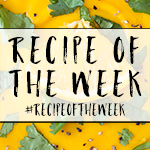 And with Recipe Of The Week hosted by A Mummy Too.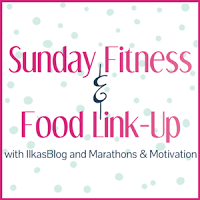 And with the Sunday Fitness & Food Link Up hosted by Ilka's Blog and Marathons & Motivation.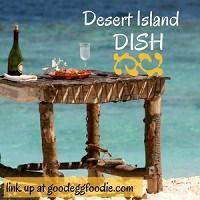 And with Dessert Island Dish hosted by Good Egg Foodie.
print recipe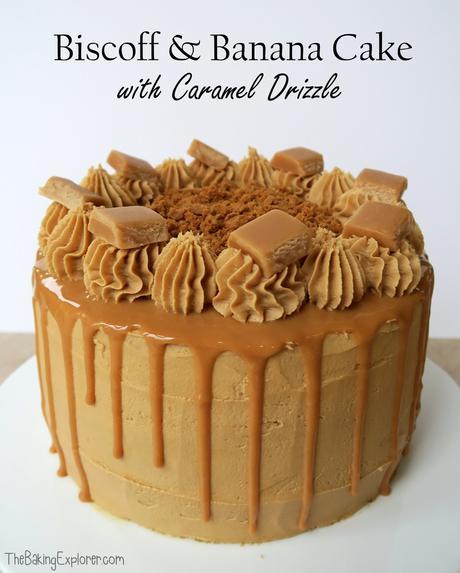 Biscoff & Banana Cake with Caramel Drizzleby March-08-2017Ingredients
660g

Butter

150g

Golden caster sugar

150g

Light brown sugar

3

Eggs

1 1/2 tsp

Vanilla extract

4

Ripe bananas, mashed

450g

Self raising flour

1 1/2 tsp

Baking powder

600g

Icing sugar

540g

Lotus biscoff spread

6 tbsp

Double cream

8-10

Lotus biscuits, crushed

175g

Carnation caramel

1 tsp

Salt

4 pieces of

Dairy fudge
InstructionsTo make the sponge mix together 360g of the butter, the golden caster sugar and the light brown sugarAdd the eggs, one at a time and mixing between each addition, then add the vanilla extract and whisked it inMix in the bananas, then fold in the self raising flour and baking powderSeparate the batter into three 8" lined and greased sandwich tins, and bake on 180C/160C Fan/350F/Gas Mark 4 for 25 minutes. Turn out onto cooling racks and leave to cool completelyFor the biscoff buttercream mix together 300g of the butter with the icing sugar. Then added the Lotus biscoff spread and double cream and mix it well until smoothTo decorate, put the first sponge on a turntable and spread on a layer of buttercream and smoothed it overSprinkle some crushed Lotus biscuits over the buttercream layer, then add the second sponge and do the same, then top it with the final spongeCover the whole cake in a layer of the buttercream, using a palette knife to smooth it out, put it in the fridge for 30 minutesRemove from the fridge and smooth on a final layer of the buttercream, again using a palette knife to make it smooth all over. Refridgerated again for 30 minsTip the Carnation caramel into a bowl and stir it to smooth it out. Add 1 tsp salt and put it in a piping bagCarefully pipe blobs of the caramel around the edge of the cake so it drips down the sides, use less than you think as it will drip more than you expect and you can always add more. Then cover the whole top of the cake with a thin layer of the caramel and put it back in the fridge for 15 minutesPut the rest of the biscoff buttercream in a piping bag and pipe rosettes around the edge using a Wilton Number 6B Open Star tipTip the remaining crushed Lotus biscuits into the middle of the cakeFinally, chop the dairy fudge in half and place them neatly on top of the buttercream