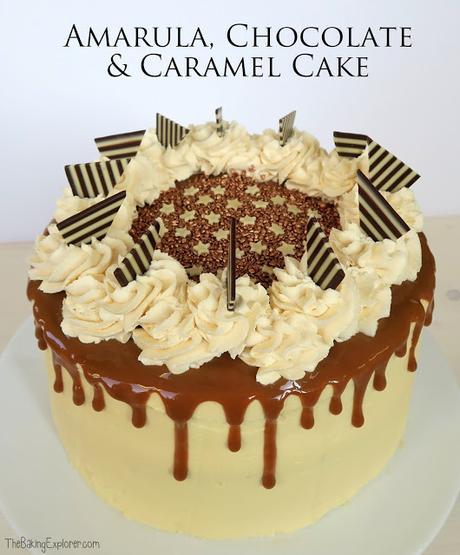 I reviewed a recipe book recently called Lola's A Cake Journey Around The World and as part of my review I made an Amarula Cake from the book. I really enjoyed the cake as it contained some of my favorite cake flavours - chocolate, caramel and whipped cream. I also have a new love for Amarula! It's similar to Baileys in that it's a cream liquor, but it's made with a fruit from South Africa called the marula fruit. I really wanted to make the cake again but I wanted to amp it up and really make it indulgent and special, so this cake was created!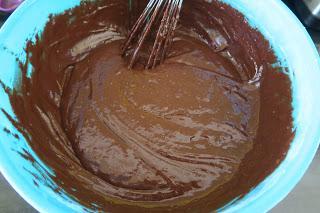 I started by mixing 120g cocoa powder with 250ml boiling water, then left it to cool. I whisked up 6 eggs, 440g caster sugar and 120ml vegetable oil with an electric hand whisk until it was frothy. I added the cocoa powder mixture and whisked it in.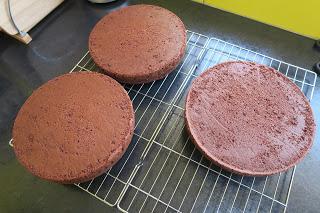 Then I added 500g self raising flour, 1 tsp baking powder and 2 tbsp Amarula and folded it in. I separated the mixture into three 22cm cake tins and baked on 180C/160C Fan/350F/Gas Mark 4 for 25 minutes.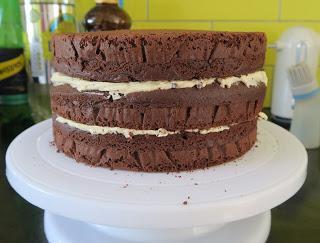 I made a buttercream by mixing together 450g baking spread, 4 tbsp Amarula and 900g icing sugar. I stacked up the sponges, drizzling 1 tbsp Amarula on each sponge before spreading them with some buttercream.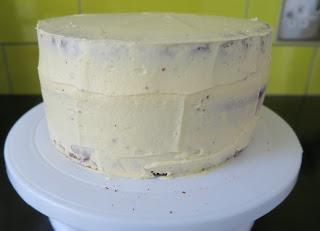 I covered the cake in a base coat of buttercream and put it in the fridge for 1 hour to set.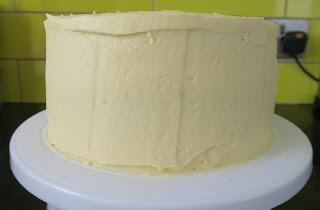 I took it out and covered it again with the rest of the buttercream and I smoothed it out as best I could.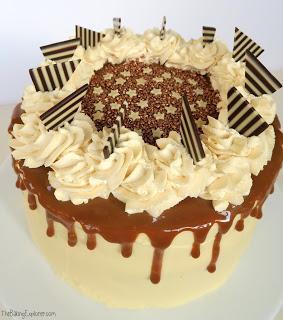 To decorate the cake I carefully piped blobs of the caramel on the edge of the cake, then covered the whole top of the cake with a thin layer of the caramel. I whipped up 200ml double cream, 3 tbsp Amarula and 2 tbsp icing sugar and piped it around the edges. I added bronze sprinkles and white chocolate stars in the centre, then cut some chocolate squares I got from
The Chocolate Trading Co
into triangles and stuck them into the cream. Finally a spritz of gold glitter finished it off!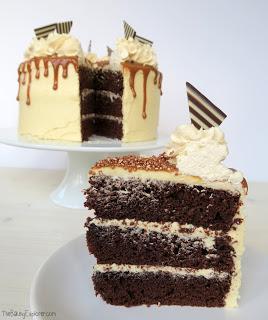 This cake was everything I had dreamed of! Rich chocolate sponge, sticky caramel drizzle and sweet buttercream with Amarula flavor. It would make a fabulous cake for a celebration, or the ultimate way to treat yourself!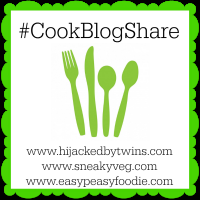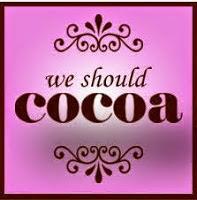 I'm linking these cake up with some blogger link ups this month. Cook Blog Share hosted this month by Hijacked By Twins, and We Should Cocoa hosted by Tin & Thyme.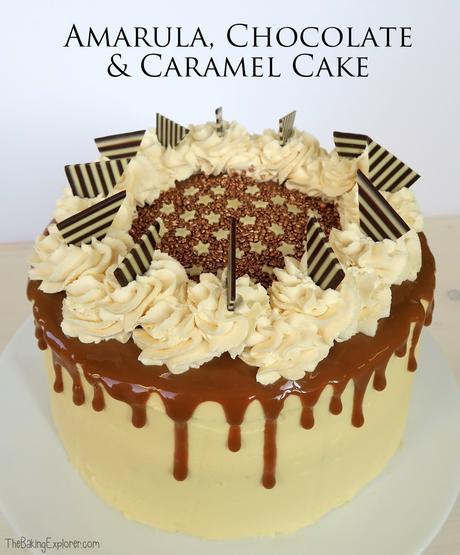 Amarula, Chocolate & Caramel Cake
07-May-2017
Ingredients
120g

Cocoa powder

250ml

Boiling water

6

Eggs

440g

Caster sugar

120ml

Vegetable Oil

500g

Self raising flour

1 tsp

Baking powder

A pinch of

Salt

12 tbsp

Amarula

About 1/3 can of

Carnation Caramel

900g + 2 tbsp

Icing sugar

450g

Baking spread

200ml

Double cream

Sprinkles

of your choice

10

Chocolate Duo Panels

Gold

Edible Glitter
Instructions
Mix the cocoa powder with the boiling water and leave to cool
In a large mixing bowl, use an electric or hand whisk to mix the eggs, caster sugar and vegetable oil until frothy. Then, add the cocoa powder mixture and whisk it in
Gently fold in the self raising flour, baking powder, salt and 2 tbsp of the Amarula
Separate the mixture into three greased and lined 22cm cake tins and bake on 180C/160C Fan/350F/Gas Mark 4 for 25 minutes (check they are done by inserting a skewer or thin knife into the centre, it should come out clean). Leave them on cooling racks to cool completely
To make the buttercream mix together 450g baking spread, 4 tbsp Amarula and 900g icing sugar until smooth
Stack up the sponges, drizzling 1 tbsp Amarula on each sponge before spreading them with some of the buttercream
Cover the cake in a base coat of buttercream and put it in the fridge for 1 hour to set
Cover the cake with the rest of the buttercream and smooth it out as best you can using a palette knife or scraper
Put the Carnation Caramel into a piping bag and carefully pipe blobs on the edge of the cake so it drips down. Then cover the whole top of the cake with a thin layer of the caramel
Whip up the double cream along with 3 tbsp of the Amarula and the 2 tbsp of icing sugar, pipe it around the edges of the cake
Add sprinkles in the center of the cake, then cut the chocolate duo panels into triangles and stick them into the cream. Finally spritz with gold edible glitter