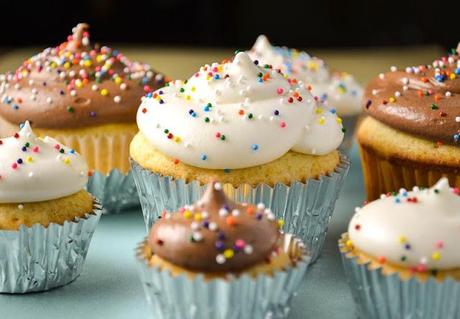 Goodness it seems like I've been baking a lot of cupcakes lately.  But I'm really not complaining.  Just making a tasty observation.  Today my office was celebrating a birthday for one of our Captains/Attorney's that happened to slip by early September without a celebration. So a couple of us Paralegals decided that we couldn't let that happen.
For some kookoo reason people in my office are not big fans of chocolate... say what! I know I know pretty absurd right?  The Captain I made the cupcakes for said he was a chocolate fan, Yay obviously someone with taste buds.  So I made a Milk Chocolate Buttercream (mainly for him) and Cream Cheese Frosting (mainly for the other crazy non chocolat people)  and at the end of the day what cupcake does the Captain take.  Cream Cheese!! lol geez.  anyways both frosting are quite delish and pairs great with the Vanilla Bean Cupcake.
Though one frosting caution, if you do decide to make 2 different frostings, you will have ALOT of leftovers.  So here is some ideas to use up that extra frosting   1. Can use them in whoopie pies and use it as the cream for the middle 2. make more cupcakes duh lol (thats what I should have done) 3. melt the frosting and use as a glaze over muffins, donuts, scones etc.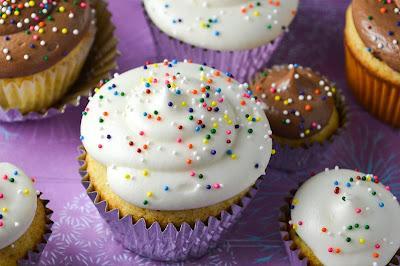 Vanilla Bean Cupcakes w/ Milk Chocolate Buttercream and Cream Cheese Frosting
From Better Homes and Gardens Special Interest Publications 2012Yields: 12 Cupcakes and 12 mini Cupcakes
Bake Time: reg: 18 min. mini: 14 min. 
Ingredients1/2 Cup Butter1 Egg2 Egg yolks1 Vanilla Bean, split lengthwise1 1/2 Cup Flour1 1/2 teaspoon baking powder1/4 teaspoon salt3/4 Sugar1/2 teaspoon vanilla extract1/2 Cup whipping cream
Directions- Let your eggs and butter sit at room temperature for at least 45 min. - Preheat oven to 350 F and line a cupcake tin with 12 regular sized muffin cups and mini tin with 12 mini muffin cups (if you have a 24 mini tin, put a muffin cup into every other tin cup).- In a medium bowl mix your dry ingredients together flour, baking powder and salt and set aside. - In a electric mixer on medium high, beat the butter for 30 seconds and add your sugar until combined. Beat in your egg and yolks one at a time and vanilla bean seeds (scraped out of the bean) until mixed.  Alternately add you flour mixture and whipping cream to the batter until just combined. - Fill your muffin cups 3/4 full and bake the regular sized cupcakes for 18 minutes and the mini cupcakes at 14 minutes.
Cream Cheese Frosting

Ingredients
1 8 ounce package of cream cheese
1/2 cup butter
2 teaspoons vanilla
5 1/2 Cups powdered sugar

Directions
Let the cream cheese and butter sit at room temp for at least 45 minutes. In a large mixing bowl beat the butter, cream cheese, and vanilla with an electric mixer on medium to high speed until fluffy. Gradually add your powdered sugar until full combined. place in the fridge until ready to pipe or frost cupcakes.
Milk Chocolate Buttercream
Adapted from The Cupcake Diaries 
Ingredients
2/3 Cup Milk
5 1/2 cups powdered sugar
12 Tablespoons butter at room temp
5 teaspoon vanilla extract
1 bag chocolate chips- melted and at room temp
Directions
Place all ingredients expect melted chocolate into a electric mixer and beat on medium high or 2-4 minutes until light and fluffy.  Slowly add the melted chocolate until combined.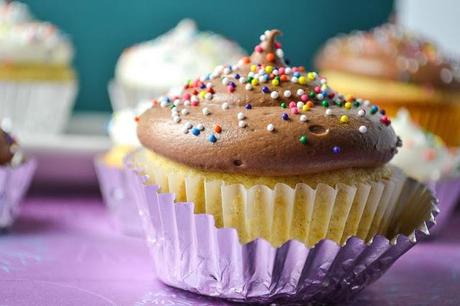 *update: I also posted this on Freedom Friday over at My turn (for us) blog.