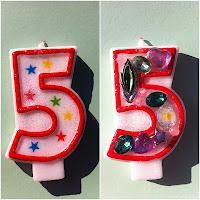 It's no secret that a birthday cake needs a candle, and when you're young enough it's nice to have a candle shaped like a number.  When you get older, it's of course much more discrete to pretend not to have heard the question 'how old are you exactly?' and merely smile, nod and blow out the single candle atop of your cake as you make a wish.  And make a wish you should; because in my opinion you're never too young or too old to dream the impossible!
...Back to candles; at my house we're big on experimenting with ways to trick up store-bought things to make them look you-nique.  There's almost always an easy way to do something different by yourself or with your kids that makes your family and friends feel good about themselves, and is super fast and affordable.
We recently bought a standard candle, perfect for a rodeo, space or circus party; all star-covered and sparkly, but not quite right for a fairytale theme which is going to be designed around the color scheme of princess-pink, frog-green and golden (with just a hint of poison-apple-red).  To make it you-nique the girls and I went through our odds-and-ends jar and pulled out all the bits and pieces that were in the colours we wanted and then they helped me super-glue them in place.  The photo is shocking; sorry, I'll take something more glamorous when the candle is finished - it still needs glitter glue and smaller beads in between the big things; but you get the idea; plain + bling = pretty.
It's not going to be to everyone's taste, too shabby not enough chic perhaps... but to an almost-5 year old and her 3 year old sister it's divine; and they're the olny critics I really care about!
Now on a serious note while we're talking numbers and wishes and making people happy; it is very possibly just Y2K styled hype, but there is a nasty rumor going around that
Feedburner is shutting down in October.  
Admittedly, it 
is
doing weird things for me at the moment - so - if you're following this blog via RSS feed (that means you get an email sent to your inbox from Partycraft Secrets) - it is possible that these will stop in October.  
To be safe, you might want to consider 'following' this blog (it's on the right hand side when you scroll down) or 'liking' Partycraft on facebook
over the next few days, so that if  the dire warnings come true, you have a link back to find me...!  If you're still receiving emails in October - phew! - carry on oh Crafty Friends of Mine!
(PS - If you have a blog of your own you may want to do some research into this confusing and conflicting subject and make up your own mind what to do.)
Best wishes for the weekend everyone and if it happens to be your birthday - happy birthday!
Linda.