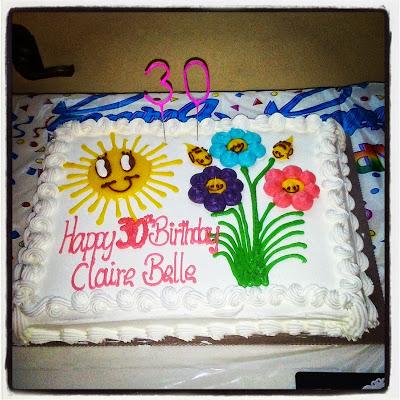 Sorry I have been absent for a few days, but it's been my birthday! Yep I've turned a number that freaks me out to say out loud, but I'm sure I'll get used to it soon enough.
I have spent 3 days celebrating with friends, family and my hubby and baby and have had the best time. So, I thought I would do a little photo heavy blog of what I have spent the last three days doing...as well as a little peek at my amazing birthday presents.
My birthday originally started last weekend when I went to Bloomsbury Lanes with friends for bowling, pizza and karaoke, but I sadly have no photos!! I blame the shots of sambuca thrust upon me!!
So on Friday I dropped Elijah off at my in-laws and hopped on the tube to meet Darren. We booked a room at the Tower Grange Hotel in Tower Hill, a fabulous 5 star hotel in the city. They upgraded us to a mini suite on the 12th floor, so we had stunning views of the city. The hotel also kindly surprised me with a birthday cake and "happy birthday" written in chocolate on the plate. I decided I wanted to stay in the room, get room service and drink a lot of champagne as opposed to going out for dinner. Literally perfect. I had a bath with Ren goodies, drank too much champers, had an amazing burger and watched Family Guy.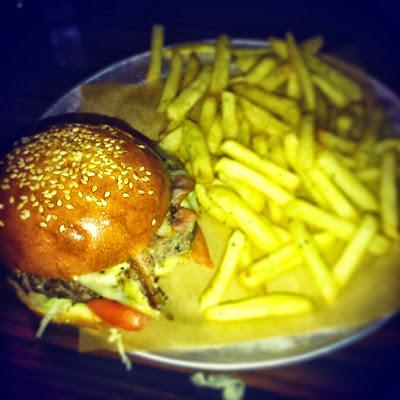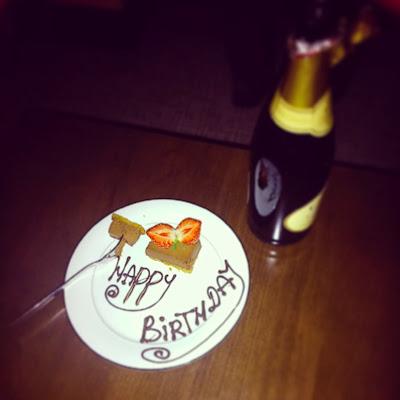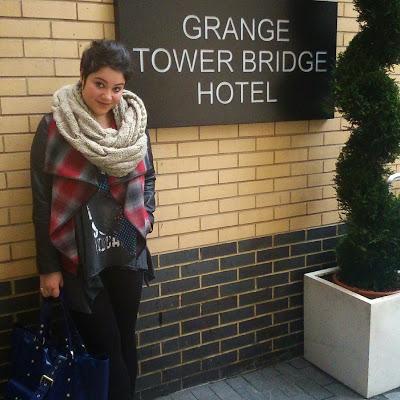 After a yummy breakfast, we left the hotel and walked to Borough Market, passing Tower Bridge and the Tower of London on the way. We walked along the Thames and got to the market as it was heaving. We spent about an hour checking out all the amazing food stalls, sampling way too much cheese and other yummy morsels, drinking fresh wheatgrass juice and buying huge chewy bread sticks with olives and cheese. Drool!!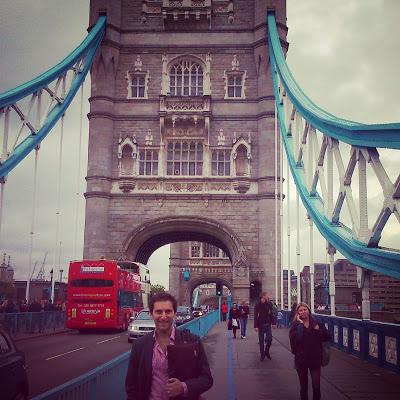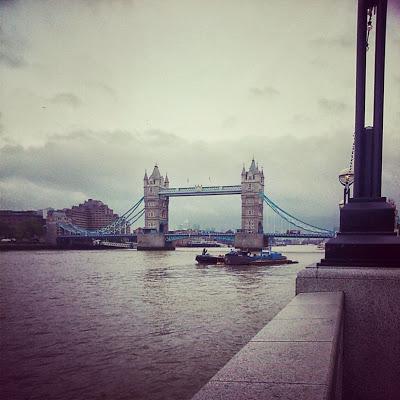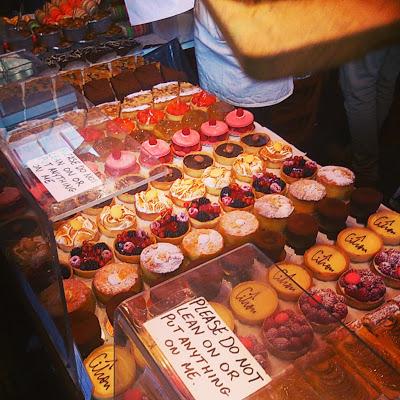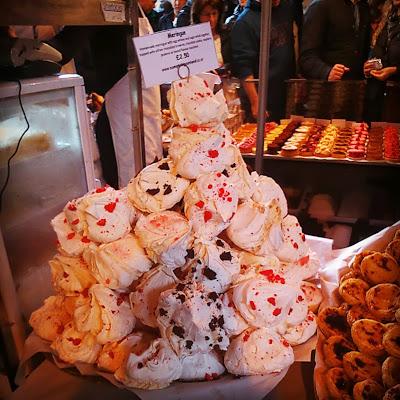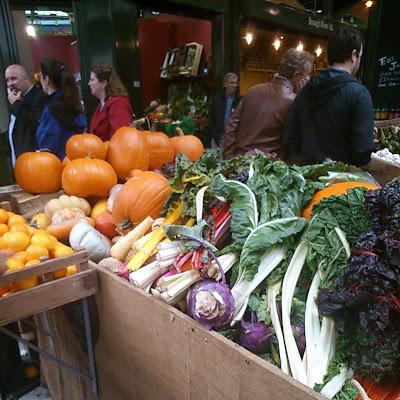 We then left the market and headed into the West End, where we popped into some shops (MAC) mooched around Carnaby Street and the Liberty beauty hall, before making our way to the Sanderson Hotel, where we had booked the Mad Hatter's Tea. O...M...G, what an amazing experience. Tea was held in the gorgeous courtyard and we were led to our table by a rather fabulous waiter in a tux. When we sat down, we were presented with the menu, which was hidden in a vintage children's book, and the sugar caddy, which was a music box with a dancing ballerina inside. Such a whimsical touch.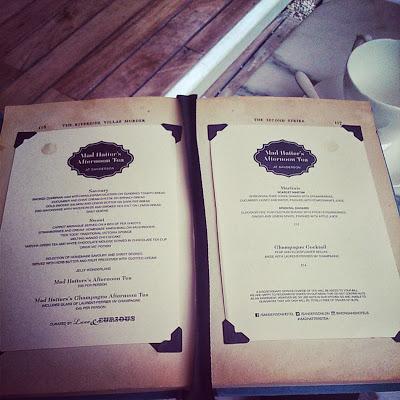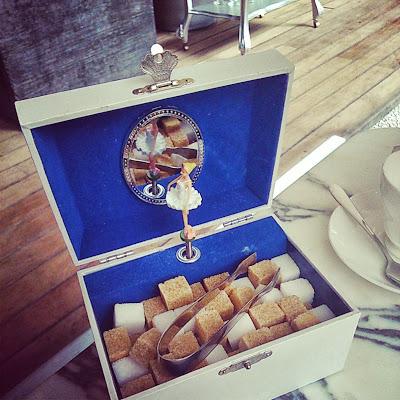 We were then offered "smell me" bottles, which contained different tea flavours - strawberries and cream, rhubarb and custard, mint choc chip and apple pie! I opted for apple pie and Darren got mint choc chip. The tea came in stunning tea pots, decorated with the King and Queen of Hearts with matching tea cups and saucers. Then came the food. WOW! a four tiered cake stand starting from the top: a black and white tea cup filled with pea shoots and meraigne carrots, next, a selection of "magic" strawberries and cream mushrooms, then a beautiful mini Victoria sponge cake, a dark chocolate tea cup filled with white chocolate and green tea mousse and popping candy and a rainbow coloured white chocolate case filled with a passion fruit cheesecake and a melting mango "yolk" hidden inside. The final tier held sweet and savoury scones - a raisin and orange zest scone and a goats cheese and spinach scone - a quiche, "drink me" potion and a selection of yummy sandwiches.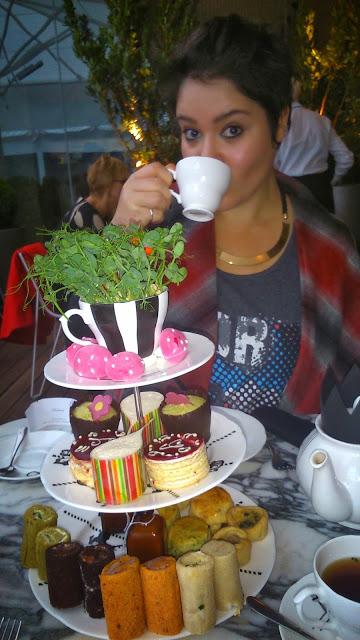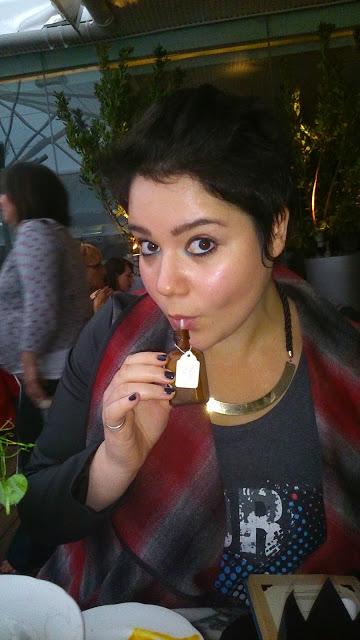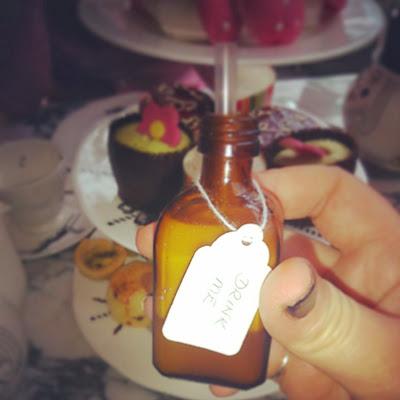 The final course came from the jelly service - a gorgeous silver trolley adorned with a selection of delicious jellies, which you helped yourself to. At the end of the meal, we were stuffed! I was then surprised with ANOTHER birthday cake, and a chorus of happy birthday. Awww...such a sweet touch.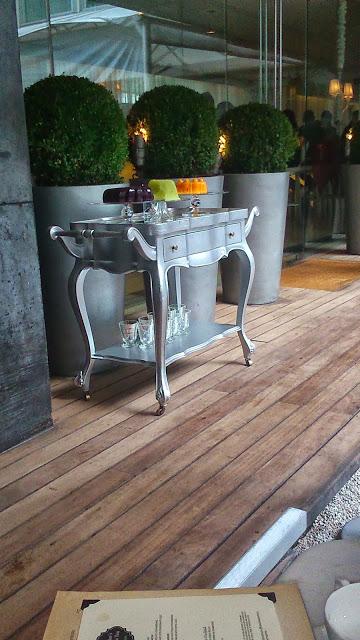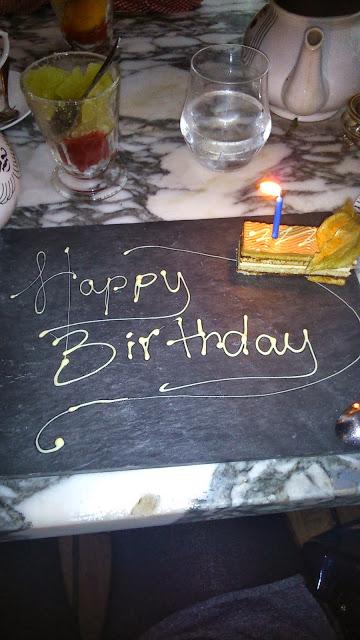 I honestly can't recommend the Mad Hatter's Tea highly enough. For a special treat, it's just amazing. The atmosphere, the surroundings, the food. You really do spend a couple of hours down the rabbit hole.
Finally we headed to Covent Garden to see Charlie and the Chocolate Factory. What a fab production! We had second row seats in the stalls, and as a huge fan of the book and original movie, I wasn't sure what to expect, but it was great. Hilarious original songs, amazing sets, a brilliant Willy Wonka and Oompa Lumpas and a great cast. It was such a fun production, you should definitely book yourself a ticket!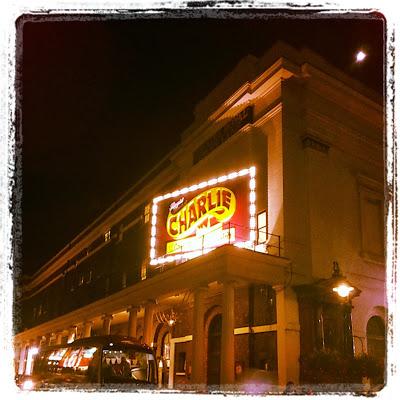 After the show, we headed to Five Guys to grab a quick burger before heading home.
Phew! Onto Sunday!
We picked up Elijah and went to my parents house, who had decorated the house with birthday banners and balloons. We had a huge family (I have quite a big immediate family) tea with birthday cake, pink champagne, babies, presents, scones and sandwiches and more. Followed by a chilled night on the couch watching Django Unchained.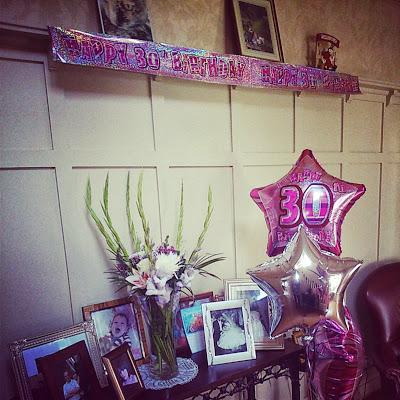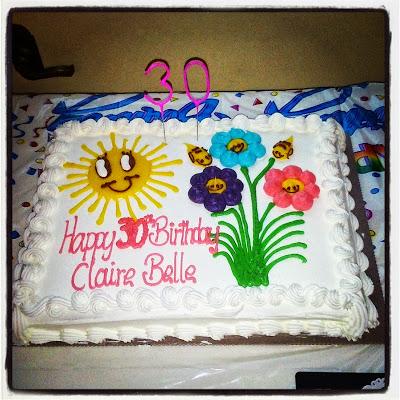 Onto my actual birthday, which was Monday. After being awoken by Elijah bright and early, I opened presents from my parents and then Darren and Elijah. After receiving my first ever "happy birthday mummy" card, Darren presented me with Elijah's present, a gorgeous rose gold heart keyring from Mulberry...what a good boy! And my wonderful hubby got me a one of a kind (he had it made) rose gold bracelet with 5 square cut diamonds. It is just stunning. I don't wear bracelets, so I really wanted a special one, and I am never taking this off. It means so much to me.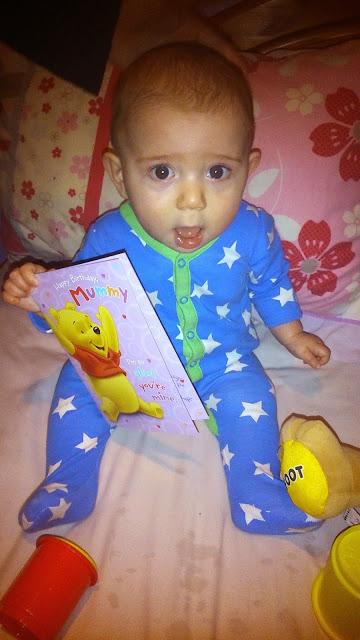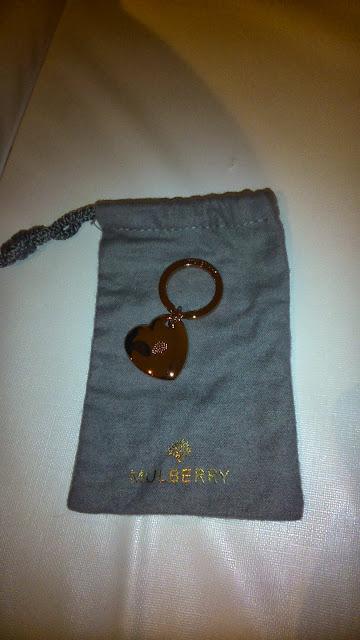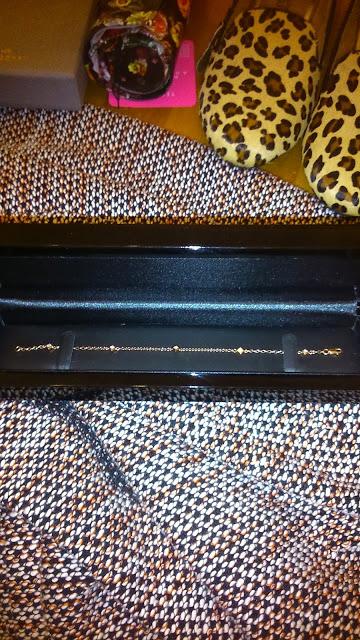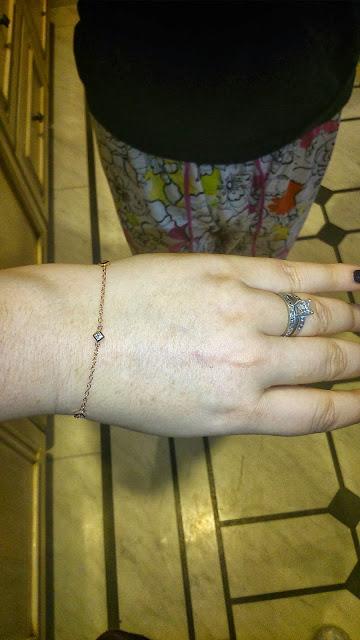 After breakfast we loaded the car and went to Oxford for the day. I haven't been before and it was such a fun day out. We parked the car and just walked around the whole city, stopping at some shops and Jamie's Italian for a spot of lunch. We walked around the colleges and the gardens as well as the castle and other sights of the city. It's only an hour away for us and it was such a great day trip and was amazing spending the whole day with my boys.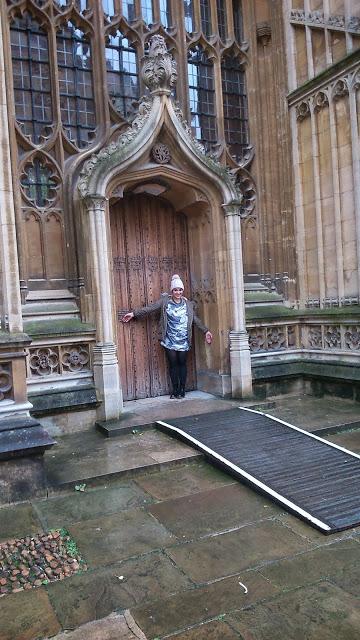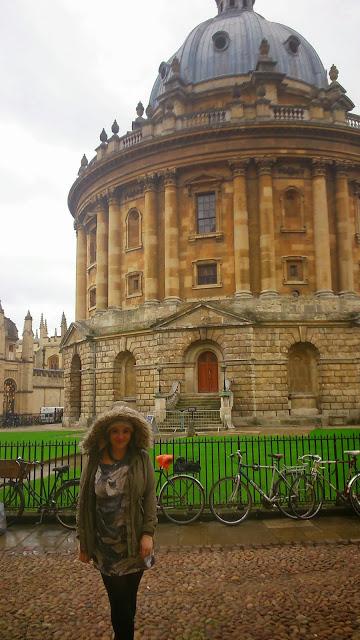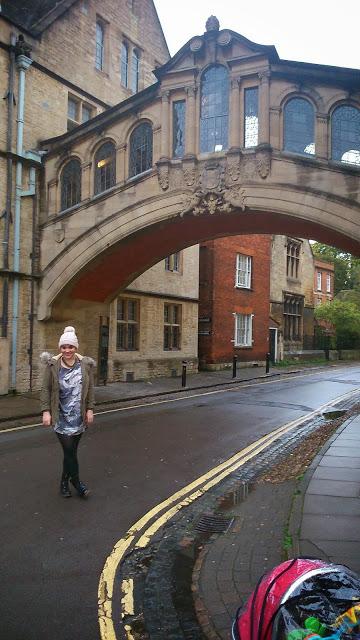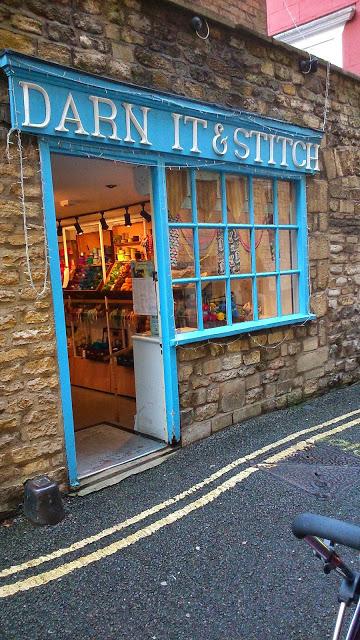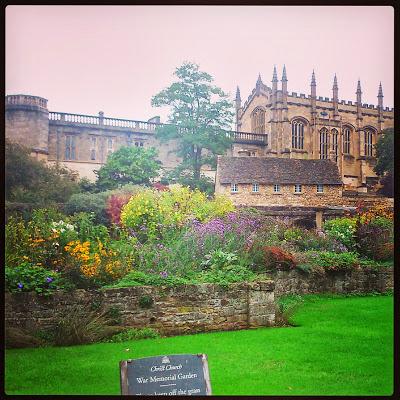 When we got home, we put the little one to bed and ended my birthday weekend with a chinese takeaway and Glee!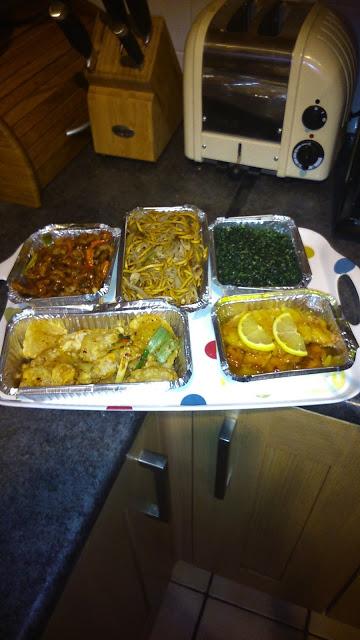 Wow! I can't get over what a fabulous birthday I had. I was given the most wonderful gifts and was spoiled rotten by everyone. I ate waaaaaaaaaaaaaay too much and Weight Watchers well and truly went out the window for 3 days, but it was so worth it.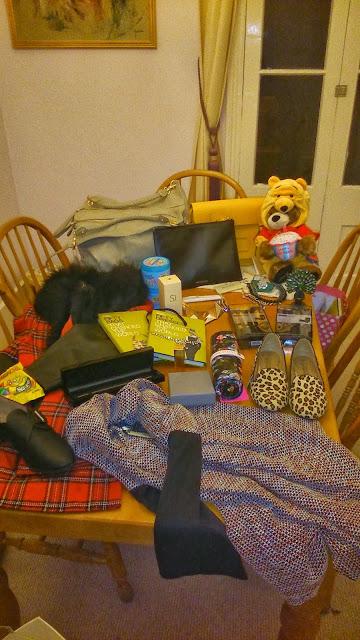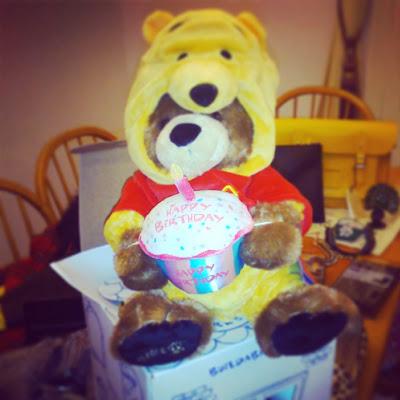 Sorry about the longest blog post in the world, but I wanted to share my special day with you! I hope you enjoyed x