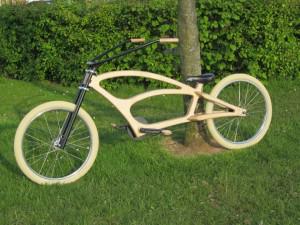 An engineer friend of mine Simon Tidmus, who normally designs fuel systems for fast jets, is a bit of a bike nut. Ever since he was at school he has been designing and making things in his workshop from designer chairs to kit cars. The product of this winters secret garage goings on is the BirchBike Cruiser.
'as you can see that I have built the frame from birch ply. The forks  -I had to make my own from scratch. It is fitted with a 2 speed coaster brake so you back pedal to change gear and again to brake. therefore no need for cables or shifters. It also has wooden pedals and grips'
I am sure he will take orders if anyone wants one, get in touch if you are interested !