Hey Girls..
Its been quite a while that I have written a review post. I was so much occupied with the office work(Official work and Cultural work.)
I guess, I have told everyone here that I have pigmented lips and try everything to reduce the darkness.
So, When I saw this product online MedPlusBeauty I couldn't skip buying it.
I have been using it for few months now.
Here I am with my review on Biotique Bio White Whitening Lip Balm..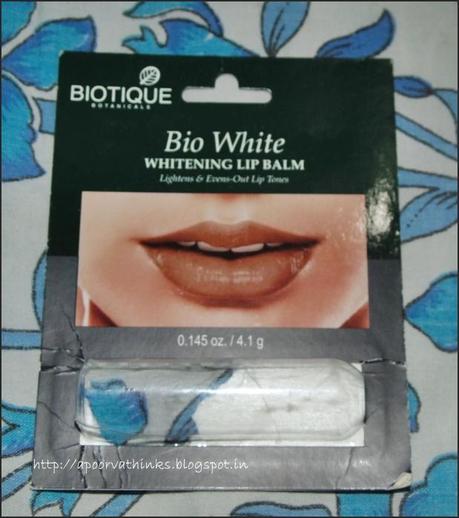 pin it

About the product:
This de-pigmentation balm visibly lightens lips for a fairer skin tone.
Price:
99 INR for 4.1gms (The tub from the same range has 16gms for the same price.Check here)
Ingredients and How to Use: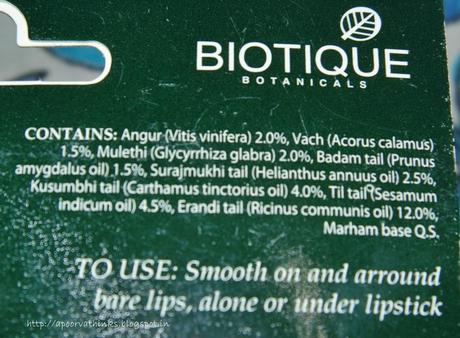 The look and Package:
It comes in a bullet package like a lipstick. The balm is in peachy reddish colour.It has a strong fragrance of the herbal ingredients in it.(Kind of weird/yucky for me.)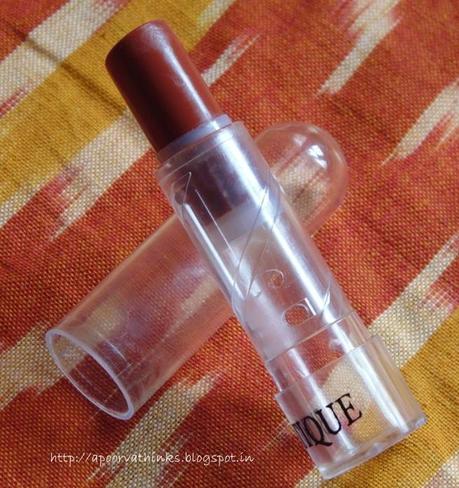 My Experience with the product:
When I read the description that it would work on pigmentation I was super happy and excited. It is because, I know some natural tips which said to lighten the lips but I was too lazy to do that. I had to buy this and I wanted to try out somehow.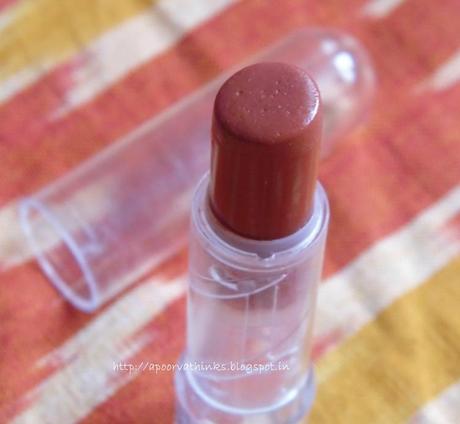 The look of the product was quite cheap.The transparent cover and the colour of the lip balm too. The lipbalm is pretty hard.Even if I press hard while applying on lips it didn't show an inch of damage.
When I applied, I realized that it gives a tint to lips and okay kind of moisturizing. I have used it like 3 times a day. For 2-3 months.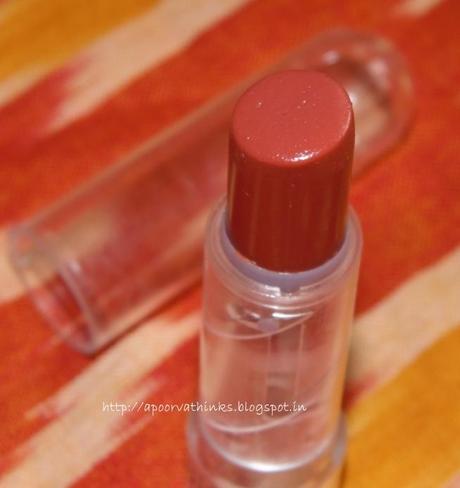 Okay, It didn't work on my pigmentation.!
It was like a tinted lip balm with a weird colour and even more weird smell. The smell was herbaly :P and not so pleasing.
Lasts for 2hours hardly. It dries up too easily.
Out of all these, I used it in hope of getting my lips' natural colour.
As usual, this product didn't live upto the claims. Yeah, I was disappointed :(
Swatches:

Pros:
1. It is moisturizing.
2.Gives a tint.
3.The twist type of package is pretty hygienic.
Cons:
1.It didn't work on pigmentation.
2.Costly for the same range for more quantity.
Final Words: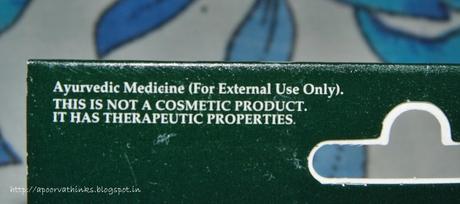 If you want a tinted lip balm, you have many other lip balms. The only claim that attracts us to buy this is its work on pigmentation. But It didn't live up to the expectation.
And I didn't get this too(what's written below)
XoXo
Appu
Powered by StyleCraze
Grab this widge
t!