Let's come to the point straightaway. I am running short of stories. LOL. 
A review about a skincare product. 
What Biotique claims about Biotique Berberry Refreshing Cleansing Lotion:-
This refreshing, non-foaming lotion is blended with berberry, red sandalwood, fenugreek, lodhra bark and almond oil to dissolve makeup and grime. Leaves skin feeling soft and smooth.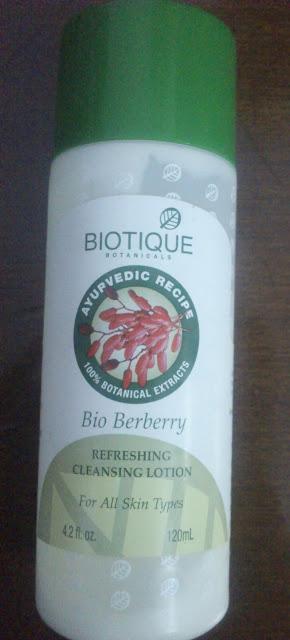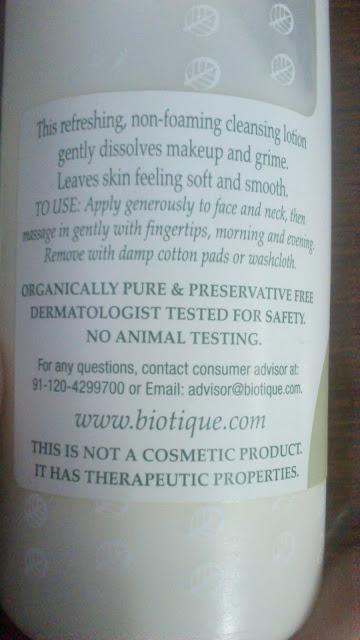 Ingredients etc.
Ingredients:-
Daur Haldi (Berberis aristata), Lodhra (Symplocos racemosa), Rakt Chandan (Pterocarpus santalinus), Methi Trigonella foenum gracecum, Badamtail (Prunus amygdalus), Lotion Base Q.S.

Price: Rs. 149 for 120 ml
Biotique Bio Berberry Refreshing Cleansing Lotion comes in the trademark Biotique white and green packaging, which honestly I find a little boring. i love my makeup and skincare to look classy with an air of expensiveness. LOL. Did we hear Estee Lauder and YSL?? Jokes Apart, the bottle does not have a pump dispenser or any nozzle kind of opening to dispense the product. So, when the bottle is titled to take out the product, a lot of product comes oozing out, but because the cleanser is kind of thick, it does'nt spill.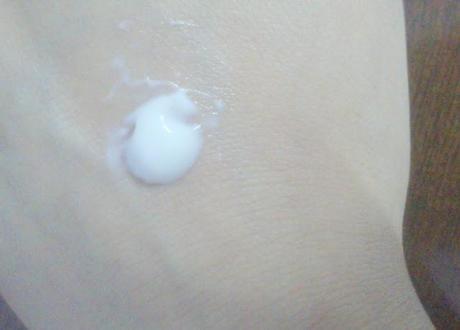 Swatches
My Experience with Biotique Bio Berberry Refreshing Cleansing Lotion:-
Biotique Bio Berberry Refreshing Cleansing Lotion as a Cleanser
I have dry skin and during winters my skin turns really dry and flaky. So I wanted  to use creamy cleansers to reduce the dryness. In terms of usage, I need a small quantity, say equal to 1 Rupee coin, for my face and neck. I moisten my face and massage it on my face and neck. Moistening face helps in massaging easily. I massage my face with this cleanser  and then use the Liz Earle muslin cloth dipped in lukewarm water to clean it off. At first I used to rinse it off with only lukewarm water but it used to leave a thin film on my face and I always felt like using a facewash to get rid of the slight greasiness. After using for a week, I read the instructions again and then started using the muslin cloth to clean it off, and did not feel need to use a facewash. Biotique Bio Berberry Refreshing Cleansing Lotion does cleanse face of all impurities, dust and grime, but somehow my face does'nt feel squeaky clean after using this. I would prefer to use Ayur cleansing milk, which is my HG cleanser for all seasons. I have already reviewed the Ayur Cleansing Milk.
Biotique Bio Berberry Refreshing Cleansing Lotion as Makeup Remover
This cleanser does not remove water proof makeup but clumps such waterproof eye products and messes up badly. I am left with racoon eyes and need to use a facewash to remove all the residue makeup from my eyes and face. If it gets inside eyes, it stings a bad and my eyes get slightly hazy for sometime which can be taken care of by rinsing with water. So, I use my Maybelline Eye and Lip makeup remover to remove my kohl and eyeliner.
It's an okayish product for me, nothing great and nothing bad. There are few things like lack of nozzle/dispenser which i think make it a bit unsuitable to carry in handbag. I think it would be a great facial cleanser for girls with dry skin and who don't mind that little greasiness. Perfect for Winters though, but i don't think i will be using it in summers. Oily skinned ladies please skip this one. 
Biotique products are available at Beautykafe