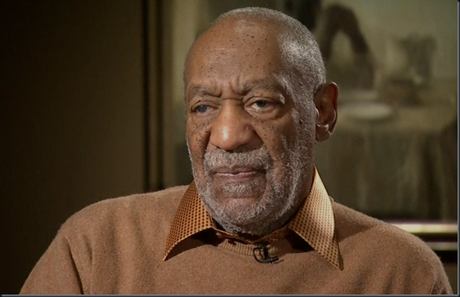 One of American TV's most endearing stars Bill Cosby has fallen from grace dramatically since allegations were raised against him that he drugged a woman, Andrea Constand in order to sexually assault her; Cosby maintains that he had consensual sex with her. Today he appeared in court and a US judge ordered him to stand trial for the charges against him. if he is found guilty, he could face 10 years in jail.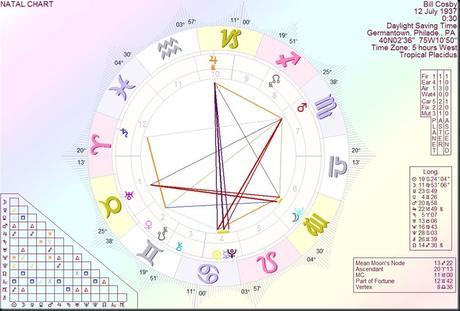 Cosby is a Sun Cancerian born 12th July 1937 at 00.30 hrs in Germantown, near Philadelphia. His Sun sits in his 4th house conjunct to Mercury and Pluto, so ostensibly he would be a quiet and secretive man happiest in his home environment. This conjunction brings a subtle and yet powerful and quite intense personality, he will be quite controlling and an effective orator, and of course he found fame as a comedian. Mercury in the 4th house suggest he private, intelligent, well read and enjoys his family life. Mercury in Cancer focuses on the human side of life and Pluto delves deep into emotional responses and psychology, these subject will always fascinate him. With Mercury trine to Mars, he will have a quick mind and will give quick responses when questioned. Jupiter the planet of international contacts and reach opposes from his house of work and career, the 10th, therefore he was always going to have and influential reach through his comedy, and yes he did find fame and fortune. Here is a jovial and knowledgeable soul with the attitude of a teacher, but he also has a risk taking acumen as well that he can call upon.
This triple opposition feeds into Mars in Scorpio in his 7th house of partnerships and this is where things start to get interesting. This placement in the house of relationships is quiet sexual and intimacy will be important to him, but this is something that he will keep very much under wraps; Mars in Scorpio is very secretive. The thing about Mars in the 7th is that there will be a level of competition, arguments or even aggression than might permeate his partnerships, and his partner may turn out to be in time his enemy too. Mars widely opposes Uranus, the planet of rebellion, independence and sometimes perversity and it sextiles to Jupiter so here is a love of action, sport and exploration, is there a secret need here to rebel against one's partner without them even knowing?
The Mars/Uranus opposition works into a Neptune/ Moon conjunction in Virgo his 6th house or work and routine. Virgo is quite a reserved sign and here the emotions are somewhat held back, this is a very sensitive, gentle and service orientated Moon, and this softens his character enormously. All the same, the Uranus trines and the Mars sextile to Neptune and the Moon brings an uninhibited and very spontaneous even risk taking attitude. I get the feeling that the soft and mellow outlook that Bill portrays hides something deeper and much more adventurous than you would see on the surface. He is immensely talented not only in comedy but in music and acting too, both of which Neptune rules and Mars in connection with Neptune brings charisma & freewheeling confidence.
Saturn in Aries in the 12th house is weakly placed in it's sign of detriment and so there is a tendency for inaction here and his energy reserves and will may not be as strong you might think it to be. This is a difficult combination and there may be a feeling of one step forward, two steps back about him. Learning to accept that you can't go fast forwards headlong into things is one of the lessons of Saturn in Aries; impatience and acting prematurely tends to get you nowhere. This combination often leads either to someone who is a battler and keeps on going against the odds or someone who gives up when faced with difficulties in front of them, it can also lead often lead to a military or sporting career path. Sometimes it can indicate repressed sexuality too although I think it unlikely here in Cosby's case. Saturn in the 12th is a very interesting placement as here is a potential fear of chaos and disorder and remember this is a very psychological part of the chart. How does one combat that? By enforcing order and control so that everything goes the way you want it to go, so this this can be a very controlling position for Saturn to find itself. There is also a potential with Saturn in the 12th for those who work to alleviate suffering and sickness, and true enough Cosby worked in the navy in his younger years in physical therapy and treating injured servicemen.
Venus sits in Gemini indicating an ability to use language creatively and with this planet sitting in his 2nd house of money, possessions and income sextile to Saturn he will use this ability to speak, communicate and engender relationships with people to earn his money. Venus in the 2nd house needs a good standard of living and the sextile to Saturn should lead to loyalty in his relationships and he has been married to his wife Camille since 1964, but Gemini is a dual sign and the urge to stray and experiment would always be in the back of his mind.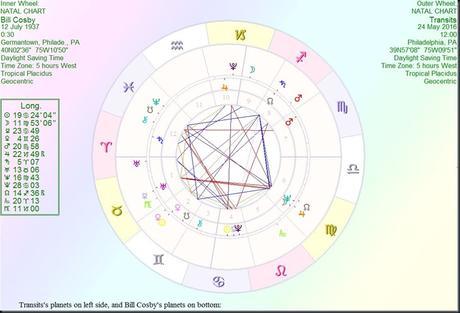 Now in the last few months, Cosby has come under a lot of unexpected allegations about unusual and quite awful behaviour and this has occurred as Uranus has been passing over his Ascendant. It is now well into his first house. More pertinently, transiting Saturn is moving in his 8th house of secrets, sex, power, control and inevitable change and is currently sitting on his natal North node, therefore authority is affecting his life direction now. Transiting Neptune is now square to that nodal axis, so things hidden away for a while are coming out of the closet to cause him trouble. Finally Bill has transiting Pluto opposing his natal Cancerian Sun, so a life changing event with powerful people stacked against him will be changing his life in some way in the next year or two.
Remember, Pluto can be very brutal and can describe sexual oppression in a worse case scenario. I remind you that all this down to astrological interpretation and nothing is ever 100% certain in prediction, however when all the outer planets start working against you and your natal chart, it's a sure sign of difficult times to come. For Bill Cosby, his career and reputation is already in tatters, and the battles ahead that he has to face up to will be tough ones indeed.
#billcosby #astrology #solarisastrology #prediction #cancerians