01 January 2014.
Day 3
A happy new year to all those who stopped by to read.
Today's excursion was a history lesson.
Lalgarh Palace was first on the agenda. The residence of the royal family is converted into a hotel ,a museum and the private residential rooms of the descendants of the Bikaner royal family.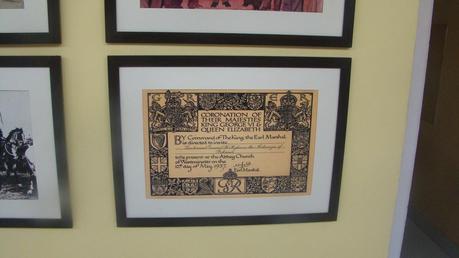 A Royal Invitation to the king of Bikaner to attend the coronation of the King of England

Artifacts ,photographs, a railway saloon car, palanquins, stuffed animals, dresses ,medals, uniforms, weapons and crockery were displayed.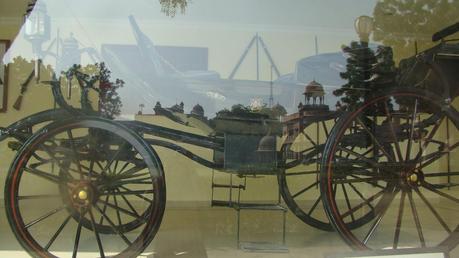 The Buggy that is drawn by horses

A Poshak (Rajputi Dress) something like a long skirt and a shirt with a long scarf- for the queen. Made of silk and gold and silver embroidery and gota work.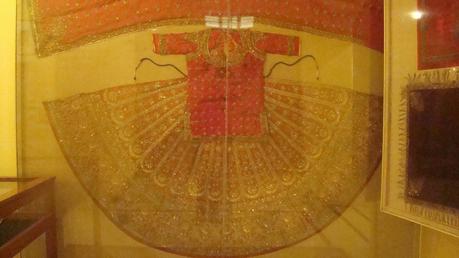 Poshak and Odhani embroidered in gold thread.
Probably worn only once...
A silver Photo frame crafted like an aircraft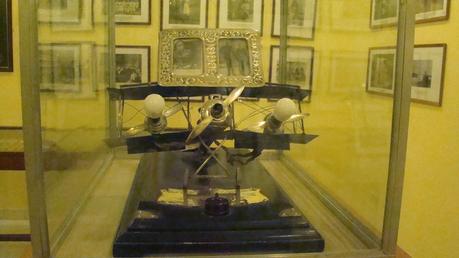 What an opulent lifestyle they must have led!
The Junagarh fort ,Bikaner was our next destination.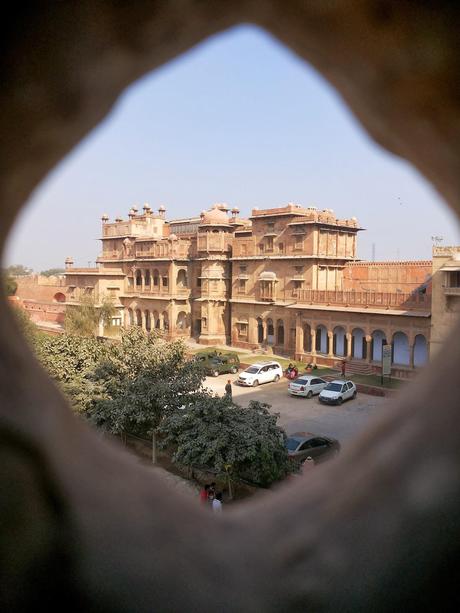 Junagarh Fort a birds eye view-through a hole in the jharokha-window stone mesh

 A guided tour revealed
Many secrets. The fact that the fort took 400 years to build and is one of the best preserved, beautiful Hindu - Mughal architecture, with intricate carving, painting with vegetable colours, gold and silver inlay work.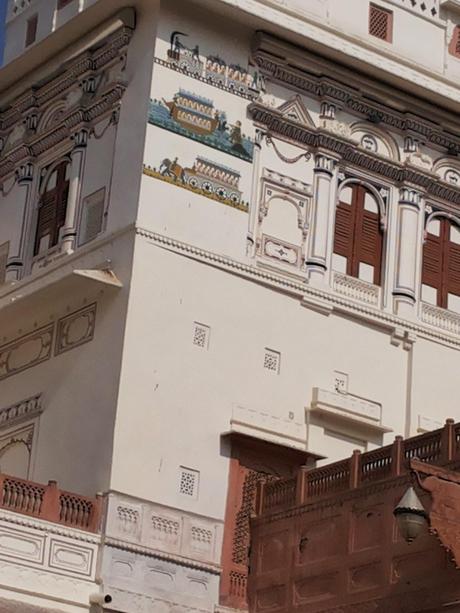 Painted on the wall...the first rail engine,steam engine and rail saloon
Tiles brought from Italy and Holland.
The king had 16 wives and amazing boudoirs...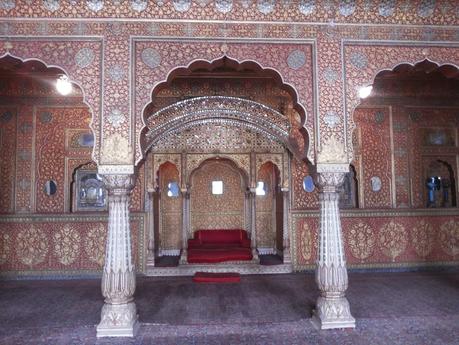 Belgian glass and gold dust used in the wall and floor paints

Aircraft from the WW2 and weapons and armor from the 16th   and 17th and 18th century. Guns and cannons. ..you name it and they were on display.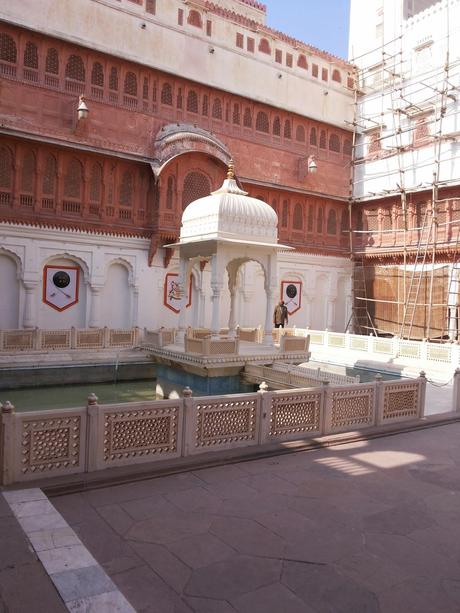 The king sits in the center under the dome and the public plays festival of colours with him..the color flows into the pool
Awe inspiring display of the power the kings wielded.The reverence is in the minds of the people today too.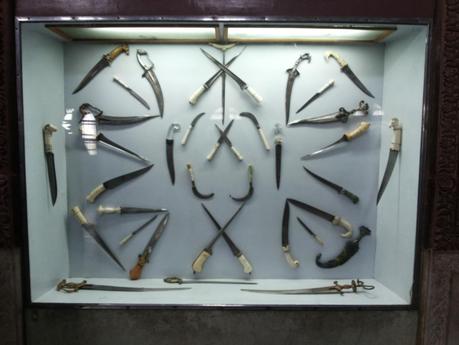 Daggers with Ivory Handles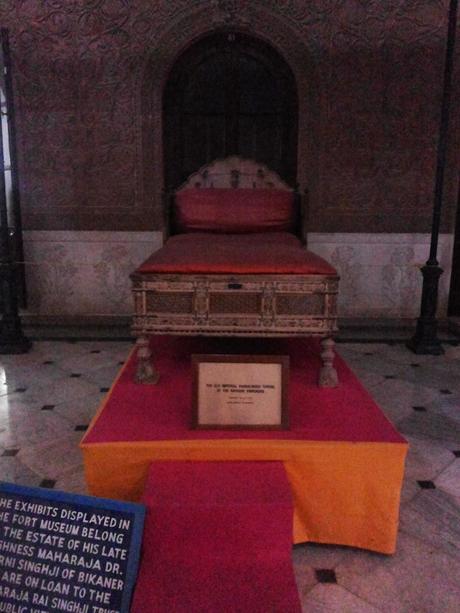 A sandalwood throne from the 12th century

An absolutely breathtaking tour of the fort...
A lot is not for the viewing pleasure of the public,but this itself is a generous gesture of the royal family. people may have even more money today,but this grandeur is to be seen to be believed.
This holiday is more of seeking out the roots-hubby dear is a Dogra Rajput...the Rajputs who moved away to Himachal Pradesh and Jammu and Kashmir from Rajasthan many centuries ago.
I never stopped snapping pics and for once,food was on the back burner...
We search for the elusive Lal Maans...
Till then - Jai Ho!!