Finally, a new Bigfoot news! This long awaited edition will consist only of some very interesting photos that I have found, including one from Fallbrook, California which is being presented to the public for the very first time anyway. Hopefully, I will have another edition coming out soon with more photos and some text too because I definitely have a few things to write about.]
I really think I have writer's block about these Bigfoot posts. I always say I am going to write one and then I never do it for some reason. I think I associate them with a lot of anxiety due to all the Hellish controversy they inevitably spawn from the semi-human inhabitants of this ghastly field of Earthly Hellions and assorted lowlifes, cranks, fools, idiots and out and out jerkoffs and especially loudmouths and belligerent know-nothings.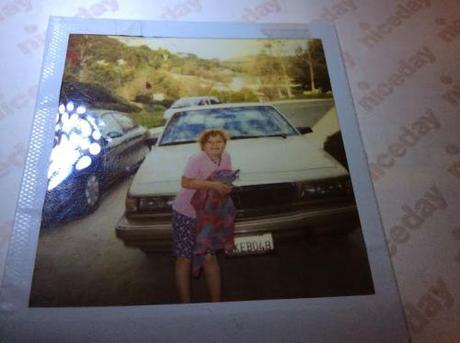 Photo from Fallbrook, California, submitted to me. I do believe that that is a Sasquatch in the background.
This photo was submitted to me by a regular housewife from Fallbrook, California who knew nothing whatsoever about Sasquatches and didn't even necessarily believe in them. It would be hard to find a more naive submitter. She took a photo of her daughter and when they went to look at the photo, there was what appeared to be a Sasquatch in the background. This happens so many times.
Do these things make themselves invisible to the photographer somehow (by cloaking?) but somehow they are not invisible to the camera. In other words, you can't see them with the naked eye for some reason but the camera can pick them up. It might make sense because a camera is not an eyeball. Yes, they both see things but you eye is an organ in your body that has one way of seeing things and your camera is a mechanical object that surely uses a different way of seeing things than your eye uses. Cameras surely do not have irises and optic nerves and and occipital sector in their memory bank.
She was dumbfounded as to what this creature was. She said she was going to France for vacation but would be back in a while. She also said that her dogs had been acting very strange recently and no one had no idea why. She described the land in the background as "wasteland." As you can see, the Sasquatch is frozen in some sort of leaning over type position. I cannot tell you how many photos I have seen where these things freeze like this. I suppose it is one of their ways of sort of going invisible when they feel they have been seen.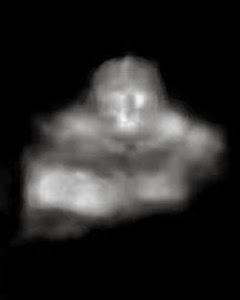 A great closeup of the famous Ridge Watcher shot by Derek Randles Olympic Project. Note the two eyes, the nose and what looks like a mouth. Note in the chest area what looks like two breasts.
This is one of the greatest Sasquatch photos that have come out recently. Randles runs a tip top shape outfit called the Olympic Project. He is a bit controversial in the field, but one thing I know about him is that he is absolutely above hoaxing in any way, shape or form. And the team has some quite professional procedures that they follow. They even have a forensic guy, Rich Germeau, a police officer. Germeau is a very nice guy. I have spoken with him. All in all, I would say that Randles despite a bit of controversy around him is one of the best and most ethical people in the field today.
The Olympic Project got a call about suspected Sasquatch activity on the property of an elderly couple who lived on the Olympic Peninsula. It's hard to say whether they believed in these things before all manner of weirdness began happening on their property. Anyway, they were baffled and called in the Olympic Project to investigate. They worked the site for a while and at some point, they set up a night vision camera in a spot and just left it on for the night.
There are cows visible in some of the video because the owners run some cattle on their property. Skeptards have been dismissive of this video simply because of the presence of cows! How ridiculous. When they went back to review the footage later, they say this obviously alive object peeking over the ridge in the direction of the camera. We know it is alive because it is lit up by the infrared camera and only living things light up the camera. The skeptards were once again contemptuously dismissive and a lot of them claimed the object was obviously a raccoon. Well in that case, it is a raccoon that is quite a bit larger than a man! It's not a raccoon. And the shape of the image very much resembles a Sasquatch, which is what the couple suspected was on their property.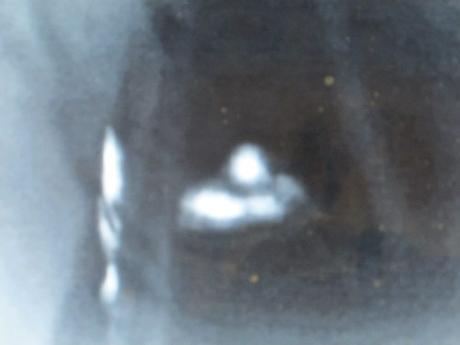 The Ridge Watcher, a blow up of the original photo. That's thermal imaging lighting up the image, the lightened areas indicating body heat of a living creature. And no, that's not a raccoon. Can you believe the skeptard argument is that this thing is a raccoon? WTH.
It's not a raccoon, no. As you can see in the blowup, you can make out the shape of a human shaped living object with two eyes, a nose and a mouth. The eyes, nose and mouth are all a lot larger than those of a human. Note also the wide shoulders, maybe 40 inches wide. No human has shoulders that wide. Not also the lit up area around the breasts. I strongly suspect that this creature, like Patty, is a female.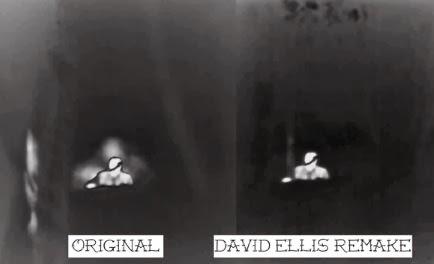 Comparison photo showing a human standing at night in the exact same spot where the Ridge Watcher photo was taken. As you can see, this living creature is massive, much larger than the human. You're telling me that's a raccoon?! A raccoon that is much larger than a human?! Where, on Star Trek? Think of something else. How do you get a human to fit into a huge suit like that that is far larger than any human could be and still light up the whole suit with heat imagery? Hint: You can't so you don't. There's no way to fake that photo, and Randles doesn't hoax anyway. I know him pretty well.
Here is a comparison shot with a human standing in the same place that the Sasquatch was standing in the photo. As you can see with the superimposition, the human shaped creature is quite a bit larger than the man used as a comparison prop. And it's no raccoon, unless it's a raccoon as big as a gorilla. Ok then maybe it was a man in a suit. Well first of all, who put a man in a suit out there? Randles doesn't hoax.
This naive elderly couple is sneaking around in a suit in the middle of the night so they can pull off a Bigfoot hoax? Get real. Furthermore, it can't be a man in a suit because suits cannot expand the size of the human body. Note the size of the body as lit up by the infrared. Your body is as big as it is, no matter what sort of over-fitting suit you put on. The biggest suit around doesn't make your body any larger, and the suit doesn't show up on infrared, only living entities and their components light up on infrared.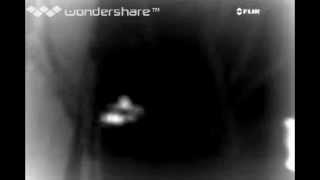 Yet another photo of the Ridge Watcher, this time it looks like this is the actual original Flir image. The skeptards have never been able to dismiss this photo, even though most Bigfooters are now convinced that it's a hoax. The skeptard argument: That's a raccoon. I am serious. They really are that stupid. Skeptards are dumber than Alt Righters.
Once again, it's a raccoon. A raccoon the size of Andre the Giant. Uh huh. This is actually the argument by the "science" side that this photo is not real. The "science" guys say it's a raccoon. So much for "science."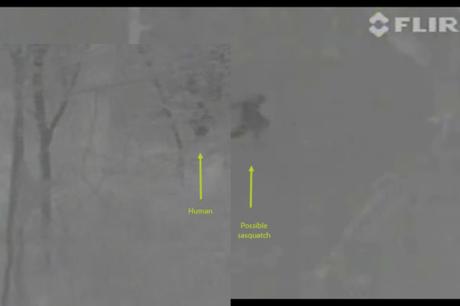 The great Stacy Brown Flir photo. I forget how they took that. That thing is running through the woods very fast in the pitch black dark night with no flashlight. Now tell me how a guy in a monkey suit does that. The body proportions and running style are perfect. That's exactly what these things look like when they run, swinging their very long arms and with their legs kicking way up in back. Humans have tried to imitate the way that they walk and run and no one has been successful yet. The skeptard argument is that this is either Stacy or one of his friends running through the woods at night. Lame. And Brown doesn't hoax to my knowledge.
The lame skeptard argument here is that either Stacy or his father ran through the deep woods of Florida in the middle of the night without a flashlight in Florida extremely fast and using the exact same gait as a Sasquatch does. But humans cannot reproduce the gait or a Sasquatch. It can't be done. No one can do it. And the Browns are not hoaxers. Stacy Brown is a bit of a controversial figure, but he is no hoaxer and neither is his father. If you see the original video, this thing is running incredibly fast. How does a human run in the deep woods with no flashlight? It doesn't. It doesn't run at all. People cannot run fast in the middle of a thick forest at night with no flashlight. Not possible.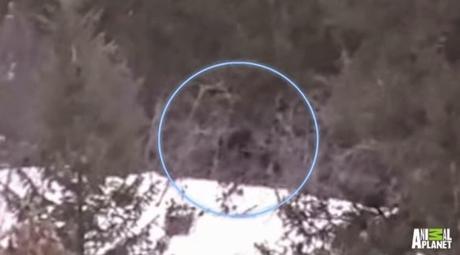 I think this is from the Idaho footage that some skiers shot of something running on a hillside in winter. It's part of a video. I liked this video, but it is very short and it is hard to see the object well. That thing was running extremely fast though in deep snow on top of a mountain. You telling a friend of those skiers put on a monkey suit, climbed a mountain and then ran very fast in deep snow so his skier friends could photograph it. That didn't happen.
This is one of Meldrum's favorites. That thing sure is fast. The skiiers seem pretty naive. Let's see. The skiiers got their friend to put on a monkey suit, no carry a monkey suit up that very steep hill in the deep snow (how does he do that even?) up to the top of that ridge and then put that monkey suit on and run extremely fast through 2-3 feet deep snow. How does anyone do that? Furthermore, the thing is only there for 2-3 seconds. Why would anyone hoax for 2-3 seconds? Hoaxes usually last a lot longer than that.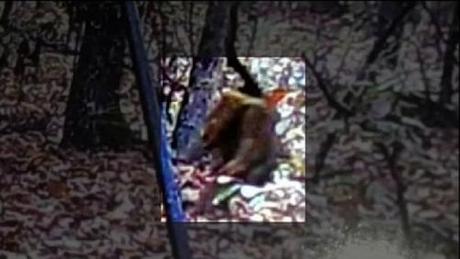 All right, this is one of the most out and out weird crypto photos I have ever seen. This photo was shot in Texas and that, folks, is reportedly a Dogman. Yes that's right. A Dogman. They supposedly do exist. It is some sort of insanely bizarre Sasquatch type creature the existence of which makes no sense to me at all. That thing has supposedly killed some wild animal and I believe it has the dead animal draped over its shoulders. Or else it is eating the animal. Or something. Someone needs to get out a pen and draw some lines around this thing so we can see what's going on here. These Dogmen things scare the living crap out of me!
I have no idea what in the Hell that thing is, but that is one of the most out and out freakiest and most disturbing crypto photos I have ever seen. It has a dead animal draped over its shoulders. Why would a hoaxing human kill a big animal and hang it over this shoulders to hoax a what? A Dogman video? Who ever hoaxed a Dogman video? No one did ever. Most people don't even think they exist. And look at the way that freaky thing looks? Someone made a Dogman costume? What? Who did that and why? No one has ever made a Dogman costume. No such costume is known to exist. Anyway, most people don't have the faintest idea of what these freaky things even look like. How many people sling dead animals over their shoulder to make Bigfoot hoax videos? No one does ever.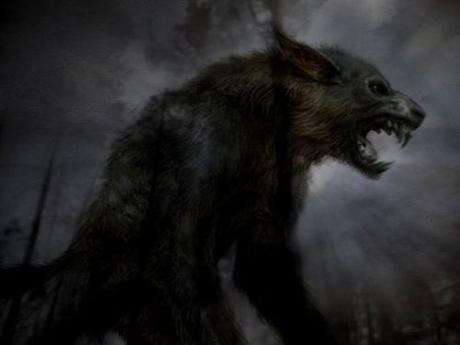 An artist's rendition of one of those Goddamned Dogman things. I know it makes no sense that they exist but supposedly they do anyway. Melba Ketchum has gotten into studying these things lately and she has supposedly observed some down in Texas. There is a radio interview of her talking about her experiences with them. These things are way too weird. Let's prove the Sasquatches first ok? Then we move onto the Dogmen and whatever else weirdness might be out there. One freakshow at a time please.
Ok these things are just way too frightening. Sasquatches vary in their temperament with maybe 75% being pretty easy-going, another 20% being pretty mean and bad-tempered and maybe 3-4% being what experts call "out and out sheer evil. But what we hear about these Dogman freaks is that 100% of them are stone evil to the core. There are even reports that they have murdered humans by ripping them to shreds. There is a report out of Appalachia of a Dogman invading a camper parked at a lake and killing everyone in it and tearing them to shreds. Sheriffs came out later but called it a homicide. Know any killers that rip human beings to shreds? Neither do I? I don't mind Sasquatches, but I must say that I hate these Dogmen. Kill em all.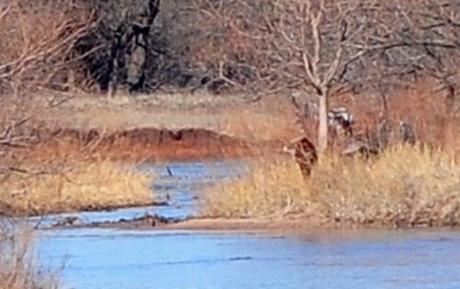 I always liked this photo. I believe it was taken in Hutchinson, Kansas. That thing in the photo is huge. There are other photos of the same area from the same distance in which this object is not present. That is exactly the body shape of these damned things, and that's something the hoaxers never get right because you can't put a suit on a human that gives it nonhuman body proportions. Think about it. If you put a tiger suit on a man, does it really look like a tiger? If you put a deer suit on a man, does it really look like a deer? Of course not in both cases, since in each case, the man retains a human body shape even though he's wearing a funny costume. There's no costume out there that changes the actual proportions of the human body. Think about it. Real hard.
Ok that's weird. This has supposedly been debunked by the skeptards and almost everyone believes their verdict. The verdict is that that weird object (once again frozen – note that it is frozen in the exact same pose as the Fallbrook creature above) is a cow. Yes, a cow. Isn't that lame. Well folks, science has spoken, and that creature in that photo is a cow. That's right, a cow. Does that look like a cow too you? Me either. But hey, science has spoken folks, so the debate is over, science being infallible and all that. All bow down to the Great God of Science!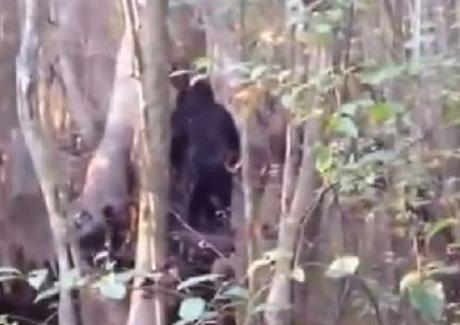 I like this one too. This is a Skunk Ape shot on video in Mississippi. The actual video is very nice. The man who took it was hunting and he had no idea what he shot. Further, he didn't even believe in skunk apes. He thought they were a myth. That's exactly the way these things look from behind and I haven't seen a fake as good as this photo yet. Notice the shape of the hands. Not human.
This is a cool video. The guy who shot is just some good old boy who went hunting one day. He had no idea what this is, so he put it up on Youtube saying what the Hell is this? It's a skunk ape. A skunk ape is just a Sasquatch. That's the name for the ones that live in the Deep South. Look at the shape of the hands on that thing. Those hands are not human. Ever seen a Bigfoot hoax with hands like that? Me either.
See that sheen glowing off the coat of that thing? That means it's real fur on a real living object. She sheen is from the oils on your skin. They come to the surface and give animals' coats a sheen in the sun. No hoaxer has ever been able to reproduce this sheen. Actually they never even try. Furthermore, I have seen many costumes that our Glorious Special Effects Gods have made and I haven's one single costume that had a sheen like this on its coat visible in the sun.
But these Special Effects Gods can do anything, right? No really, they can. Go ask them. They can make a costume that perfectly reproduces any living thing on Earth. No really. I'm not kidding. They all say this. All of them, arrogant as Hell bunch that they are. And the vast majority of people believe the Special Effects Liars when they say this. One born every day.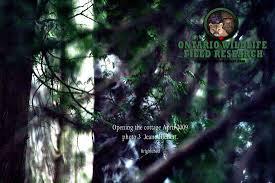 The Temangami Sasquatch from Ontario. Looked at the domed head, the two deep holes for the eye sockets, the philtrum and the mouth. This is a rather unusual look but I have seen another Sasquatch photo from Ontario that looked exactly like this. There is another photo that goes with this one, a photo of the rear that shows this very shaggy creatures just standing there seemingly frozen. Good backstory too.
The skeptard argument about this one is truly stupid. This very old couple, who have this vacation home far out in the wilds of Ontario, somehow hoaxed this video! These are old people, in their 70's. There's nothing weird about them. Everyone says they are upstanding folks. But an elderly couple in their 70's hoaxed a Bigfoot video! Never mind that has never happened. There's never been one case of an elderly couple doing a Bigfoot hoax, but no matter. Science has spoken folks! Listen up, the Almighty God of Science has spoken and the scientific fact is that these old people hoaxed this Bigfoot video.
Look at the very weird way that thing looks. I have seen another photo of a Sasquatch from Ontario and it looks exactly like this one, with the deep-set eye-holes and the very tall domed head. Note the philtrum. That head does not even have human proportions. See those eye holes. The hoaxer goofs have never reproduced that, probably because they never even try. And I've never seen a face as good as that one, with a philtrum no less.
That face is way too large for a human. How does a human put on such a large mask and still retain the obvious bone and muscle structure that one can obviously see in the shot. You can't. A mask too large for your face, if it would even stay on, would droop all over the place and would look very fake. Plus it would probably be falling off all the time if it was way too big for your head like that. Look at that wild fur. There is another shot of this bizarre creature that shows this fur in much wilder shape. That photo was taken by the same couple. It is a back shot.
The back story. The couple lives part time way out in nowhere in Temangami, Ontario. Temangami means "way out in the sticks so far no one ever goes there." They were hearing a lot of weird noises and apparently they started taking some photos of the area outside of the cabin. One argument is that this is Photoshopped, but very good Ontario researchers did a good job of thoroughly investigating this couple and concluded that they were not hoaxing.
Furthermore, it's not Photoshopped because the photos were still in the camera when the investigator came out to look at the case. Anyway, since when does some ordinary couple in their 70's have such advanced Photoshop skills that they can make a Bigfoot hoax with Photoshop. And you can't use Photoshop if they perfect file is already in the camera. Photoshop doesn't work on images that reside only inside of cameras.
I believe once again, the couple thought they were just taking photos of the outside of their cabin and they only saw the Sasquatch when they were reviewing the photos in the camera. How many times do we hear this? What the Hell is going on?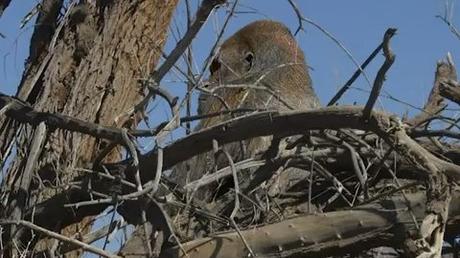 Well known fake that fooled a lot of people for a long time. Back story seemed good. Once again from Fallbrook, California, supposedly after major flooding. Photo was taken of twisted branches after flooding and Sasquatch was not noticed until the photo was viewed afterwards. Problem is that's not a Sasquatch. That's a gorilla Photoshopped into that photo. The guy who put this up has a Youtube page with a lot of gorilla videos and some "Bigfoot" videos. Obvious hoaxer. I am pretty angry at this moron.
Yep it's a gorilla all right. Look closely at the head, face and especially ears. He sure fooled a lot of people though. I am pretty mad at this idiot though because hoaxes are not funny and the hoaxing pretty much ruins this whole field of research because we have to sift through all sorts of hoaxed crap to find anything real. Further, it throws up the specter of "hoax" in front of every bit of evidence that we have. So far, "science" has proven that 100% of the voluminous evidence for the existence of Sasquatches is all nothing but hoaxes. Thank God for science! Science to the rescue again!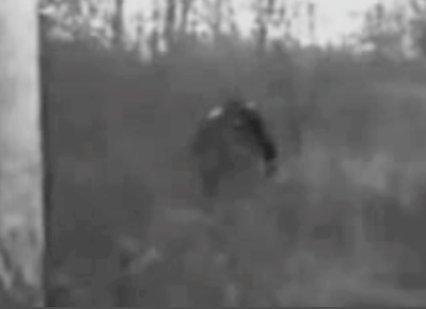 Very strange photo out of Ontario. This is part of a video. The quality is not very good, but that thing is absolutely huge! Look at the massive shoulders and the very long arms. It looks like some sort of a gorilla! Skeptards say this IS a gorilla, but I do not think so. A gorilla running around in the Ontario woods. No.
That thing is massive, and if you see the video, it moves in a very bizarre way that does not even seem human. But I have seen other Sasquatch photos and videos with this exact same bizarro movement going on, which I cannot really describe here in words.
Also the video is very poor quality. Why would anyone make a hoax of such awful quality? That makes no sense. All known hoaxes are clear as air. That's the purpose of the hoax. A hoax with very poor visual quality doesn't even work as a hoax. Hoaxes must be clear or they are useless. Look at the size of that damn thing.
It looks like a gorilla! These things are not gorillas or even apes anymore than we are, but it's quite common for people who get a quick look at one to describe them as gorillas. I remember one famous photo out of Maine where a Sasquatch was raiding an apple tree. In that case, the man who owned the property where the photo was taken said he had spoken to some people who asked him if there was a traveling zoo in the area because the man said he saw a gorilla run across the road. Another man fishing on a lake said he saw a gorilla by the shore of the lake. So you see these things are often mistaken for gorillas which they superficially represent.
The photo is a female Sasquatch kneeling down in front of the motion activated camera. There is apparently a baby Sasquatch hanging onto her back, but that's what the babies do – they hang onto the backs of the mothers.
See the famous Memorial Day footage of an adolescent female Sasquatch running across a field picking up a baby halfway and putting it on her back. The baby rides on her back for most of the rest of the run until it gets up on her shoulders.