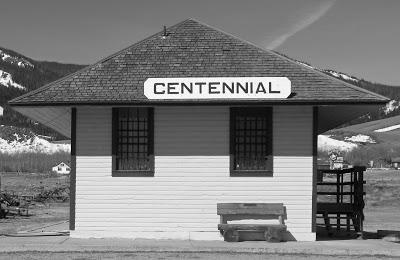 In the Company of Plants and Rocks turns 200 today -- i.e. this is my 200th post!  In celebration, I returned to Centennial, Wyoming, also 
featured in my 100th post, for a day of old-fashioned photography at the Nici Self Historical Museum.
My plan was to shoot in black-and-white.  We often think of black-and-white photography as old-fashioned, so antiques at the Museum seemed ideal subjects.  I searched online for advice, compiled a cheat sheet of tips (below), and headed west to Centennial.  It was opening day of the 2013 season.The Nici Self Historical Museum is housed in the depot of the Laramie Hahn's Peak & Pacific Railroad (above), dedicated July 4, 1907.  The line was built to bring in tourists from the Union Pacific line in Laramie.

Tip #1  Shoot in color, see in black and white.
Almost everyone advises to shoot in color and convert to black-and-white later, rather than using the camera's black-and-white mode.  Post-processing programs do a better job, and it's easier to tweak results on a computer.  Of course shooting in black-and-white mode allows for immediate feedback from the LCD, but in reality, many of the features of concern are too subtle to see, at least with my Canon Rebel T3i.So it's necessary to visualize a black-and-white version of a scene in one's mind, to see things without the distraction of color, to imagine lighting, textures and objects in shades of gray.  Will there be something of interest?  Will the subject or message be clear in the absence of color?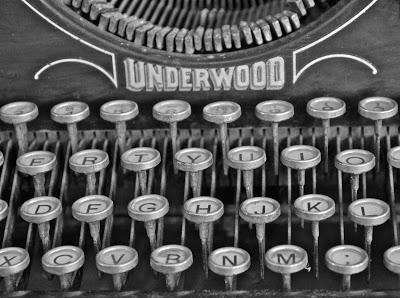 This photo was easy to anticipate, since the typewriter was black and white to begin with.
It was fairly easy to visualize backlit landscapes in black and white.  Below, Buckeye School, and the old beehive burner from a nearby sawmill; horse-drawn plow in foreground.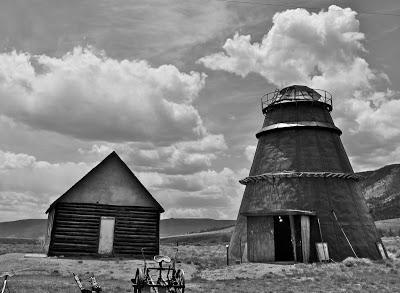 Tip #2  Avoid scenes and subjects that depend on color for interest and appeal.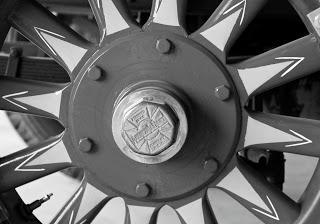 The wheel of a 1917 fire engine is boring in black-and-white.  The message of the photo is clear, but the scene feels lifeless without the bright contrasting colors.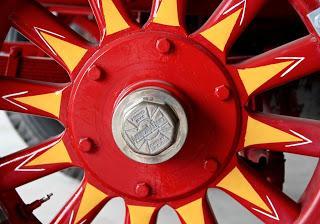 Tip #3  In the absence of color, emphasize other elements.
Shapes, lines, structure, pattern, texture ... all can be intriguing in the absence of color. This is convenient, as I like composing with these things.  I like shooting just part of what we typically consider a scene.  
Below, blades of a 
Rotary Hoe Renovator used at the University of Wyoming to raise sunflowers for feed.  Purchased in 1930.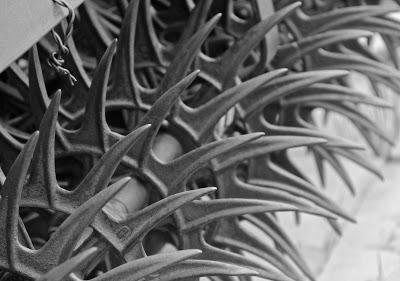 All the old machinery on the Museum grounds kept me fascinated for a long time.  Below, gear wheels on a hay baler built by the Admiral Hay Press Co. in Kansas City, Missouri in 1920.  It was made to bail hay, but probably was used in Centennial to bail paper.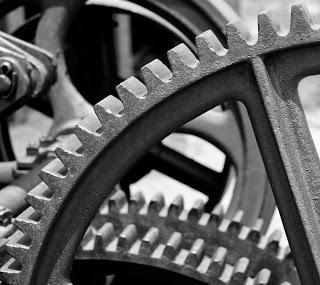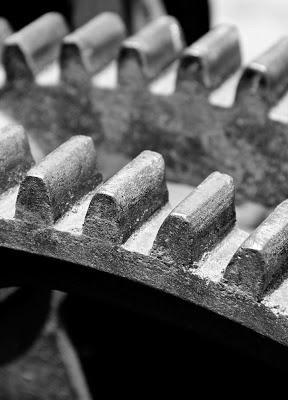 Tip #4  Keep it simple.
Without color to bring out various objects in a photo, I found myself tending towards simplicity, as

crutter

suggested in a helpful post at Digital Photography World:
"look out for subjects that feature simple, strong lines and shapes ... black-and-white images need strong compositions to really work.  Keep an eye out for strong lines or features in your scene that can be used as leading lines, or positioned diagonally across the frame to create dynamic images."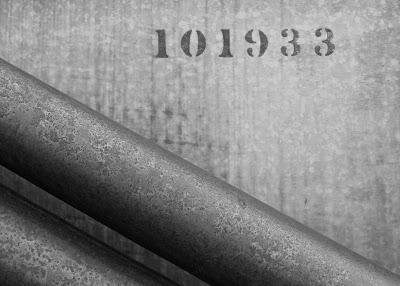 Threshing machine, 1899-1916.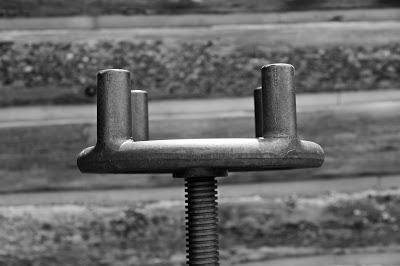 Handle of a press used at the University of Wyoming to render lard from butchered hogs.  The lard was sold to the Gem City Grocery in Laramie.
Tip #5  Think about light.
Strong contrast makes a black-and-white photo more bold or striking.  Again, simplifying seems to help in emphasizing composition in light and shade.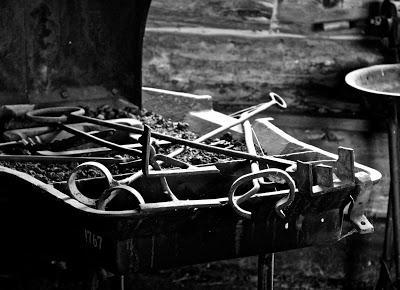 The blacksmith's shop.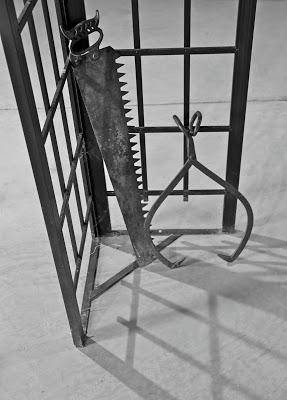 A logger's tools.
Silhouettes are obvious high-contrast subjects, like these patterned curtains against the Museum's bedroom window.
At the other end of the spectrum (ha!) are high-key photos.  A light background and diffuse light to minimize shadows are recommended.  The pale green jewelry box below was sitting on a white window sill in the bedroom.  I brightened the scene in post-processing, as the camera over-compensated for all the light.  I also reduced contrast.  To give a softer more old-fashioned look, I maxed out the De-noise slider in iPhoto.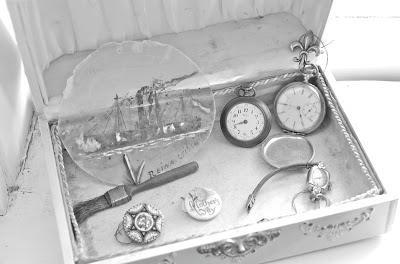 Tip #6  Avoid bland skies.
This was something I hadn't thought about before.  Converted to black-and-white, a gorgeous blue sky becomes a very boring gray.  Dramatic skies are much better (it helps to crank up the contrast a bit).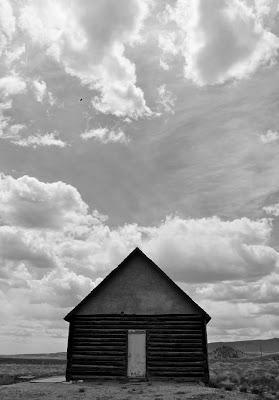 Buckeye School -- one-room schoolhouse used from 1906 to the early 1960s.
Tip #7  Don't forego post-processing.
During my self-education online, it became clear that it's just fine to modify photos.  After all, the camera itself processes images and may make less-than-perfect decisions.  
Most often I played with contrast, highlights and shadows, using 
iPhoto
for almost everything.
The Old-fashioned Look
Hanging out in the past with all the antiques and memories made me want to emphasize old-fashioned in my photos.  I experimented with graininess in post-processing, using the Artistic > Film Grain filter in Photoshop.  I sometimes reduced the apparent quality of images by taking away detail with the De-noise slider in iPhoto, as in the jewelry box photo earlier in the post.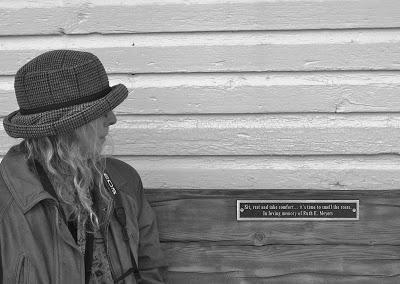 Betsy takes time to enjoy a subtly grainy scene.
Photos don't have to be black-and-white to look old.  Reducing saturation (color) often is all that's needed to go back to a time of softer, subtler scenes and beauty.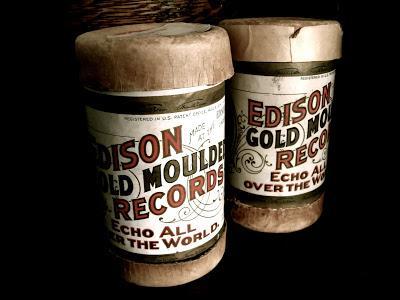 Wax cylinder recordings of "Elizabeth AND Dora Singing" and "E. S. Oslen Singing."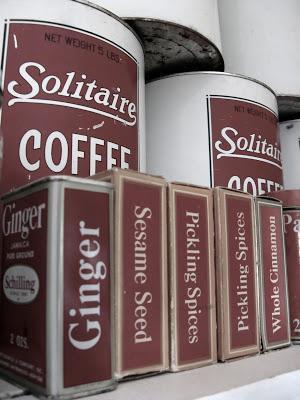 A well-stocked kitchen shelf.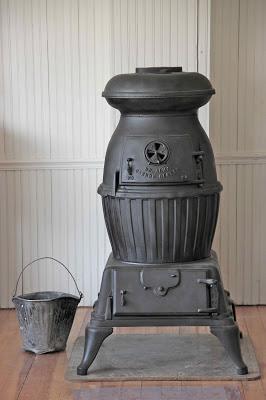 Wood stove in the Buckeye School ...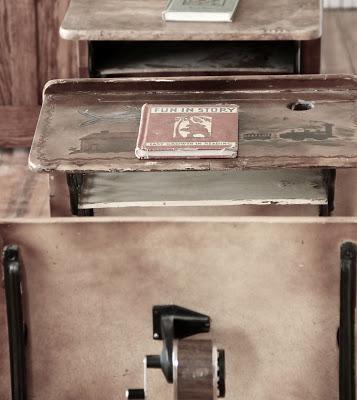 ... and a well-read book.
I also experimented with old-fashioned rules of composition ... or lack thereof.  
In looking at really old photos, it seems photography had a different purpose then, perhaps more documentation than art.  There was less concern for some of the things we worry about now -- like rules of composition.  Symmetry wasn't a big concern, for example.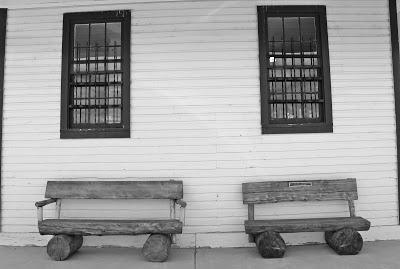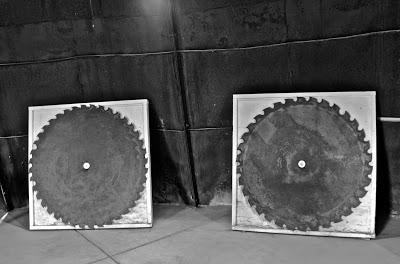 Two old sawmill blades patiently pose for a portrait.
Particularly characteristic of the times were stiff, unnatural portraits -- unavoidable due to very slow film.  Subjects had to sit as still as possible for uncomfortably long periods of time.  In the photo below, taken in Centennial Valley the early 1900s,
 the subjects did well for the most part.  Only the dog failed to cooperate.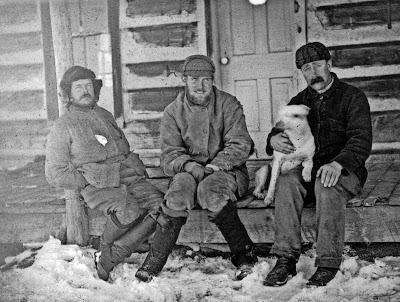 From the Geddes Collection, Nici Self Historical Museum.
I wanted to shoot my own old-fashioned portrait of Centennial citizens, and the Museum staff cheerfully agreed to pose for my experiment.  To make this an old photo, I took away all color, increased graininess, and reduced detail (De-noise slider).  I then added a layer of black specks and faded part of the image to show the passage of time.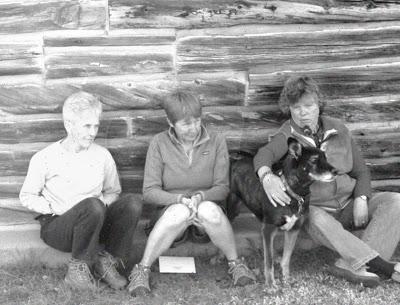 The museum staff tried their hardest to sit still for the tiny fraction of a second required ...
... but it wasn't easy!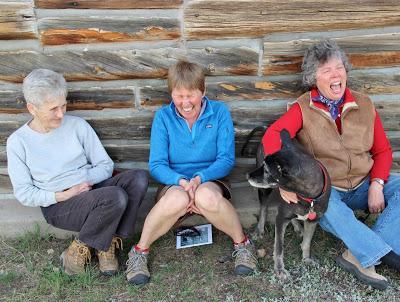 A special "thank you" to Museum staffers Cecily, Deb and Nancy for providing access, information and lots of fun!



How to Get There
Centennial sits at the foot of the Medicine Bow Mountains in southeast Wyoming, 30 miles west of Laramie on Highway 130, the Snowy Range Road.  The Nici Self Historical Museum is on the left (south) coming into town.  It's open Memorial Day to Labor Day, Thursday through Monday, noon to 4 PM.  In September, hours are noon to 4 PM on weekends.  Admission is free, but donations are gratefully accepted.  Tours can be arranged during the off-season, or if one of the dedicated volunteer staff happens to drive by while you're wandering around on the grounds, they'll most likely stop and offer a tour!  To plan your visit, check out the new website.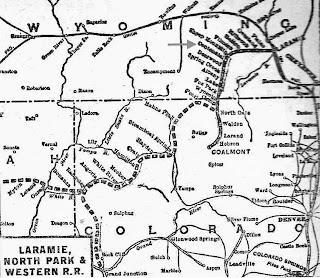 Sources
Information about buildings and items at the Museum comes from the Outdoor Displays brochure (draft) and the Nici Self Historical Museum website.