I have always loved the concept of a pomander ( from the French "pomme d'ambre" or Apple of Amber...A pierced silver or gold orb dating back from Medieval times that could be filled with potpourri and perfumed oils or an orange that had been studded with cloves, tonka powder and cinnamon. They could be used for many things, but mostly they were worn as a type of perfumery and could be sniffed ardently for relief when walking amongst the noxious odors that were so very present at the time. I've collected them for years and love to make my own special blends of herbs, flowers and oils to fill them. They're fun to wear and I've discovered that they look fantastic hung from my Christmas tree where they impart a wonderful fragrance into the air that gets even better with age!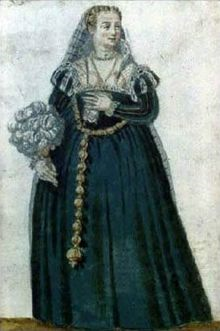 Venetian Woman with Pomander ~ Origins unknown

 I immediately fell in love this necklace as it's such a fun and easy take on that concept. You can choose from one of five exotic scents: Fig, Clary Sage, Agarwood,Neroli or Orchid, or get all five varieties of wooden beads and change them as the mood strikes. I will admit being quite partial to the Clary Sage myself; a fragrance that is so very calming , elegant and sexy to wear.......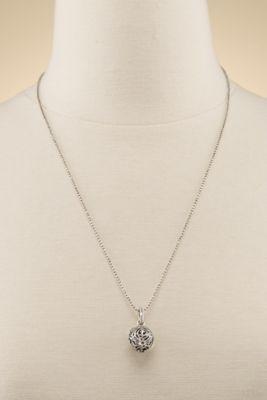 Lisa Hoffman Fragrance Necklace - FRENCH CLARY SAGE
- $65.00
Chic wearable fragrance jewelry! This delicate necklace allows you to wear fragrance without putting fragrance directly on your skin. Includes a jar of refillable beads which provides months' worth of fragrance, and each individual bead delivers maximum levels of fine fragrance for weeks. Available in a variety of sumptuous scents. 22" bead chain. 0.04 oz. fragrance refill beads. French Clary Sage - fresh, sophisticated blend of clary sage, cotton and watery floral notesJapanese Agarwood - woody, soulful scent - accented with the refreshing zest of bergamot, serene spiced ginger and warm amber.Madagascar Orchid - exotic, green floral scent of Madagascar Orchid, which comingles notes of sheer jasmine, ylang dew, mimosa mood and pink peony.Tunisian Neroli - intoxicating scent of Tunisian Neroli, a blend of precious neroli flower, ylang ylang and golden amber that's both classically feminine and utterly modern.Tuscan Fig - Amber- rich, gourmand scent of Tuscan Fig, comprised of fig, vanilla bean, honeysuckle and coconut wood