16 Track, Double-Disc Recording Follows Five Bethel Music Billboard No. 1 Top Christian Albums
Bethel Music European "Worship Nights" Begin This Month, Concurrent Tours Launch Across USA In April,
International Heaven Come Conference To Be Held In May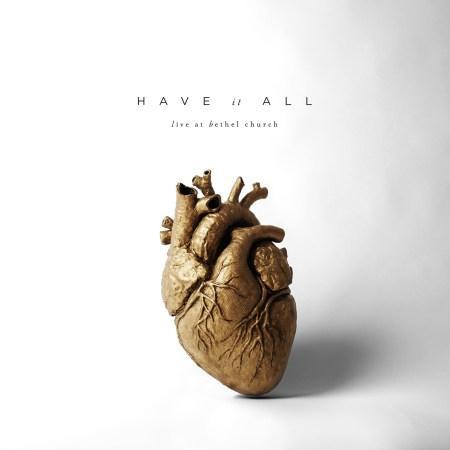 Bethel Music, the worship ministry of Redding, CA-based Bethel Church, launches its next major, multi-artist recording, Have It All, internationally Friday, March 11. The first live recording at Bethel Church since 2012's For The Sake of The World, Bethel Music's Have It All features Brian and Jenn Johnson, Jeremy Riddle,Steffany Gretzinger, Amanda Cook, William Matthews, Jonathan David Helser, Paul and Hannah McClure, Kalley Heiligenthal, Josh Baldwin and Bethel newcomers Leeland and Cory Asbury.
This collective of creatives share in each others' experiences as they drink deeply from the well of community forged from decades of worshipping and living life. Over the course of the past several years, the worship leaders who call Bethel home have walked through seasons of loss, grief, joy and victory, not only as a body of believers, but also as friends who feel like family. Turning those seasons into songs, the group created the blueprint for Have It All.
"When you're friends with all these guys, and you know what they've walked through…and then a song comes out of that season, there's always a backstory to it," says Brian Johnson. "We all had similar things happen—whether good or bad—and this album goes to show that we all made it through the journey and we have something to show for it in the form of a song."
Bethel hopes this fresh collection of songs inspire believers to abandon lives of half-hearted, lukewarm Christianity. "I think God's calling the Church to be all in—nothing hidden, completely surrendered, going for it, and sold out," says Jenn Johnson. "I think it's a message that's woven throughout this whole album… it's a theme that weaves throughout all of our songs and definitely all of our lives."
The first single and title track from the recording, "Have It All," has already become the top-played track on Spotify's Praise & Worship Songs playlist while also being billed as the No. 5 track on Spotify's all-genre New Releases section.
From the white flag anthem of this title track to the hymn-like reverence of "Greatness of Your Glory" to the celebratory wonder of "Heaven Come"—a deeply personal cut penned after Jenn's great-grandmother passed away—Have It All intends to breathe new life into the deadest places and plant seeds of truth deep within the heart and soul of listeners. Much like the woman who broke her jar of perfume over Jesus' feet, giving Him the best she had, Bethel Music extends the new album as their own fragrant offering.
As the songs on Have It All are released worldwide, Bethel's biggest desire is for the message to outweigh the person leading the song. "At the end of the day, I think it's important that we're pointing people to Him instead of even the songs or our movement," says Brian. "I think it's really important that…it wouldn't just end with people looking at us, but that we'd be like signs to Him… If that happened, that would be enough for me, because then we'd feel like we did the work we're called to do with this album."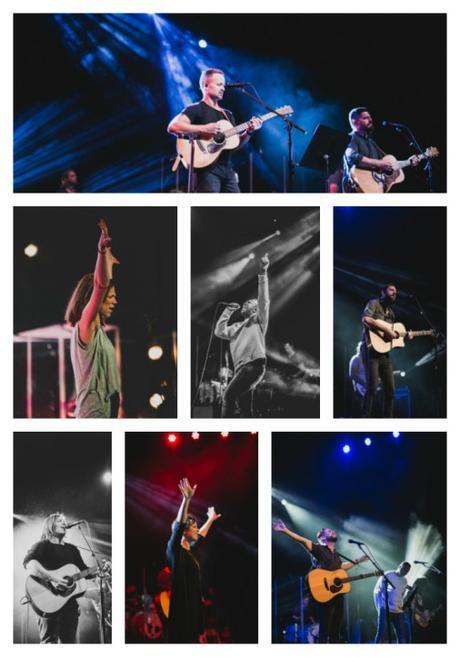 The full Have It All track listing, with featured artists, follows:
Disc 1:
Shine On Us – Bethel Music and William Matthews
Faithful to the End – Bethel Music, Paul McClure, and Hannah McClure
Have it All – Bethel Music and Brian Johnson
Colors – Bethel Music, Brian Johnson, and Lindsey Strand
Be Enthroned – Bethel Music and Jeremy Riddle
Pieces – Bethel Music and Steffany Gretzinger
Lion & the Lamb – Bethel Music and Leeland
Thank You – Bethel Music and Jonathan Helser
Disc 2
Praises (Be Lifted Up) – Bethel Music and Josh Baldwin
Heaven Come – Bethel Music and Jenn Johnson
Sweet Praise – Bethel Music, Jenn Johnson, and Brian Johnson
Son of God – Bethel Music and Cory Asbury
Greatness of Your Glory – Bethel Music and Brian Johnson
Mercy – Bethel Music and Amanda Cook
Spirit Move – Bethel Music and Kalley Heiligenthal
Glory to Glory – Bethel Music and William Matthews
Have It All follows five acclaimed Bethel Music albums that all went to the top of Billboard's Top Christian Albums chart, including We Will Not Be Shaken (2015), which also became the No. 9 bestseller on the overall Billboard Top Albums chart, Amanda Cook's Brave New World (2015), You Make Me Brave (2014), Tides Live (2014) and Tides (2013). Furthermore, Without Words: Synesthesia (2015), The Undoing (2014), by Bethel Music's Steffany Gretzinger, and For The Sake Of The World (2013), all hit No. 2 on theBillboard Top Christian Album's chart.
Taking the new songs from Have It All and worship favorites like "We Will Not Be Shaken," "One Thing Remains," "This Is Amazing Grace" (an ASCAP "Song of the Year"), "Love Came Down" (featured on American Idol 2012), "Forever," "You Are Good," "You Make Me Brave" (GMA Canada Covenant Awards "Song of the Year") and more on the road, Bethel Music "Worship Nights" have seen worshippers fill to capacity major venues at events coast-to-coast and internationally. This month Bethel Music artists Jeremy Riddle, Amanda Cook, William Matthews, Josh Baldwin and Hunter Thompson will travel to Europe March 16-24, bringing "Worship Nights" events to Veenendaal, The Netherlands (3/16, sold out), Bremen, Germany (3/17), Siegburg, Germany (3/18), Ludwigsburg, Germany (3/19), London, England (3/21, sold out), Leeds, England (3/22), Glasgow, Scotland (3/23) and Belfast, Northern Ireland (3/24, Sold Out).
Next month, Bethel Music artists are featured in major market theaters, churches and other venues across North America during two concurrent tours. Amanda Cook's "Brave New World Tour" launches first on April 12 in Charlotte, NC, followed by events in Washington, D.C. (4/13), New York, NY (4/14), East Falmouth, MA (4/15), Toronto, ON (4/17), Fairfield, CT (4/18), Birmingham, AL (4/20), Atlanta, GA (4/21) and Nashville, TN. "Premium" tickets for these events include general admission tickets as well as an interactive ministry and question and answer time with Amanda Cook before the event.
Bethel Music's Steffany Gretzinger, William Matthews, Jeremy Riddle, Melissa Helser, Jonathan David Helser join Bethel's "Midwest Worship Nights U.S.A. Tour" that begins April 15 in Cincinnati, OH followed by events in Columbus, OH (4/16, sold out), Detroit, MI (4/18), Indianapolis, IN (4/19), Pittsburgh, PA (4/20), Chicago, IL (4/22), Green Bay, WI (4/23) and Minneapolis, MN (4/24). Each of these dates will feature "Bethel Breakouts" sessions, which is a time before the Worship Nights events for attendees to gather with like-minded people, growing together in what it looks like to pursue God's presence, as well as to ask questions of the Bethel Music team, be a part of an intimate acoustic worship session and more.
All of the above events will lead up to the Heaven Come Conference to be held May 25-27 in Los Angeles. Drawing participants from all around the world, the conference will feature not only the Bethel Music team, but other internationally known speakers and worship leaders.
All the latest Bethel Music album and tour news, chord charts, videos and more resources can be found at their Official Website, at Instagram, YouTube, Twitter and Facebook, where they have more than 1,358,000 likes.
About Bethel Music:  Bethel Music is a worship ministry that formed as an organic extension of Bethel Church in Redding, CA. Over the last five years, Bethel Music has grown from being a local church music ministry to becoming a global outreach featuring a cadre of songwriters and worship leaders, nearly 20 albums, chart-topping songs, and both online and on-campus worship schools. The heart of Bethel Music is to be a steward of the worship being created and released at Bethel Church, making it a resource available to the world. In addition to thousands of people that attend Bethel's weekly worship services, another 150,000 plus people subscribe to the online stream of the services at iBethel.tv. More about Bethel Music can be found at their Official Website.
~ ~ ~ ~ ~ ~ ~ ~ ~ ~ ~ ~ ~ ~ ~ ~ ~ ~

It would be great if you would stay connected with me!! You can follow me on Twitter @DebiL1611, like me on Facebook at 2014 and Beyond, circle me on Google+, follow me on Tumblr, Instagram and Bloglovin', subscribe on YouTube, or connect with me on LinkedIn and Pinterest.

Please make sure to visit my homepage and subscribe to my blog for more great posts on running, fitness and lifestyle topics as well as food, product, music and book reviews, and more!