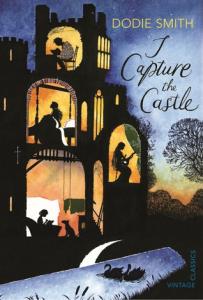 What's it all about?:
'I write this sitting in the kitchen sink…'
This is the diary of Cassandra Mortmain, which tells of her extraordinary family and their crumbling castle home. Cassandra's father was once a famous writer, but now he mainly reads detective novels while his family slide into genteel poverty. Her sister Rose is bored and beautiful, and desperate to marry riches. Their step-mother Topaz has habit of striding through the countryside wearing only her wellington boots. But all their lives will be soon be transformed by the arrival of new neighbours from America, and Cassandra finds herself falling in love…
What did I think?:
Apologies for the late posting of our September kid-lit! Both Chrissi and I have been so busy with normal life events that it's been difficult to read, write and schedule our regular monthly posts. I am however looking forward to telling you all about my experience of I Capture The Castle as it's been a book that has languished on my shelves for some years now and I never seem to have had the time or will to get round to reading it before now. As you can see from the image above in my post, this particular edition was too gorgeous to resist and once I saw it, I knew I had to have it. What can I say? I'm a sucker for pretty books. Did the inside match the inside? Generally, yes but to be perfectly honest, I think I would have benefited from reading this book a lot earlier in my life, perhaps as a young teenager.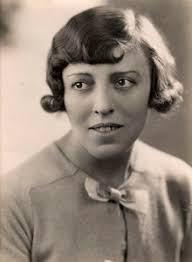 Dodie Smith, author of I Capture The Castle.
I Capture The Castle is quintessentially, a coming of age story that follows our female protagonist, Cassandra and her journal entries as she attempts to capture on paper both the castle that she lives in, and the everyday life of its inhabitants and the people that come to visit. We hear in glorious detail about the eccentricities of her step-mother Topaz, an artist's model who prefers to be nude rather than clothed, a quirk that is absorbed quite normally into daily life within the castle. Then there is Cassandra's older sister Rose, who is determined to marry and lift herself out of the poverty that the family has become accustomed to, no matter if she loves the man in question or not. One of the most interesting characters for me was the father, a famous author who wrote one successful book and has had writers block ever since, mostly isolating himself from the rest of the household and enjoying detective stories and crossword puzzles. Finally, we learn about Stephen who is not related to the rest of the family but is a son of a former servant and the younger brother, Thomas who plays a rather quieter role in the proceedings.
There were so many things to like about this novel and I guess that's why I'm struggling with my rating slightly. I adored the setting – mid 1930's England and of course, the castle which almost becomes a character in its own right. Alongside this, the "human" characters of the piece were drawn wonderfully. They were such an eclectic, interesting mix and I never felt as if I could predict what any one of them might do next. Occasionally, they were infuriating and I didn't understand why they made the choices they did but for myself as a reader, it was an endlessly fascinating voyage of discovery. I don't really have any particular criticisms to make, there's nothing very much to dislike at all and as a debut novel, it's an extraordinary piece of work.
The reason I've plumped for the rating that I have (and believe me, I've been back and forth between three stars and four) is that at points, I loved everything Dodie Smith was doing – particularly with the characterisation. At other points, I didn't connect with it as much as I would have liked and it felt as if I was waiting for something that didn't end up materialising. I fully believe that if I had read it when I was younger, I would have got so much more from the experience and my rating would have been higher but reading it for the first time as an adult? It was a case of right book, wrong time. This does NOT take away from the fact that it's a wonderful read that I would highly recommend.
For Chrissi's fabulous review, please see her blog HERE.
Would I recommend it?:
But of course!
Star rating (out of 5):

COMING UP ON OCTOBER IN BETH AND CHRISSI DO KIT-LIT: Just So Stories by Rudyard Kipling
Advertisements