The Joseph Magnus Cigar Blend is Grapelines 2017 Whiskey of the Year.
 
By Lou Marmon
December 2017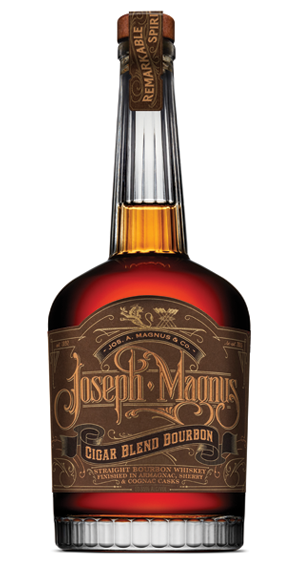 It has been fascinating to observe the whiskey renaissance. It wasn't too long ago that Scottish distilleries were being shuttered and bourbon was disdained.  Single malt Scotch led the rebirth followed somewhat later by a renewal of bourbon appreciation. There are those that credit this resurgence to clever marketing, the proliferation of craft distilleries and other external factors. But fundamentally, the liquor has to first taste good to gain any market share.  
Creating spirits is supremely technical but there is plenty of room for imagination.  Distillation, maturation and blending all have adjustable components that permit the development of a distinguishing flavor profile that is critical to commercial success. However, the proliferation of single barrel, small batch and other unique offerings indicates that a significant segment of consumers desire distinctively diverse selections as well.  
Crafting an extraordinary spirit requires a willingness to experiment. Master blender Nancy Fraley worked for several years at the artisanal Mendocino brandy producer,
Germain-Robin
and is an Armagnac aficionado. She has a decidedly French approach to blending and maturation accented with an American sense of adventure. Her uncanny ability to discern aromas, flavors and faults combined with a zen-like artistic creativity makes her an oft sought consultant for craft distilleries.  
The original
Joseph Magnus Distillery
produced bourbon from the early 1890s until 1917. The distillery was resurrected after the original owner's great-grandson, Jimmy Turner, found a sealed bottle from 1892. Fraley, Richard Wolf (former GM at
Buffalo Trace
) and Dave Scheurich (former master distiller at
Woodford Reserve
) went through a couple of syringes to obtain a sample to try while keeping the cork intact. They all agreed it was one of the finest bourbons they had ever tasted and that sherry barrels were utilized during the production.  The
Joseph Magnus Straight Bourbon
is Fraley's recreation of that original spirit.  
But it is her latest iteration of the
Joseph Magnus Cigar Blend Bourbon
that is the standout whiskey for 2017. It beat out other outstanding contenders including the
Kentucky Owl 11 year old Rye
and
High West's Midwinter Night's Dram (act 5 Scene 1)
.  Conceived while Fraley was smoking on her back deck, the
Joseph
Magnus Cigar Blend
is a delightfully complex blend of younger
Magnus
bourbons with 11 and 18 year old bourbons sourced from
LDI
that is finished in cognac, sherry and older Armagnac barrels.  
The result is an intriguing and sophisticated whiskey that opens with ripe cherry, vanilla and dried fruit aromas touched with tobacco, cinnamon, allspice and a distinct nuttiness.  The nuanced flavors begin with caramel and vanilla layered within deep earthy plum and prune notes associated with tobacco, walnuts and toffee. They lead into a lingering finish with a notable, but not overwhelming, balanced alcohol and sweetness accented with toffee, seasoned oak and just a bit of tobacco.  
The
Joseph Magnus Cigar Blend
is a further illustration that, in the hands of a master, bourbon can be multi-dimensional and supremely refined.