There is a lot of terrific television programming available these days, and none of it is better than what's currently available on premium networks like HBO, Showtime, and Cinemax. Here's a look at some of the top shows currently in first-run status on the premium networks.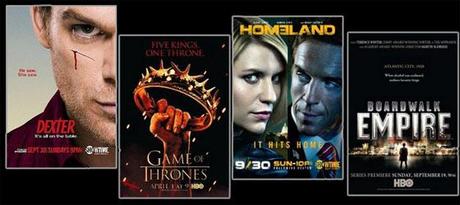 Game of Thrones
One of the strongest and closely-followed HBO original programs, "Game of Thrones" is set in the time of warring empires, kings and queens, and a peasant proletariat. Adapted from George R. R. Martin's "A Song of Ice and Fire" fantasy series, the show has received worldwide critical acclaim through its first two seasons. Its high production values, extremely well-developed world, and believable characters have made the series incredibly popular.
For anyone looking for medieval intrigue and drama, "Game of Thrones" will not disappoint. New viewers should note the series contains graphic violence and language, bloodshed, nudity, and simulated sex, which is sometimes violent and non-consensual.
"Game of Thrones" stars Lean Headey, Peter Dinklage, Maise Williams, and Alfie Allen
Shameless
Showtime has a long history of excellent original programming and "Shameless" is high atop its list of successes. Adapted from the British show by the same name, the story follows the exploits of the highly dysfunctional Gallagher family living on Chicago's south side.
Patriarch Frank (William H. Macy) is the father of six children, who he has absolved responsibility for. Frank is a perpetual drunk, drug addict, and low-life thug who can't be bothered to care for anyone but himself. Fiona (Emmy Rossum) is the oldest child and has assumed the parental role for her younger siblings.
The main storyline follows their day-to-day existence and the lengths they go to survive. It's a drama at its core, but there's plenty of real-life humor to cut through the tensions. The series contains pervasive foul language, underage drug and alcohol use, homosexuality, nudity, and simulated sex.
In addition to Macy and Rossum, the cast includes Cameron Monagham, Shanola Hampton, Joan Cusack, and Steve Howey.
Homeland
In its second season, Showtime's "Homeland" focuses on a CIA operative Carrie Matheson (Claire Danes) and her bid to prove Marine sergeant Nicholas Brody (Damian Lewis) is a terrorist plant. Brody was held hostage by Muslim extremists for eight years, suddenly rescued, and returned to the United States. He's quickly deemed a hero and becomes a congressman. Matheson is convinced he's been turned and makes it her mission to bring him down.
The series shows an excellent look at counterterrorism measures conducted within the CIA, an in-depth look at the psychology to makes an agent, operative, or terrorist, and highly coordinated efforts to gain enough intelligence to make smart decisions about things that matter, like national security. The show contains adult themes and dialogue, occasional nudity and sexual situations, simulated acts of terrorism, and mild foul language.
In addition to Danes and Lewis, show regulars include Mandy Patinkin, Morena Baccarin, David Harewood, and Jamey Sheridan.
Boardwalk Empire
HBO's "Boardwalk Empire" is set in the era of alcohol prohibition that saw rise to organized crime in the 1920s and '30s and follows the life of corrupt politician Enoch "Nucky" Thompson (Steve Buscemi), a real person from the era.
Thompson is brash, doesn't particularly care who knows he corrupt, and essentially owns Atlantic City, New Jersey in every sense of the organizer-crime word. The series provides a good look at men who wore suits and hats wherever they went, the women who love to be abused by them, and a lot of violence and murder associated with organized criminals building an empire of corruption.
If you're fascinated with this period of time in U.S. history, are interested in learning more about it, or simply enjoy a good story by exceptionally good writers, "Boardwalk Empire" should find its way into you regular rotation of quality television programs.
In addition to Buscemi, Kelly Macdonald, Michael Shannon, Vincent Piazza, and Anthony Laciura are part of this stellar cast.
Strike Back
If you're into high-tension, paramilitary action without a lot of unbelievable nonsense, then "Strike Back" on Cinemax will surely keep you on the edge of your seat each week.
The main story follows the exploits of "Section 20," a highly skilled branch of the British Secret Intelligence Service. The team, which includes two special-forces soldiers, computer experts, and support staff both in and out of the field, is always on high alert. The team often infiltrates corrupt governments, poses as arms dealers, and even acts as soldiers of fortune when necessary.
Bullets fly and bombs explode every couple of minutes in this series, making it just the right amount of testosterone for its mostly male audience. You should note that there is pervasive bad language, acts of terror and mayhem of a military nature, and excessive nudity (which appeared starting in the second season) in this series.
The cast includes Philip Winchester, Sullivan Stapleton, Michelle Lukes, Rhashan Stone, and Amanda Mealing.
Dexter
Showtime seems to be the place for exceptional original content. "Dexter," now in its seventh season, is the critically-acclaimed show about a police forensics expert who is also a serial killer.
They might sound like a hokey premise, but it's handled such expertise to make viewers believe this situation is possible. The title character, Dexter Morgan (Michael C. Hall), was taught early in life how to be a successful serial killer (read: not get caught) by his father, who recognized early who and what his son was and tried to make the best of it.
Dexter has a code he lives by, considering himself a Robin Hood of sorts. He only takes out really despicable people he determines should die because of their complete disregard for human life. Each episode contains graphic violence, simulated murder, nudity and sex, adult themes and subject matter, and pervasive bad foul language.
In addition to Hall, show regulars include Jennifer Carpenter, David Zayas, James Remar, Desmond Harrington, and Lauren Vélez.
If you're looking for something off the beaten path, or perhaps more mature in content, premium television networks are currently airing some of the best shows on television.
What is your favorite show on the premium networks?
This guest post was written by David Andrew Johnson