For those who love to walk around in freshly fallen snow, snowshoeing is a treat for their senses. Unlike snow boots, snowshoes let people walk on top of snow rather than into it, making it far more enjoyable. With winter almost here, snowshoes are going to be essential for hiking enthusiasts.
With 2018 almost over, this guide will cover the ten best snowshoes on the market this year. Whether you are a newcomer or a seasoned veteran, you will want to take note of this.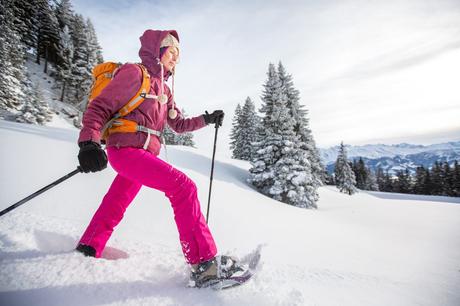 What Makes the Best Snowshoes?
Before you buy a pair of snowshoes, you need to know what qualities make the best snowshoes. To do that, you need to know about the different types of snowshoes and features.
1. Features
Snowshoes have three main features in common. There is the frame and the deck, which is what, distributes weight to allow you to "float" on snow. They are usually made out of aluminum frames and include nylon or hypalon rubber to make them light and responsive. The bigger the deck, the easier it is
The next feature are the bindings. These are what keep a person's feet in place. There are two common types of bindings with snowshoes:
Rotating bindings – they pivot where they attach to the deck, letting them walk like normal. It varies between models, though, and can make it hard to back up or climb over things.
Fixed bindings – connected with heavy-duty rubber. They do not pivot as much, but they make walking more comfortable at the expense of kicking snow onto the legs.
Finally, there are the cleats and crampons that provide traction, allowing a person to walk in the snow. Types include:
Toe crampons – they are on the underside of the bindings, letting them pivot with a person's feet.
Heel crampons – they are on the underside of shoes, and fill with snow to help slow walking downhill
Side rails – provide stability and reduce sideslipping while moving across slopes.
Heel lifts – these wires can help relieve the strain on calves
2. Types of Snowshoes
There are three main types of snowshoes available, and each will work best in a different type of terrain. The flat-terrain snowshoes are easy to walk with. With adjustable bindings and traction systems, they are best for beginners and casual hikers. Rolling terrain snowshoes have tougher crampons and bindings. They are for hills and steep terrain and can hold up in all but the toughest conditions. Finally, there are the mountain terrain snowshoes, able to withstand the harshest conditions. They are for the people who want to walk untrodden paths in the wilderness.
3. Keep in Mind Size, Gender, and Age
The size of the shoes are important in ensuring how easy they stay above the snow. The heavier a person and the lighter the snow is, the bigger the shoes need to be. Gender and age should also be kept in mind. Men's snowshoes are bigger and can take bigger loads, while women's are smaller.
4. Recommended Load
The weight of everything a person has to carry is their recommended load. The heavier a person is or the more gear they have, then they will need larger snowshoes. It is important to remember this.
5. Keep an Eye on the Snow Conditions
It is best to stick with the smallest size that can support a person's weight. Good support can make smaller snowshoes easier to handle. Depending on the type of snow there is, though, different kinds of snowshoes will be necessary. Powder-like snow will need bigger shoes; same with areas with deep snow drifts. Steep and icy terrain, packed trails, and forest call for compact shoes, which are easier to move in. A good hiker will always keep in mind the weather conditions before heading out.
10 Best Snowshoes in 2018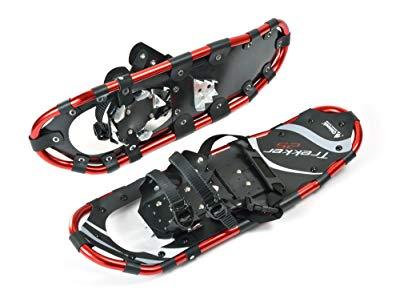 The number one bestselling set of snowshoes on Amazon, the Chinook Trekker's are tough. Made from a lightweight yet durable aluminum frame, the shoes provide an easy way to move in snow. The deck and bindings contain a type of UV resistant plastic that stays flexible in temperatures up to -40F. The dual bindings are freeze-resistant, and easy to adjust. The crampons on the bottom can rotate and bite into the snow, while the heels allow for traction on mild slopes.
Aside from the snowshoes themselves, this product also comes with some extra accessories. It comes with a carrying bag with straps, side handles, mesh ventilation, and more. These shoes are long lasting, durable, and are flexible.
These shoes may be tough, but they may not be best for hardcore hiking. Some customers have said that they do not hold up in hiking conditions. One customer even said they broke in less than 30 minutes of hiking. These may be better for light family activities. Fortunately, they last a long time and even come with a limited warranty.
Pros
UV resistant material
Flexible in temperatures up to -40F
Rotating heels and traction
Comes with bag and pole carriers
Limited lifetime warranty
Cons
May not be meant for hiking, only light activities.
Check Price and Rating on Amazon.com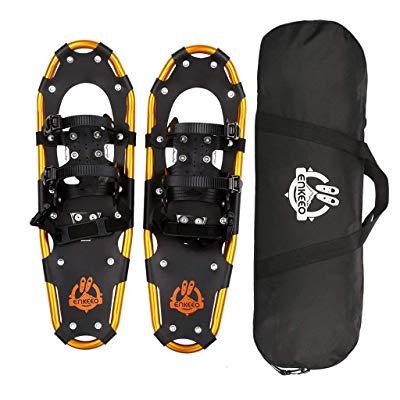 Fashion meets function with the ENKEEO All Terrain Snowshoes Lightweight Aluminum. Coming in a black and orange color, these ergonomic shoes make walking easy. The aluminum frame provides a strong and stable platform for floating above the snow. The size of the shoes will vary depending on the weight of the person using them. The heavier the person and their gear, the bigger the shoes.
Luckily, the ENKEEO's can carry a lot of weight. The largest size of these rugged snowshoes can hold up to 210 pounds. That is all while dealing with the snow and terrain underneath. Thanks to the shoes aluminum teeth and heel straps, though, these shoes live up to their name. They can walk through trails and through the forest with the same amount of effort. As an added bonus, the shoes come with a carrying bag to store them when you are all done.
One of the downsides to the ENKEEO is that the metal underneath the feet are not covered. This can lead to the buildup of ice underneath after some time has passed. This means a person would have to stop and hack off the ice after a while. Other than that, though, these snowshoes are great!
Pros
Stylish color
Can handle most terrains
Can carry up to 210 pounds
Aluminum teeth provide traction
Easy to use straps.
Cons
Uncovered metal on heels leads to ice buildup.
Check Price and Rating on Amazon.com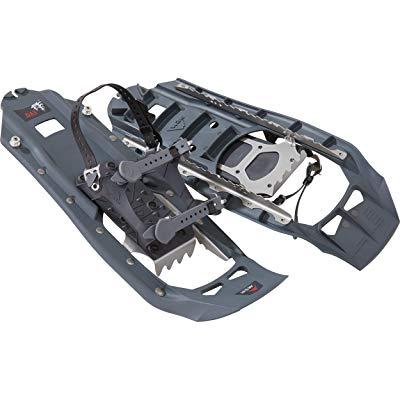 For 40 years, the MSR brand has created the best in backcountry gear. Combining their love of mountaineering with engineering, they make masterpieces for customers. Among the best products, that they make is the snowshoe favored the world over, the MSR Evo Trail Hiking Snowshoes.
These 22-inch snowshoes are all-terrain, all-weather, all-purpose footwear. Their success lies in the unique deck: it steel rails and brake bars are molded into the deck to allow for grip on snow. The bindings are freeze-proof, adjustable, and friendly to gloves. While sold separately, there are optional tails that can provide extra flotation in deep powder snow. All told, these shoes can handle weight up to 180 pounds.
There have been a few complaints from customers about the straps not staying in place, though. Some have even said that the bindings become brittle in cold weather, which does not help. Still, these snowshoes are among the best, and people around the world trust them.
Pros
All-terrain, all-weather footwear
Steel rails and brake bars
Freeze-proof, adjustable bindings
Cons
Straps may not always stay in place.
Check Price and Rating on Amazon.com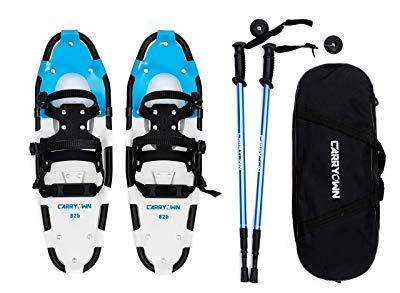 These ergonomic snowshoes have easy walking in mind. Featuring double-ratcheted bindings, the Carryown snowshoes will mold around a person's boots. They will cradle the arch and balls of the feet, ensuring that there are no pressure points hit. That can be a huge relief for the feet.
Meanwhile, the lacing system is easy to use, easy to remove, and will keep the feet secure. Since the largest size can carry up to 250 pounds, this is a good feature. That is not all: the Carryown comes with accessories! Bundled with the snowshoes are snowshoeing poles and a tote bag to carry everything.
If for some reason there should be any problems with the Carryown's, it comes with a 60-day money-back guarantee and a yearlong warranty. If the complaints about the straps being too small for adults to use, then this will be perfect.
Pros
Easy to use straps
relieves pressure points on feet
Comes with snowshoe poles and a carrying bag
Largest size can carry 250 pounds
Cons
Straps may be too small for some people
Check Price and Rating on Amazon.com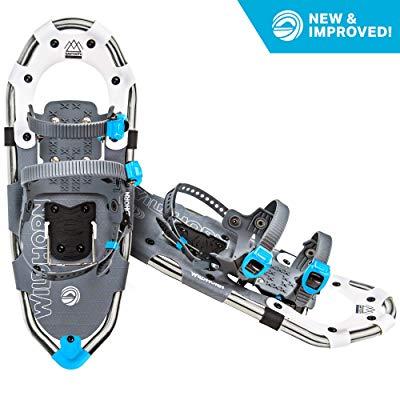 These shoes are not just for 2018, they are for 2019! Made from lightweight aluminum and available in 21″ and 27″ models, these can handle deep powder snow. The Sawtooth Snowshoes can even be adjusted depending on the foot size. The bindings never need lacing thanks to the quick release buckle strap, so there is room for change.
WildHorn Outfitters took the feedback from its 2018 models and made improvements. They reinforced the ratchet bindings with tough, spring-loaded clips and a new heal strap. They are ready to ring in the New Year!
Keep in mind, there is always room for improvement in some areas. The toe cutout could be bigger, since the ratchet adjuster hits the toe on steep climbs. In addition, it does not have a carrying case, which is a minor drawback. Still, it is good to know that the company took feedback in mind, so they are willing to improve!
Pros
Comes in 21″ and 27″ sizes
Quick release buckle strap
Reinforced ratchet bindings
Cons
Could have better toe cut-out
No carrying case
Check Price and Rating on Amazon.com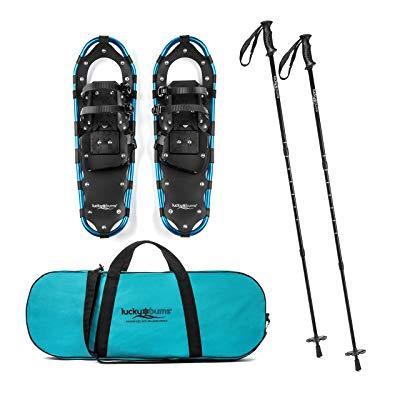 Founded in 2004 by outdoor enthusiasts Jeff and Julie Streeter, Lucky Bums focuses on high performance without high price. They make everything from camping chairs to backpacks and clothes, all to keep people warm and dry while exploring. With their Lucky Bums snowshoes, they hope to get kids and parents outside into the snow together.
Like many snowshoes, Lucky Bums are made out of aluminum, though they make it a point to mention how they are nearly indestructible. They have the standard features of snowshoes. What makes these shoes stand out in the crowd is that they are for all ages. The Lucky Bums come in sizes 14-inch up to 26-inch, meaning they are a fit for anyone.
There may be some problems with the sizing, but even customers who have said so still gave it the shoes a rating of 3 out of 5. That is a good record for snowshoes. In addition, the shoes come with plastic baskets and trekking poles, giving customer's three items for one. That is a good deal, and it does come with a guarantee for your money back.
Pros
Nearly indestructible
Includes trekking poles
Meant for all ages, with four different sizes
Money back guarantee
Cons
Sizes listed may not always be accurate
Check Price and Rating on Amazon.com

Hiking through the backcountry in the snow is easy with the Crescent Moon Gold 10 snowshoes. Made in Boulder, Colorado, these are built for the snow. The single pull loop binding can lock the entire foot down for a nice and comfortable feel. Put them in and then pull them out when needed; no readjustment needed.
The tear-shaped platform allows for maneuverability without loss of flotation at any time. Underneath the frame, the three crampons have a unique toe claw that gives your foot power when climbing. All told, the shoes can fit men's size between 10 and 15, and handle up to 225 pounds. These shoes are perfect for the backwoods.
Pros
Built for walking in the woods
Can handle up to 225 pounds of weight
Toe claw provides power when climbing
Cons
Check Price and Rating on Amazon.com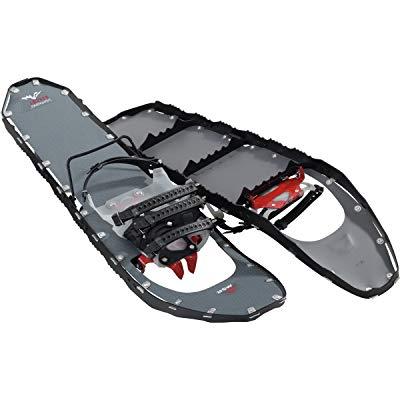 Another creation of MSR, the 2017 Lightning Ascent snowshoes are built on traction. The 360-degree traction frames provide grip from all sides, while the Torsion2 crampons distribute force to maintain contact. Meanwhile, the ergonomic televator will help to lift the heels as a person climbs. This will reduce exhaustion in the calves on steep terrains.
While sold separate from the Lightning Ascent, a mod can add an extra 5 inches to the shoes. Add the modular flotation on to give the shoes the maneuverability of smaller shoes while gaining the flotation of larger shoes.
These shoes are great for climbing, but they have their flaws. Critics have said that the bindings can be bad. One customer even said the strap retainers broke after four uses. Another said that the binding clips would not hold any loose ends. That should not detract from the positives, though. These are good snowshoes, after all.
Pros
360-degree traction frames provide grip on all sides.
Torsion2 crampons to distribute impact on ground
Televator reduces strain on calves
Modular flotation increases its use in deep snow
Cons
Modular flotation sold separately
Bindings may not be that good.
Check Price and Rating on Amazon.com

According to their description, these snowshoes break the mold of their company's design standards. Blending two different designs for the deck, the Endeavor is a versatile shoe. It can work as well in soft snow as it can within backcountry.
Some features included within these shoes are spring-loading suspensions, providing natural foot articulation. This helps people to move in an easier fashion. The built-in traction rails also allow the Endeavor to work great on the most inconsistent terrain possible.
The only real downside to these shoes is that they have to be imported from China. Given how much comes from China, though, that is not a major downside.
Pros
Versatile blend of backcountry and soft snow use
Built-in traction helps maintain grip on loose terrain
Spring-loading suspensions for natural foot articulation
Cons
Made in China. That is about it.
Check Price and Rating on Amazon.com
10. Gpeng Snowshoes – Best for Heavy Hikers and People Who Go Hiking for Days at a Time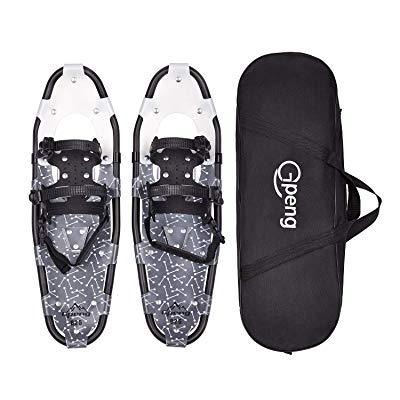 This is not just a set of snowshoes: it is a snowshoeing kit! The Gpeng Snowshoes contain a sturdy and form of aluminum and UV resistant plastic. They are lightweight and ensure the snow will not bother people, while the design keeps the user comfy.
The bindings will hold the arch and balls of the feet, so that they will not feel any pressure. The lacing will keep the feet secure while being easy to put on and take off. They are tough shoes, too: they can hold up to 250 pounds of weight. That is perfect for people who want to go on overnight hikes! That is not all: the snowshoes come with their snowshoeing poles plus a bag to carry everything in.
Any complaints from customers about the Gpeng Snowshoes have been about cosmetic reasons. One customer said that the shoes they got were pink when they the photo showed them as red. Another customer, for whatever reason, did not like the bag they came in. As luck would have it, Gpeng offers a full money-back guarantee and a one-year warranty. Any problems with the products and a person can return them, no sweat!
Pros
Can handle 250 pounds of weight
Super durable and lightweight
Relieves pressure on the feet
Includes snowshoe poles and a carrying bag
One year warranty
Money back guarantee
Cons
Bag might not be made of good material
Company can send wrong colored shoes
Check Price and Rating on Amazon.com
Snowshoes FAQ's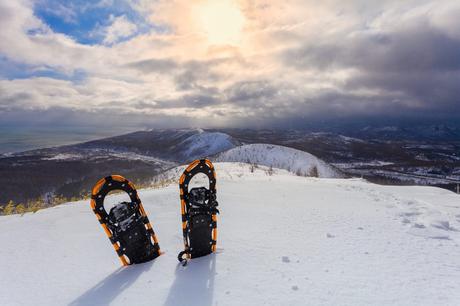 Q: What kind of footwear should you have on when snowshoeing?
It depends on what kind of snowshoeing you like to do. If you want the best possible results, you will want to go with insulated, waterproof boots. They will keep your feet nice and warm and keep out water. If they are waterproof, leather-hiking books also work well.
Q: What kind of socks should you wear when snowshoeing?
Even if the boots you are wearing are waterproof, there is still the chance of snow seeping inside. You should wear socks made out of wool or other synthetics that have get rid of water. Gaiters can keep water out of the boots, as well.
Q: What do I need to know about shoe size?
Shoe size is an important factor in getting the right amount of flotation. There are two main kinds of snowshoes available. There are aluminum frame snowshoes that come in different sizes. They are usually in:
8″ x 25″
9″ x 30″
10″ x 36″
Then there are composite snowshoes. They come in one size, usually 8″ x 22″. They have the option of adding tails to help a person stay afloat.
Q: What is the most important feature to consider in snowshoes?
All the features are important, but the most important might be the flotation. If someone is unable to actually move on top of the snow, then that defeats the whole purpose of having them.
Conclusion
Winter is almost upon the world, and that means snow and all the good and bad that comes with it. Snow boots are always a good choice of footwear, but they sink into deep snow, tiring a person out. That makes them worthless in hiking.
Snowshoes have been used for centuries for winter travel, and they remain popular. With winter hiking a popular pastime, snowshoes are a huge commodity for men, women, and children.