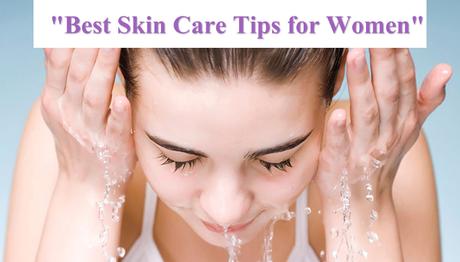 Everybody wants to look beautiful. It is not necessary that you use expensive products or move
to a beauty parlor to look beautiful. Instead of that, the lady should look to take proper care of
the skin. And the truth is that it can be done by following simple methods. So, here we are going to provide some of the simple and best skin care tips for women.
We all are in regular exposure to pollution and dust which makes the outer layer of our skin dull and unhealthy. The skin is losing its moisture which is indirectly affecting the charm of the face.
So, be very careful with your skin.
We have compiled the best skincare tips for women by interviewing the skin specialist and they
are as follows:
Follow a proper Cleaning, Toning and Moisturizing Routine
It is quite important for women to follow a strict cleaning, toning and moisturizing routine in order to reduce the marks of wrinkles which are experienced by a woman mainly after the age of 30.
The routine makes the skin look healthy and fresh as it prevents the accumulation of dirt and
grime.
Eat a Balanced Diet
It is necessary for a person to have a balanced diet full of fruits and vegetables as it is handy in
handling the toxins. So, be good in the diet.
Indulge in Face Masks
Face Mask are quite a great thing in removing dirt and oil from the skin. Now, you must be
thinking that which face mask should you buy? So, we would like to inform you that there is no
need to purchase any face mask as you can prepare it at the home itself. To prepare a perfect
face mask, take some yogurt along with a bit of honey. Now, make a proper mixture of it, before
applying it on the face and neck. Keep it for 15 mins and after that wash it with lukewarm water.
Facials
Undergoing a regular facials helps in maintaining the charm of the skin. It helps in keeping the
skin young and radiant. Therefore, make a habit of paying a visit to the spa at least once a
month. This habit will bring a dynamic change to the texture of your skin.
Exfoliate
When it comes to removing the dead skin cells and blackheads, nothing can be better than
exfoliating. One should exfoliate their skin thrice a week to get a sight of the brighter part of their skin. So, prepare a scrub by adding some granules of sugar with honey and lemon juice.
Night Cream
Night Creams are best recommended to the lady who is facing a problem of patchy skin. So,
before going to bed, use the night cream for face. Also, it helps in hydrating the skin.
Say No to Smoking and Alcohol
Cut down the consumption of alcohol and smoking in order to maintain the charm of the skin.
Alcohol and Smoking make the skin appear unhealthy and dull.
Hydrating Your Skin
To maintain the essential level of moisture in your skin, it is necessary to sleep with a
moisturizer every night. This will give your skin 24/7 nutrition. Avoid the use of chemical
products. It would be better to use natural products for healthy skin.
Control Roughness of Skin
You need to work harder on the rough areas of your skin. If you realize that your skin has
become rusty and itching, then apply a cream on it. This will remove the stuttering of your skin.
With adequate water and proper skin care, you can keep your skin safe and healthy.
Use Sunscreen
No matter is summer or winter, as it is always necessary to apply sunscreen lotion to protect the skin from sunburn. But putting sunscreen on any method does not help, unless you choose the sunscreen that is in accordance with your skin, you will not get the benefit. So, choose the
sunscreen according to your skin type. Get a sunscreen which has SPF in it.
So, these are the best skin care tips for women which a lady should follow to get a healthy skin
in all seasons. Hope you had a great reading here. If you have any query, you can ask them via
comments.