Nothing says fun quite like a kayak. It's a great way to spend time with family and get some exercise as well. If you don't currently own a kayak, it is time to find the best recreational kayak on the market.
There are lots of choices available to you, but it can be confusing which is the best recreational kayak. Not every company makes it clear what their kayak is good for and who should use it. That's why we've put together a comprehensive review for the best one for you.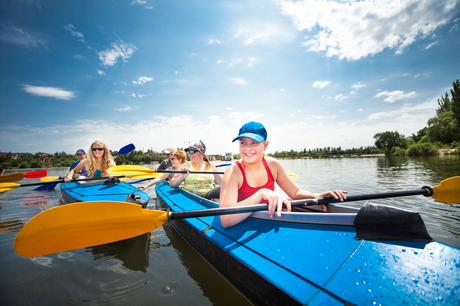 What is a Recreational Kayak Good For?
A recreational kayak is made of polyethylene, plastic ABS or composite material. They aren't just affordable but also perform well in flat water. Ideally, the best recreational kayak would be used for a weekend trip with friends and family. They are also good to take camping or fishing with minimal gear.
You wouldn't want to use this type of kayak in whitewater or load it down with too much gear.
Recreational kayaks aren't to be confused with day touring kayaks or touring kayaks.
Day Touring Kayaks are sleeker and more efficient. They come with a higher price in general and aren't designed for the beginner user. This variety of kayak is made to track straight and offer more control in rougher waters.
Touring Kayaks are longer and more robust which are designed for longer distances. They feature a rudder to handle currents and wind. These are best used in the sea.
Features of a Recreational Kayak
There are several parts to a recreational kayak that you'll want to understand so you can pick the best recreational kayak.
Spray Skirt – This isn't usually found in a recreational kayak but mainly the whitewater or touring boats. It is designed to prevent water from coming into the cockpit and sinking the craft.
Skeg – Normally detachable, this fin stabilizes kayaks during windy conditions or if you are paddling straight on long-distance journeys.
Rocker – This is a term used to describe the shape of a kayak. A rocker shape is like a banana or arc. The more rocker feature a kayak has the easier it is to maneuver through turns.
Rudder – Don't get this confused with the skeg. It is used to control the direction of the kayak and serves as a paddling aid.
Materials that the Best Recreational Kayak is Made of
As discussed briefly above, most recreational kayaks are made from polyethylene, plastic ABS or composite material. Here is the difference between the various materials.
Polyethylene – You'll find this in most boats as it tends to be the least expensive option. While it is low-cost, it is also heavy. Over time, it can break down with exposure to UV. If you have a kayak made of this material, you'll want to store your kayak in the shade!
ABS – Overall, this material resists the sunlight better than a poly boat would. It is more expensive but also created to last long and tends to be easier to repair as well.
Composite – Some of the popular options include carbon fiber, Kevlar or fiberglass. They are what the most expensive kayaks are made from. They are lightweight and out-perform other kayaks of the same class. You will have a hard time finding a kayak made of composite materials at a reasonable price.
How to Choose the Best Recreational Kayak for You
There are several factors that are going to play a part in choosing the best recreational kayak for your needs.
The sit-on-top kayak varieties have some perks, especially if you are a beginner at kayaking. There is an increase in overall stability. In fact, some people who have ended up in the water can climb back onto the kayak without capsizing. When paddling in cold water environments in your sit-on-top kayak, you are going to need a wetsuit.
The sit-in kayak is going to offer a drier experience and has the capability to provide additional storage space for your things.
For more information on the difference between the two, be sure to watch this helpful video:
Let's face it – you are going to want to bring things with you for the trip. This includes your lunch, a beverage or maybe a camp chair for a break. Many people also enjoy taking their beloved dog with them for the ride.
When deciding on the best recreational kayak for your activites, you need to determine how much cargo space you desire. There are some that provide an extra-large cockpit to accommodate your gear, a dog and more.
If you are looking to take a larger cooler with you, opt for a sit-on-top kayak. Just keep in mind that weight can slow down your kayaking experience immensely. Distribute the cargo among all the paddlers on the trip as much as possible.
3. Transportation
Most people don't live on the lake and will need to transport their kayak with them. When determining the portability of a kayak, you first look at the weight. It needs to be light enough that you can lift it on and off the vehicle.
Consider purchasing a rack for your car to put the kayak on. Otherwise, some people choose to purchase a sports trailer to carry the kayak behind the car instead. This is a more expensive option than the roof rack.
There are two choices you can make if you find that transportation is still a real concern for you. Folding Kayaks aren't as rugged as a hard-shell kayak but tend to feature comparable storage capability and handling. An inflatable kayak isn't capable of traveling anywhere fast but is great when used by the shore.
It is becoming more popular to choose an inflatable kayak so it can be carried inside of the vehicle without the need for a rack. Of course, this means you have to inflate and deflate the kayak every time you wish to use it. You could also face a leak or puncture down the road and they don't tend to offer the same performance as a typical kayak would.
4. Weight Capacity
Remember to choose a watercraft that can easily accommodate your weight and the gear that you plan to take. Otherwise, you might sit too low and affect your paddling efficiency.
5. Kayak Length
A longer kayak will cruise efficiently plus tends to offer more storage space. In comparison, a shorter hull will turn easier.
6. Kayak Depth
If you have long legs, you'll desire a kayak with a deeper hull. If your legs are shorter, a shallow hull might be best for you as they are less affected by the wind.
7. Kayak Width
A wider hull offers stability while a narrow hull can move faster.
8. Seats
A high-quality seat can quickly jack up the price on your kayak. If you will be spending hours at a time in the kayak, you'll want an adjustable, padded and ergonomically suited seat. A few extra dollars is worth not being in pain for days after a trip.
9. Cockpit Size
Choosing a small cockpit allows you more protection and control if the conditions turn rough. A larger cockpit, on the other hand, is easier to get in and out of.
10. Hatches
Most recreational kayaks only have one hatch to provide interior storage space.
11. Brands
It is important that you only choose your best recreational kayak from a reputable brand; otherwise, you could be left with a dud. Here are the top choices when it comes to reliable brands in kayaks.
Sun Dolphin – This brand targets recreational paddlers specifically with their line of kayaks. They tend to have a wide variety of options available and you'll also find other watercraft in their line from small watercraft to SUPs.
Ocean Kayak – This company has been in business for decades and is known as the oldest maker of kayaks. With their experience comes high-quality, reliable products you can depend on. They feature beginner kayaks, whitewater kayaks and advanced touring kayaks.
Old Town Canoes & Kayaks – Even though they are currently owned by Ocean Kayak, they've yet to change their name. Despite that, you can expect the same quality of kayaks you would find with Ocean. They also offer a wide range of canoes with their selection of kayaks.
Lifetime – This manufacturer designs a large range of kayaks and other outdoor equipment. Many people know them best for their basketball equipment, but they are also becoming a leader in water sports as well.
12. Budget
You can expect to pay anywhere from $200 all the up to $1,000 on the best recreational kayak. It isn't our recommendation to spend much less than $350 as the cheaper models aren't going to offer the best performance.
As a general guideline, the more expensive models tend to be made of a higher quality and will last longer. Aside from that, cheap kayaks tend to get damaged easier. Consider this; is it wiser to spend $500 once or $350 twice? What are the things that affect the price of the kayak?
Length of kayak – the longer the watercraft is, the more you can expect to pay
Compartments – expect to pay extra for waterproof storage compartments
Comforts – if you want footrests or a comfortable back on the seat, it will cost more
Even as a beginner, you should expect to pay around $400 for the best recreational kayak to meet your basic needs. Let's be honest; you don't want to learn how to kayak on a $250 kayak that doesn't maneuver well.
If you are a more experienced paddler, aim to spend around $500 to $750. The watercraft is longer, the strokes are smoother plus you'll have more storage and comforts.
Top 6 Best Recreational Kayaks 2018
Here are our picks for the top 6 best recreational kayaks in 2018.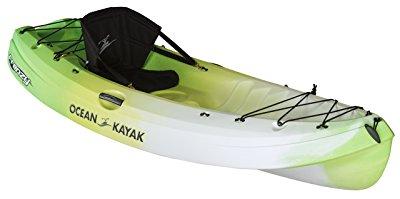 The open design of this recreational kayak offers plenty of room for all your cargo. There is also a generous amount of room on the seat plus two deck lashings. This is an ideal choice for the best recreational kayak if you want to take a dog on the trip with you.
It weighs 43 pounds which isn't too heavy for most users and also provides exceptional stability with enhanced maneuverability and tracking. This kayak is one of the more expensive that are being reviewed but is a favorite among customers.
Features:
Offers a padded back for maximum comfort
Has carrying handles on the stern and bow
Length: 9 ft.
Weight Capacity: 275-325 lbs
Check Price and Rating on Amazon.com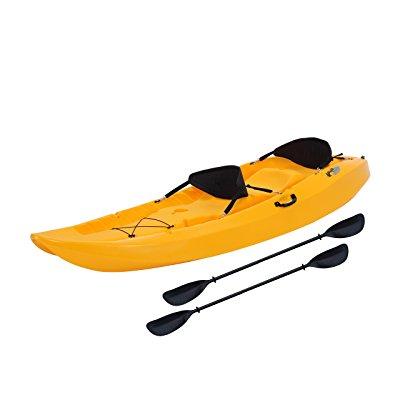 The nice part of this design is that it is capable to use as a single or tandem kayak. While it does feature the sit-on-top design, it has a higher seat capable of keeping the rider dry and comfortable. There are two soft backrests and two double-sided paddles included with the kayak.
It is lightweight at 60 pounds and offers rear plus front carry handles for transport. They claim this model is almost impossible to tip over plus it offers a tunnel hull design. On top of that, it comes with a long 5-year warranty. Lifetime makes a high-quality kayak for a mid-range price that most people can afford.
Features:
Versatile for solo for tandem usage
Comes with two backrests and two paddles
Length: 10 ft.
Weight Capacity: 500 lbs
Check Price and Rating on Amazon.com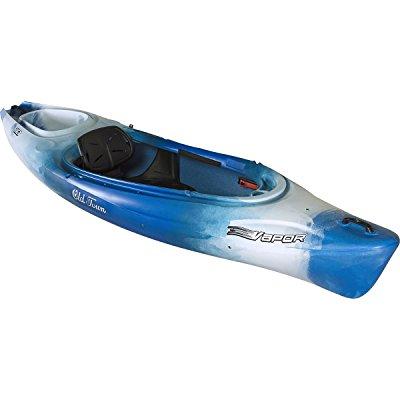 When heading out on the quiet water, this is the best recreational kayak. Use it on lakes, ponds and slow-moving rivers. The single layer polyethylene design keeps the price and weight low. Even still, it is made to be sturdy and strong.
Behind the cockpit, you'll find a gear storage compartment but other than that, it does feature a lack of space. There is also an adjustable seat and foot pegs. In addition, they've included some thigh and knee pads which add to the comfortable feel.
Weighing just 44 pounds, you shouldn't have an issue loading or unloading this from your vehicle.
Features:
Lightweight polyethylene design
Comes complete with adjustable seat, foot pegs as well as thigh and knee pads
Length: 10 ft.
Weight Capacity: 275-325 lbs
Check Price and Rating on Amazon.com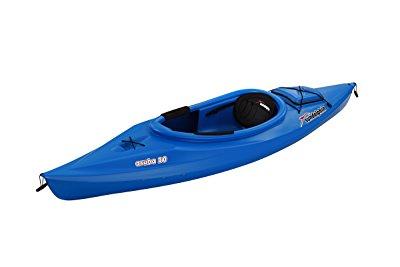 This sit-in kayak is made from UV-stabilized polyethylene to keep it lightweight at only 40 pounds but still durable. It also features an adjustable seat plus a water bottle holder in the cockpit.
There is also a gear well located behind the cockpit with some additional webbing to protect your cargo. For the price, I was a little shocked to see how many colors are available to choose from. Overall this kayak comes in as one of the lower priced models but continues to feature a high rating.
Features:
Lightweight polyethylene design
Has storage and carrying handles
Length: 10 ft.
Weight Capacity: 250 lbs
Check Price and Rating on Amazon.com

This choice as the best recreational kayak comes with a partially inflatable design. The rigid hard-shell paired with the portability of an inflatable makes this a versatile choice for many people.
The built-in aluminum bar frame enhances tracking and control in a way that isn't normally found in an inflatable kayak. In addition, it is made with a three-layer puncture resistant material that protects you from disaster.
All you have to do with this is unfold, inflate the kayak and then attach the seat. No roof racks or trailers are required for the transport of this 36-pound kayak. The added versatility of this kayak seems to increase the price slightly when compared to other models. If this saves you from buying a roof rack or trailer, it might be worth the additional expense.
Features:
Features a unique inflatable and hard-shell design
Protected by three-layer puncture resistant material
Length: 10.5 ft.
Weight Capacity: 300 lbs
Check Price and Rating on Amazon.com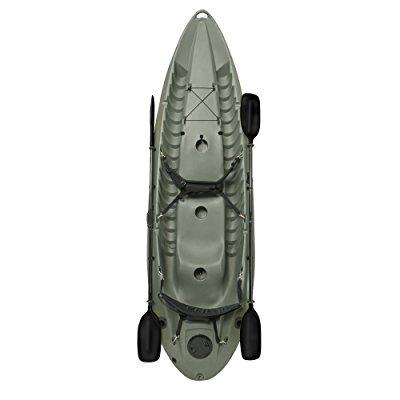 If you are looking for the best recreational kayak that can also pass for a fishing boat, this is a great option. It is a sit-on-top design that is capable of having a single or tandem rider. In fact, the way it is set up, three people could ride in this kayak.
The tunnel hull design allows the kayak to remain balanced even when you stand up to fish or you sit side-saddle to bring in your catch. This kayak is made from a durable, high-density, UV-protected polyethylene HDPE construction. That allows it to be lightweight at 65 pounds plus offers the ability to resist fading, peeling and cracking.
It even comes complete with two double-sided paddles, paddle clips, two padded backrests, three fishing pole holders, and a storage hatch.
Features:
Capability to seat three people
High-density UV-protected polyethylene HDPE construction
Length: 10 ft.
Weight Capacity: 500 lbs
Check Price and Rating on Amazon.com
Safety Tips When Using the Recreational Kayaks
Now that you've decided on the best recreational kayak for your needs, it is important to briefly review some safety guidelines.
1. Don't Drink and Paddle
This is no different than driving. You need to be alert and capable of making quick decisions while out on the water. Dangerous situations occur without any warning at times.
2. Wear a Life Jacket
Even if you know how to swim well, a life jacket could potentially save your life. Most life jackets can be cumbersome and that is why most people choose not to wear one. You could invest in a jacket designed specifically for kayaking because they are more comfortable and tend to be less restrictive.
3. Dress for the Weather
Cold water is one of the most dangerous aspects of kayaking. It quickly leads to hypothermia and potentially death. When you are heading out in the cold, be sure to wear appropriate gear. It is also wise that you paddle only in calm conditions while remaining close to shore.
4. Pick a Location Based on Your Skill Level
You want a kayaking environment that is free of waves and wind. It is also wise to pick an access point that offers easy launching and landing. A calm bay or quiet lake without a noticeable current is the best option for any beginner or less-experienced kayaker.
If you choose to go into water that has waves and wind, you are in danger without the proper sea kayaking course under your belt. In addition, you never want to go further from the shore than you can swim.
5. Practice Entering the Kayak
This is such an important tip. If you are using a sit-on-top kayak, you are going to have an easier time with this skill than using a sit-inside kayak. When re-entering the kayak from the water, you might be faced with quite the ordeal if you don't have a bulkhead to separate the compartments so you avoid flooding.
If you find it hard to learn the skill of re-entering the kayak, your best bet is to paddle near the shore. That way if you end up in the water, you can swim the kayak back to shore and get back in.
If you want to learn more about kayak safety – be sure to check out this video:
Conclusion
After reviewing all the options for the best recreational kayak, it should be easier for you to decide what your needs are. Start by evaluating your budget and then make a list of what features are important to you. Do you need a lightweight option that comes with a comfortable seat or are you looking for a basic kayak that can be used on short trips?
Once you've established the criteria important to you, looking through the list of highly-rated kayaks should make the choice easier. Then, all that's left to do is get out on the water and have some fun.