Before you can make a decision on any product you want to buy, you should take a bit of time to become an educated consumer. While this may not seem to be as important with a rechargeable flashlight as with a car or food for the family, you can certainly do your best to get a reliable, quality light. Consider what you're buying the flashlight for and think about how it will perform when you really need it.
While shopping for this specific type, you may find that some of the best flashlights available on today's market are rechargeable. There are just a few essential features to look for when you want the best rechargeable flashlight. The first will be a battery designed to give optimum performance for that light. This generally means a smaller, easier-to-handle size and better light output in spite of the size.
Following this line of thought, the best rechargeable flashlights are no more than 7 inches in length, with some being 3 inches to 5 inches long. This may be a good way to separate the different lights into categories. For example, if you're looking for a light of medium length (3 to 5 inches) you'll find exactly that size and get outstanding performance.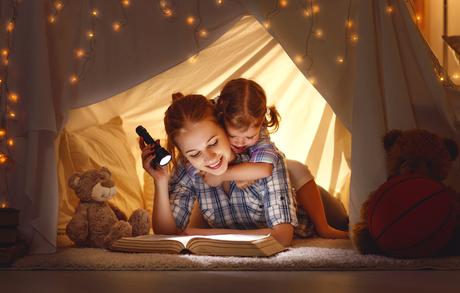 How to Choose the Best Rechargeable Flashlight
One of the important details you'll need to look for has to do with the need to remove the battery to recharge it. Some good flashlights have lithium-ion batteries that are taken out of the flashlight and connected to the charger. Others use a system that lets you leave the battery in so you can recharge like you do with your cell phone or tablet.
When you're considering the features you want in a rechargeable flashlight, you should give some thought to this process. It's possible to overcharge a battery, especially if it's a generic lithium-ion and you place it in the charger and don't pay close attention to the indicator that shows it's fully charged. It's also important to consider buying a flashlight that can use USB or cell-phone-like chargers or come with their own charging station.
You'll also find that the newest rechargeable flashlights us light-emitting diode (LED) to produce the light, as opposed to the classic filament bulbs. This technology uses less power and is not as heavy to carry. The battery will simply last longer. You'll find that you'll pay a lot less for replacement batteries if you use the older, traditional technology, as opposed to choosing a flashlight with a battery that cannot be removed. In the end, you'll have to make the decision based on several features, including size and how recharging is accomplished.
Top 10 Best Rechargeable Flashlights 2017
Maybe the best way to begin this review of the best rechargeable flashlights is with small and "handy."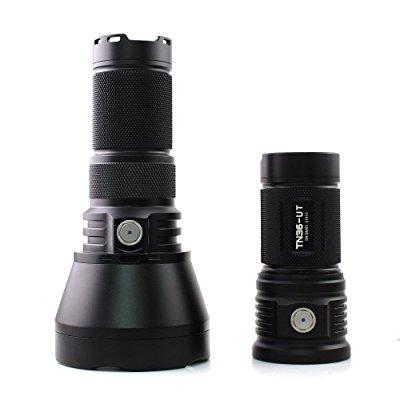 If you're looking for a handful of flashlight that can light up the night for search-and-rescue, the Thrunite TN42C is the one for you. In fact, you'll see warnings about using this light inside – don't!! It's just too bright and can damage your eyes. After all, it will throw a beam up to 5000 feet.
Use four 18650 batteries with five brightness levels and a strobe mode. Brightness ranges from 2000 lumens to 0.8 lumens. This flashlight has a memory function that can help you change modes. Designers have included technology that keeps the unit from overheating and a low-voltage indicator. It's quite hefty at about 24 ounces, 8 inches long and almost four inches in diameter.
Check Price and Rating on Amazon.com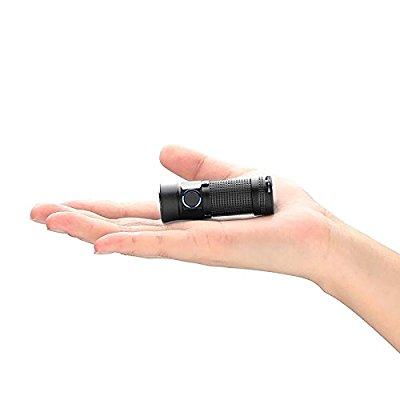 The LED technology is one of the best features of this small flashlight. When combined with the high-quality lens, you get an excellent beam in a very small package. The entire light is less than three inches long, to fit comfortably in anyone's hand. Designers have also included an endcap that's magnetic, which makes it outstanding when you need both hands to accomplish a task.
The Olight S1 series of flashlights offer several brightness levels, including a strobe mode. The manufacturer has also built in a feature that gradually increases and decreases brightness, primarily to protect your eyes from quick changes. The dedicated battery can be charged with a magnetic-contact port and cable included with purchase of the light. You can also use a small dock as your charging source. This amazing little light weighs just a bit more than an ounce and gives outstanding performance in a tiny package.
Check Price and Rating on Amazon.com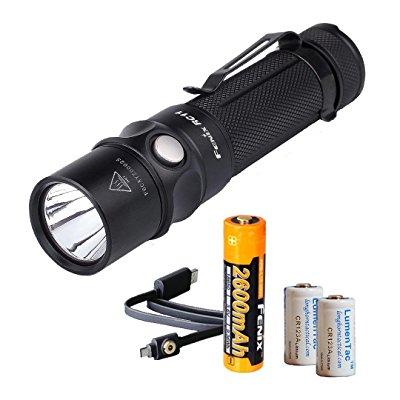 Taking the physical size to the next level, the Fenix RC11 can be an excellent choice if you're looking for a light that is less than 5 inches long (4.5 inches to be exact). It's a comfortable light that delivers up to 1000 lumens and includes a strobe mode. If there's one word to use in describing this flashlight, it would have to be "versatile."
As with many of the top-quality, small lights, you get multiple output modes, with this one going down to 10 lumens. Technology is also a key feature here, with output control that keeps the light consistently bright as the battery power declines. This product comes with a rechargeable lithium-ion battery and a magnetic charging cable. There's a magnetic port on the neck of the flashlight and a built-in indicator.
Check Price and Rating on Amazon.com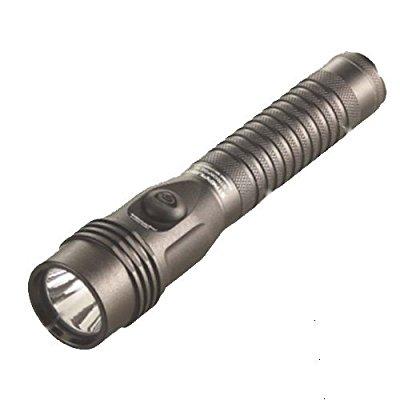 When you're interested in a slightly larger light, you may want to choose the mid-size Streamlight Strion DS HL. Key features include three brightness levels and a strobe mode for help signal etc. You'll also benefit from the concentrated beam output and battery technology that keeps the beam consistent during use.
The lithium-ion battery can be recharged hundreds of times before needing to be replaced. In fact, you can recharge without having to remove it from the case. One of the nicest features is you can charge this light with any of the current chargers Strion offers. This flashlight is relatively light at 5.4 ounces and is only a bit more than 6 inches long.
Check Price and Rating on Amazon.com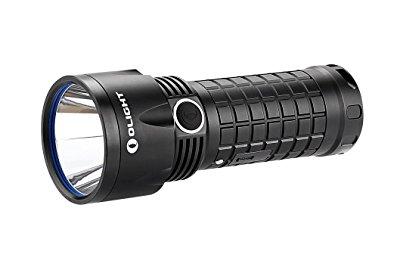 The company behind this great mid-size light has made some improvements over the original SR52. The LED may be the most important of these changes. You can benefit from more than 1000 lumens that can be thrown out well over 2,000 feet. This is an excellent choice for outdoor activities, including law enforcement, as well as search and rescue, separating it from the other "best" in this category.
It's placed in the mid-size, wide category due to its 6-inch length and 2.5-inch diameter, yet it's remarkably light. The SR52UT is a hefty flashlight that will give you long-time use, with three brightness levels and a strobe mode. Power is provided by three 18650 batteries, included. You can also use CR123 batteries. Use the built-in charging circuit with the micro-USB port and cable (also included).
Check Price and Rating on Amazon.com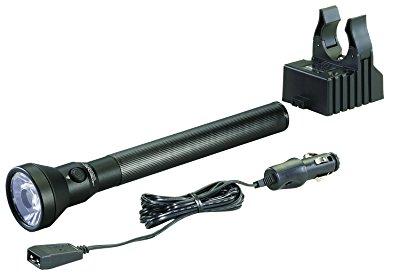 This long, powerful rechargeable flashlight is also from Streamlight, the company that offers the DH SL. The Ultrastinger is almost 12 inches in length and weighs 16 ounces, so it's definitely meant to be used in specific situations where a small light isn't sufficient. When you buy the Ultrastinger, think high-lumens and long range. You'll get more than 1000 lumens from the large lens, and throw that light to more than 1600 feet.
Battery life is remarkable, as is the scratch-resistant lens. Choose from three brightness levels and a strobe mode with this rugged light. Streamlight offers a lifetime warranty on its products. It uses five, 6-volt Ni-MH batteries that can be charged hundreds of times before replacement. The fast-charge cord comes with the light.
Check Price and Rating on Amazon.com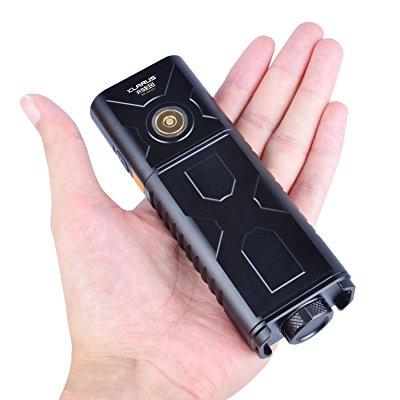 In this same size category, the Klarus RS30 can send out more than 2000 lumens with its LED pair. This light is just a bit longer than 5 inches and is heavier than those smaller lights at almost 9 ounces. But it's still lighter than a few other units when comparing output. The light can be used as in floodlight mode and as a focused beam.
The dual-beam makes this an outstanding choice when you're looking for maximum brightness. But you'll also enjoy hours of use with the choice of two 18650 rechargeable batteries or four CR123 batteries. Designers have been busy with the internal technology, which allows you to use the light even if you have to mix battery types. The two LEDs are on dedicated circuits. This flashlight also offers five brightness levels and a USB source.
Check Price and Rating on Amazon.com
8. Solaray Pro ZX-1 – Best Rechargeable Tactical Flashlight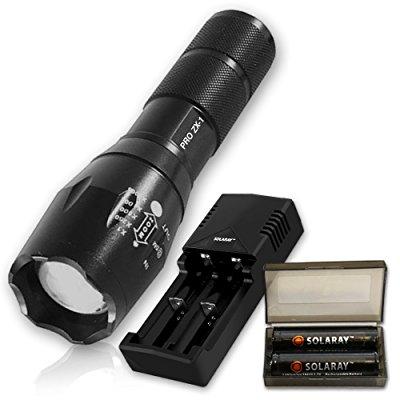 In the mini-category, the Solaray Pro ZX-1 is small, light and durable, yet it produces 1200 lumens with five modes and strobe function. It also offers a basic plug-in design and comes with an extra lithium battery. You can also use this light with AAA batteries.
You'll appreciate the on-off switch location on the tail of the light and the fact that you can use non-rechargeable batteries when you need to. This is an amazing small light that will be very handy to have around.
Check Price and Rating on Amazon.com

This rechargeable flashlight is included in the list because it's just different enough to make it stand out. Many people will recognize the company name of the Makita ML702, since this manufacturer makes popular power tools.
It uses the same battery and charger as other 7.2-volt tools from this company and delivers up to two hours of illumination from a charge. It's separate from many others because of the four-position head and the replacement bulb stored in the head for convenience purposes.
Check Price and Rating on Amazon.com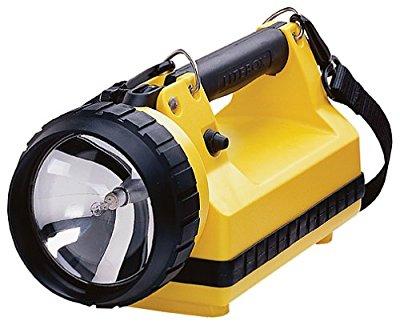 As with the flashlight just mentioned, this one is included because it's different, yet has the features you want in a good, rechargeable light source. It comes with a shoulder strap and mounting rack as part of the kit. You'll benefit from the spotlight halogen lamp and the case designed to stand up to some rugged use. It's a bit heavier, of course, because of the design but you'll find it has its place among the quality lights reviewed here.
Check Price and Rating on Amazon.com
Conclusion
With these 10 flashlights, you have some excellent options for utility, function and convenience. Two lights qualified for best in the mid-size category – Olight and Streamlight. You'll also find a great choice if you want the most powerful light you can get – Thrunite. If you want the smallest, most convenient-to-carry light, Olight is a good choice. But then, so is the Fenix.
For work lights, you might want to consider the Makita. If you like to have a lantern to carry on camping trips and other outdoor activities, the Streamlight Litebox is a good choice. The Klaus light is unique, with its dual-LED design.
You won't go wrong with any of these rechargeable flashlights. Your selection depends on personal preference and the situation in which you'll use your light.