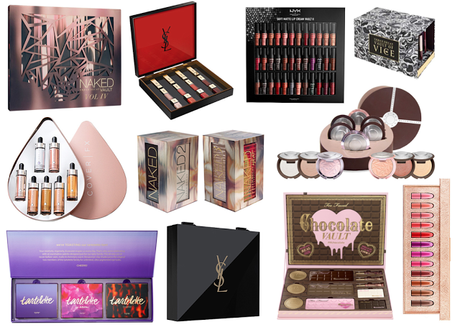 Makeup Vaults seem to be a huge makeup trend at the moment and I am kind of obsessed. I love the idea of these even though a lot of them are super expensive, if you have the budget for them it's a great gift idea! A lot of brands have been launching these so I thought I would pick out and share my favorite ones. If I had the spare cash I would definitely be treating myself to one of these!
Urban Decay Naked Vault Vol IV £195: Comes with The Naked 1, 2 and 3 Palettes. As well as nine Vice Lipsticks and three Glide-on Lip Pencils. Every product is a full size. 
Yves Saint Laurent Lip & Nail Vault £400: Included four Rouge Pur Couture lipsticks, four Tatouage Couture and four La Laque Couture The Mats in stunning packaging.
NYX Soft Matte Lip Cream Vault £65: Includes 24 mini liquid lipsticks. NYX has a few different versions available depending on what you are after! 
Urban Decay Vault of Vices £150: Comes with four lip pencils, four Vice Lipsticks, four Vice Liquid Lipsticks and three Vice Special Effects. 
Cover FX Custom Enhancer Drops Vault Set £190: Comes with seven full size highlighting drops. 
Urban Decay Naked 4Some Vault £120: Comes with all four Naked palettes including the brand new Naked Heat. 
Becca Shimmering Skin Perfector Vault £175: Comes with seven full-size highlighters including Opal, Pearl and Prismatic Amethyst. 
Tarte Tartelette Vault £90: Comes with the Tartelette Matte Palette, Tartelette in Bloom Palette and the Tartelette Toasted Palette. 
Too Faced Chocolate Vault £180: Includes three full-size chocolate bar palettes, three full-size chocolate Soleil bronzers, two chocolate chip palettes and three full-size Melted Chocolate Lipsticks. 
MAC Snowball Mini Lipstick Kit £85: Comes with 12 crowd favorite lipstick shades in min sizes.