Hii everyone!
Today is going to be about my favourite trends from the runways of Spring/Summer 2015; including the premise and execution. ;)
Also, I got my February Fab Bag on 28th; on the very last day of the month! :evil: Anyhow, I love each & every thing, and the cute little bag which came along; and would review all of it very soon. So let's get started with the most wearable S/S 2015 trends:
1. Gingham
Gingham is clearly back & has become like the new black. Shirts, skirts, pants, dresses, bags- you name it and it would be available. An extremely easy look to wear, and looks good on everyone. I love the way Michael Kors has paired the skirt with an off-shoulder crop top.
Lela Rose- S/S 2015; Diane Von Furstenberg-S/S 2015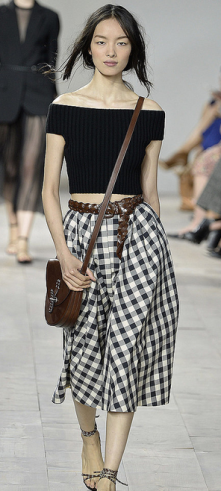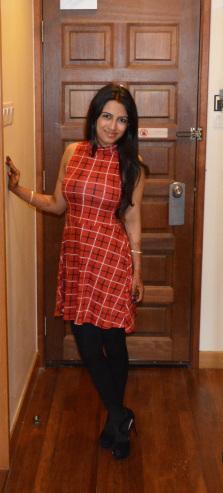 Michael Kors-S/S 2015 Execution: Forever 21 Dress
This red Dress with its high neckline had me at the first glance, and I had to get it. (It was a little chilly that night; hence the stockings, and wore a jacket, when out.) Looks great on its own as well. :razz:
2. Light Rose
Pastels for Spring/Summer can hardly be news. But this time, the colours are softer and polished, like ice blue, custard yellow, lavender and light rose! This has to be my favourite colour, for it symbolises feminism and delicacy.I absolutely love Oscar De La Renta's take on this- the colour looks elevated with the asymmetrical hemline and sharp cuts.
Oscar De La Renta-S/S 2015; BCBG Max Azria-S/S 2015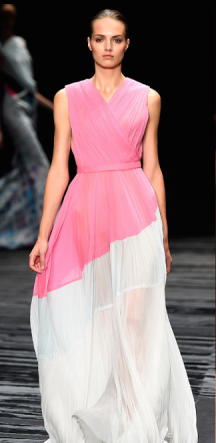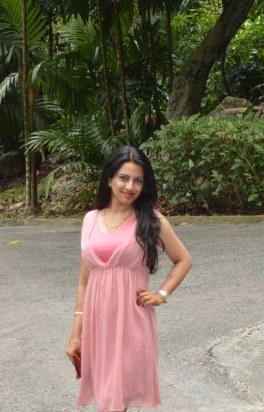 As for this dress, the light-weight, sheer fabric make it ideal for the sultry months ahead. Plus, the dress moves beautifully when I walk, almost like it's fluttering. <3
3. Floral
Florals are almost synonymous to Spring/Summer, but it's only about the fresh prints this year. They're not overpowering but subtle graceful print are all aboard. I've always found florals to be charming, and this year has an ethereal feeling to this trend.
Carolina Herrera-S/S 2015; Diane Von Furstenburg-S/S 2015
Victoria Beckham-S/S 2015; Execution: Forever 21 Dress
This violet-floral printed dress is another of my favourites. Especially because of the lace trimming on the waist. Now, I'm a total sucker for lace; so if a dress combines floral & lace- it's a godsend. :D
4. Polka Dots
It is surprising how a print as simple as Polka Dots hasn't yet gone out. They were there last year and are still maintaining their ground very firmly. Which is totally fine by me as I adore this trend for the cheerfulness and joy exuded by it, like no other.
Dolce & Gabbana- S/S 2015; Moschino- S/S 2015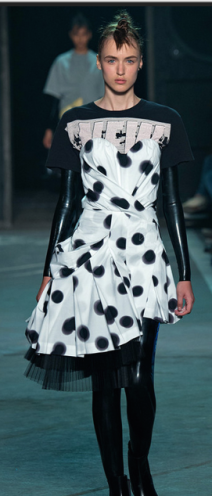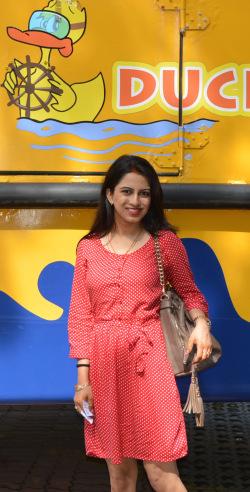 Marc Jacobs- S/S 2015; Execution: Bossini Dress
This dress was an immediate buy- it's red with white polka dots, a matching ribbon to tie at the waist and long sleeves, for those days in the Sun, when getting tanned is scary. :P
5. Head-to-toe White
For me, white equals classy, simplicity and luxury. Dressing in white is always the best bet when you want to look effortlessly chic. From Louis Vuitton, Chloé, Alexander Vang to Roberto Cavalli, Valentino and Elie Saab, white is all over this season!
Roberto Cavalli S/S 2015; Valentino S/S 2015
Elie Saab S/S 2015; Execution: AND Dress
This AND Dress is another of my favourite dresses- so much so that I haven't had an opportunity to wear it yet. :lol: But it will look exquisite during day-time or on a dinner-date.
There are many other wearable S/S 2015 trends as well, such as shirt dress, fringes, sheer fabric, lemon yellow & khaki colour and so much more. Maybe I can do another post later. Oh, and on this note, IndiaRoots delivered that shirt dress from AND, which I was talking about here. I paired it with my tan belt and it makes the most subtle, yet completely put together summer outfit.
Thanks for stopping by,
[Picture Credits: Pinkstudio.nl, Style.com; Vogue.com; Popsugar.com; Eonline.com; Sweetcouch.com and others clicked by my husband. <3 ]