I always loved mehndi on my hands and I am not a pro but I can draw something with the mehndi cone.
Whenever I see a design I save it in my album and then forget about it. So, here are some of the designs which I totally adore.
These are a cluster of Indian and Arabic Style Mehndi Designs.
ps:
The images are not mine.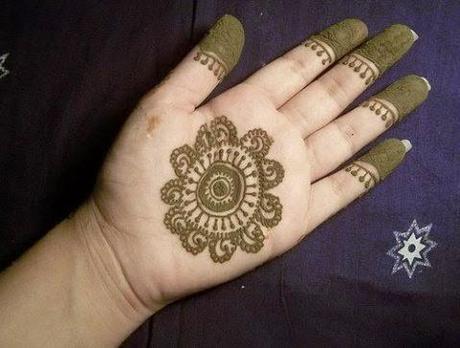 Right click on the image and save it for the best view.

...

Powered by Cincopa Video Streaming Hosting solution.

Best Mehndi Designs

height

333

width

500

originaldate

1/1/0001 6:00:00 AM

height

320

width

287

originaldate

1/1/0001 6:00:00 AM

height

644

width

432

originaldate

1/1/0001 6:00:00 AM

height

374

width

500

originaldate

1/1/0001 6:00:00 AM

height

439

width

333

originaldate

1/1/0001 6:00:00 AM

height

392

width

264

originaldate

1/1/0001 6:00:00 AM

height

400

width

300

originaldate

1/1/0001 6:00:00 AM

height

266

width

400

originaldate

1/1/0001 6:00:00 AM

height

613

width

461

originaldate

1/1/0001 6:00:00 AM

height

480

width

360

originaldate

1/1/0001 6:00:00 AM

height

460

width

520

originaldate

1/1/0001 6:00:00 AM

height

499

width

333

originaldate

1/1/0001 6:00:00 AM

height

640

width

480

originaldate

1/1/0001 6:00:00 AM

originaldate

1/1/0001 6:00:00 AM

cameramake

Dulhan Bridal Henna,

width

450

height

650

cameramodel

Dulhan Bridal Henna,

height

1399

width

1024

originaldate

1/1/0001 6:00:00 AM

height

400

width

298

originaldate

1/1/0001 6:00:00 AM

height

801

width

530

originaldate

1/1/0001 6:00:00 AM

height

500

width

333

originaldate

1/1/0001 6:00:00 AM

height

420

width

300

camerasoftware

Adobe Photoshop CS3

originaldate

1/1/0001 6:00:00 AM

height

768

width

415

originaldate

1/1/0001 6:00:00 AM

height

274

width

339

orientation

1

camerasoftware

Adobe Photoshop 7.0

originaldate

1/1/0001 6:00:00 AM

height

640

width

480

originaldate

1/1/0001 6:00:00 AM

height

344

width

520

originaldate

1/1/0001 6:00:00 AM

height

500

width

333

originaldate

1/1/0001 6:00:00 AM

height

387

width

400

originaldate

1/1/0001 6:00:00 AM

height

500

width

351

originaldate

1/1/0001 6:00:00 AM

height

354

width

400

originaldate

1/1/0001 6:00:00 AM

height

720

width

317

originaldate

1/1/0001 6:00:00 AM

height

428

width

288

originaldate

1/1/0001 6:00:00 AM

height

735

width

800

originaldate

1/1/0001 6:00:00 AM

height

500

width

375

originaldate

1/1/0001 6:00:00 AM

height

325

width

241

originaldate

1/1/0001 6:00:00 AM

height

750

width

495

camerasoftware

ACD Systems Digital

originaldate

1/1/0001 6:00:00 AM

height

384

width

278

camerasoftware

Adobe Photoshop 7.0

originaldate

1/1/0001 6:00:00 AM

height

480

width

360

originaldate

1/1/0001 6:00:00 AM

height

363

width

479

originaldate

1/1/0001 6:00:00 AM

height

472

width

371

originaldate

1/1/0001 6:00:00 AM

height

462

width

300

originaldate

1/1/0001 6:00:00 AM

height

325

width

353

originaldate

1/1/0001 6:00:00 AM

height

360

width

480

originaldate

1/1/0001 6:00:00 AM

height

360

width

480

originaldate

1/1/0001 6:00:00 AM

height

640

width

480

originaldate

1/1/0001 6:00:00 AM

height

720

width

540

originaldate

1/1/0001 6:00:00 AM

height

500

width

375

originaldate

1/1/0001 6:00:00 AM

height

415

width

650

originaldate

1/1/0001 6:00:00 AM

height

540

width

720

originaldate

1/1/0001 6:00:00 AM

height

300

width

197

originaldate

1/1/0001 6:00:00 AM

height

401

width

520

originaldate

1/1/0001 6:00:00 AM

height

640

width

360

originaldate

1/1/0001 6:00:00 AM

height

720

width

540

originaldate

1/1/0001 6:00:00 AM

height

600

width

800

originaldate

1/1/0001 6:00:00 AM

height

540

width

720

originaldate

1/1/0001 6:00:00 AM

height

540

width

720

originaldate

1/1/0001 6:00:00 AM

height

2048

width

1542

originaldate

1/1/0001 6:00:00 AM

height

540

width

720

originaldate

1/1/0001 6:00:00 AM

height

425

width

606

originaldate

1/1/0001 6:00:00 AM

height

1200

width

1600

originaldate

1/1/0001 6:00:00 AM

height

1152

width

2048

originaldate

1/1/0001 6:00:00 AM

height

2048

width

1226

originaldate

1/1/0001 6:00:00 AM

height

2048

width

1365

originaldate

1/1/0001 6:00:00 AM

height

1200

width

1600

originaldate

1/1/0001 6:00:00 AM

height

2048

width

1536

originaldate

1/1/0001 6:00:00 AM

height

720

width

540

originaldate

1/1/0001 6:00:00 AM

height

540

width

720

originaldate

1/1/0001 6:00:00 AM

height

375

width

500

originaldate

1/1/0001 6:00:00 AM

height

500

width

375

originaldate

1/1/0001 6:00:00 AM

height

410

width

500

originaldate

1/1/0001 6:00:00 AM