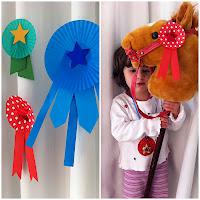 It's no secret that watching
the Olympics
on television with your children is a great learning opportunity.  My daughters have discovered many new sports, learnt terms like gold, silver, bronze, and even begun to better understand the concepts of first, second and third.  Talking about the importance of trying, team spirit, sportsmanship, fair-play, and many more concepts of ideal human behavior can be discussed in an easy way.
Of course it also comes with it's fair share of perils.  Commercials are one of them.  My children usually watch "baby-tv" so are not exposed to mainstream advertising.  You can guess how wide-eyed they were when they watched their first fast-food or soft-drink adds.  Then there's the news break.  Ouch.  They're always short, but they're never sweet.  I'm never quite fast enough with the remote, and whilst as adults we are used to seeing certain images, such as fairly graphic car-wrecks, my girls are not.
The other trouble with watching the Olympics came unexpectedly.  I was talking about "see how good those girls are?  You could be like that too one day.  You just have to want it really bad and work really hard at it, and, and..."   And they got the idea.  Only they got it better than I expected.  So when the Queen's granddaughter came riding out on her dashing horse, Mimi turned to me and said; "that's what I want to do for the Olympics - so now I need a pony, so I can ride it all day every day to become really good."
It's always so humbling to be trumped by a four year old.
After explaining our back yard wasn't big enough for a showjumping pony, I reminded them they already had pretend-ponies, and we went and made ribbons for them to go with the medals they had made a little earlier (see yesterday's post).  Disillusioned, Mimi decided she wanted to become a beach volleyball player instead, but Little Lotti was content to run around the house with her best-in-show pony, happily scratching the walls as she went.
If you want to make a similar ribbon - all you need is a cupcake liner, a shiny paper star, and a piece of coloured paper.  Trim the paper to look like a ribbon and stick it on the back of the cupcake liner, and stick the star to the front.  We made a roll of sticky tape to put the ribbon on the horse.  All done.
These would be the perfect pony party-craft for kids to make, or for you to put on keepsakes, party bags, or decorate with...
Ahhhh parenting... fun and games. x