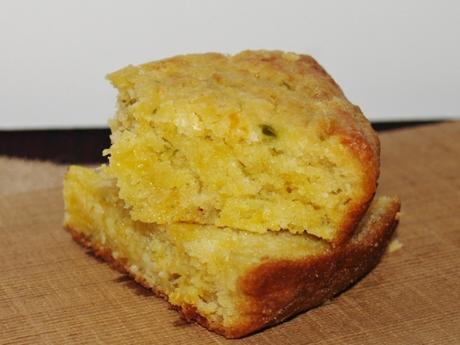 This is, hands down, the best cornbread I have ever eaten. I've eaten a lot of it in my lifetime and this is moist, tasty and just a little spicy. I loved it as did the entire family including son-in-law who does not like cornbread of any kind at any time. As you will see later in the post, I served it with stew last weekend but the next day we had carnitas and I'm telling you serving the carnita meat on top of a split piece of the cornbread that I heated in the microwave for about 20 seconds was the second best thing I did last week! This make a big skillet full and we did not throw one piece away – that never happens. We usually throw at least half of the cornbread away because it just isn't good after it cools and gets dry.
A quick note to remind those who haven't been over to my Shoney's Strawberry Pie post but the giveaway is still going over there. And, we are nearly ready to unveil the new Yum Goggle and I'm so darn excited I can hardly stand it! The only thing left from the old YG is the web address…….that's it. Everything else is new or changed.
I got the genesis of this recipe at Allrecipes and then I changed some things up making it my own.
Ingredients:
5 slices of bacon fried crisply and chopped finely
8 ounces of cheddar cheese, shredded
1/3 Cup of finely chopped pickles Jalapeno peppers
3 Cups All-Purpose Flour
1 Cup Yellow Cornmeal
2 Tablespoons granulated sugar
2 Tablespoons baking powder
2 teaspoons salt
1 Cup of milk
1 Cup of Buttermilk
1 Cup unsalted butter, melted
4 large eggs, slightly beaten
Directions:
Pre-heat oven to 350F.
You will need a large iron skillet – you can use a 9 x 13 Pyrex dish if you like but it won't be the same. Using some of the bacon grease from frying the bacon, grease the inside bottom and sides of the iron skillet lightly and set aside.
Mix all the dry ingredients together.
Whisk all the wet ingredients together and then mix into dry only until mixed………it's going to be lumpy and grainy looking.
Fold in the peppers, cheese, and bacon then set bowl aside to sit for 10 minutes.
During those 10 minutes put the iron skillet in the oven and let it heat up.
At the end of the 10, pull the skillet out of the oven and pour the batter into the skillet……you will hear it sizzle.
Bake for anywhere from 30 minutes (how long it took the person on allrecipes) and 55 minutes (how long it took me. Basically, until a toothpick comes out clean when stuck in the middle.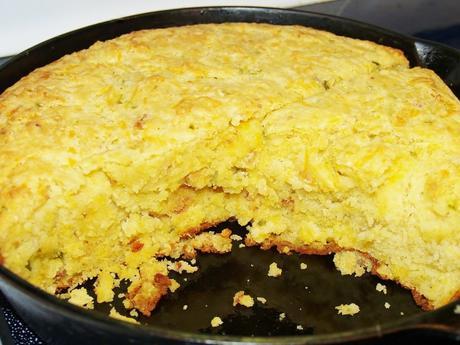 Let it cool for 10 minutes and you can begin slicking.
I know you will enjoy it and feel free to leave the peppers out if you don't want it spicy.