For dessert this weekend, or for the Fourth of July, try making this refreshing and delicious dessert – Berry Meringues. For a simple, yet elegant Red, White and Blue dessert start with fresh summer berries such as raspberries, strawberries, blueberries and blackberries. Add a quick vanilla scented meringue and you have the perfect end to a beautiful summer dinner. We are devouring our Berry Meringues after a Sunday dinner of smoked chicken wings, Maryland steamed crabs and the all-American Hot Dog! Nothing could be better.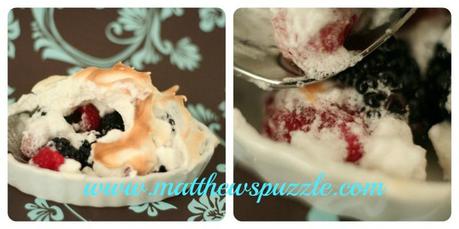 Berry Meringues Print
Recipe type:
Dessert
Author:
Matthew's Puzzle
Prep time:
10 mins
Cook time:
5 mins
Total time:
15 mins
Serves:
4
Fresh summer berries under a vanilla scented meringue
Ingredients
4 egg whites
1/3 Cup sugar
1/8 tsp salt
1/8 tsp cream of tartar
1/2 tsp vanilla extract
1 pint fresh berries, your preferred mix
Instructions
In a clean bowl combine egg whites, sugar, salt, cream of tartar.
Beat on medium-high until stiff peaks form.
Do not over beat.
Add vanilla extract and beat to incorporate, do not over beat.
Fill ramekins with washed and dried berry mix.
Mound meringue on berries and completely cover.
Broil in oven until meringue is nicely browned.
Be careful not to burn.
Can be served immediately or cooled and served at room temperature.
WordPress Recipe Plugin and Microformatting by

EasyRecipe
2.2.7