Organic rosehip oil is a natural skin care powerhouse that moisturizes dry skin and fights acne scars as well. There aren't many natural skin care products that can fight such a wide variety of skin issues. This oil is a very old and effective remedy that has been used in many cultures with great success.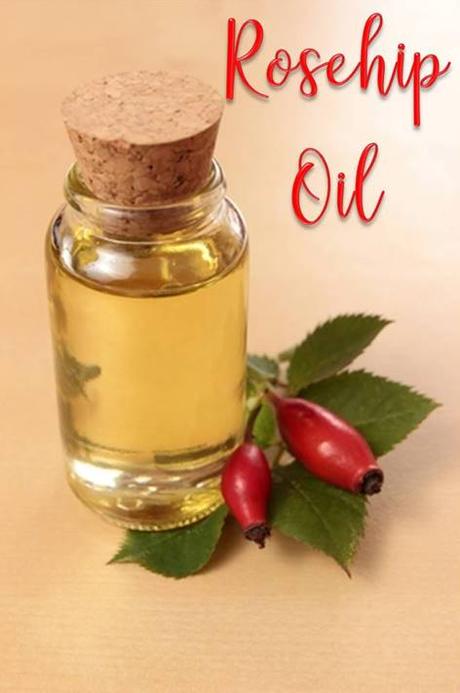 Rosehip Oil: The Anti-Aging Oil
Rosehip oil is derived from a certain type of rose-Rosa Affinis Rubiginosa-and is taken from the fruit of the rose after it has flowered and the petals have dropped. This type of rose is generally grown in Chile. Since rosehip oil is pressed from rosehips and not distilled, it is not an essential oil and you can apply it directly to your skin.
The anti-aging properties of rosehip oil are extremely significant. Puristry's Restorative Facial Oil contains high levels of antioxidants-Vitamin A (Retinol) and Vitamin C, and Vitamin E which are all antioxidants and fighters of free radicals, which are the major causes of the effects of aging. Rosehip oil also contains essential fatty acids which are readily absorbed into the skin and can help moisturize dry skin.
The Vitamin A in rosehip oil helps to eliminate the signs of aging by aiding in cell regeneration along with promoting and increasing collagen and elastin levels. The fatty acids and Vitamin E are also important nutrients for the skin. The result is firmer more youthful skin.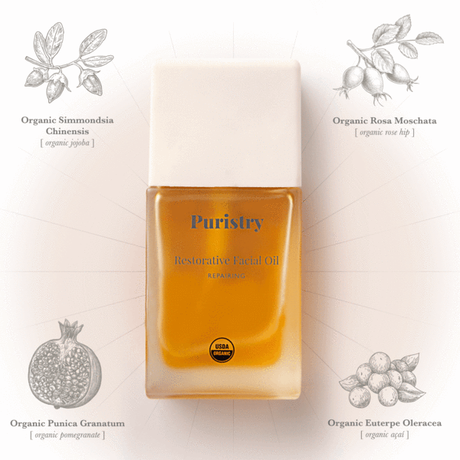 Rosehip Oil for Acne
Acne sufferers can use rosehip oil as a moisturizer. Acne is sometimes caused by the body increasing oil production in order to compensate for dry skin. Rosehip oil can also help because it is a dry oil meaning it is absorbed quickly and leaves no greasy residue.
Another issue with acne is that acne bacteria can reduce collagen and leave behind acne scars or hyperpigmentation. The antioxidants in rosehip oil, specifically Vitamin C, help prevent and repair the uneven skin tone left behind by acne outbreaks.
Rosehip oil can be used alone or in combination with other products. Regular use can also improve these skin conditions:
Stretch marks
UV damage
Surgical scars, burns, and acne
Eczema
Psoriasis
Wrinkles
Hyperpigmentation
Dermatitis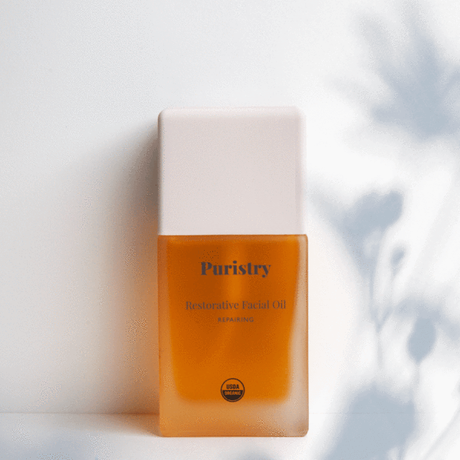 Puristry Skin Care
Rosehip oil is the featured oil in Puristry's Restorative Facial Oil. The organic vegan formula contains a synergistic blend of cold pressed oils which include Jojoba seed oil, Pomegranate seed oil, Blackcurrant fruit oil, Acai fruit oil, Green tea leaf oil, Black cumin seed oil, Bergamot fruit oil, Cedarwood bark oil, Vetiver root oil, Sage oil, and Lavender Oil-all the best nature has to offer.
The oils in this blend were chosen for their individual benefits as well as their ability to work together. The formula is chock full of essential fatty acids, antioxidants, and vitamins that are ultra antiinflammatory.
Rosehip oil readily absorbs into the skin and can be used alone or in combination with other products. Incorporate Restorative Facial Oil into your current skin care regimen or consider using it as Step 4 in Puristry's 6-step skincare routine. No worries if the product is not for you. Items are returnable if purchased in the last 45 days.
References:
The Correct Way to Use a Facial Oil
Beauty Bloggers Share 19 Skincare Secrets You May Not Know