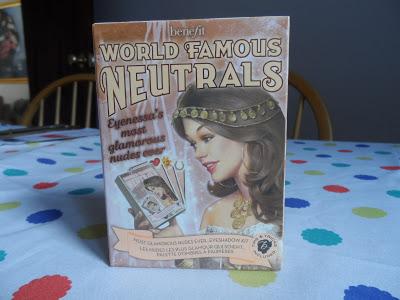 Benefit World Famous Neutrals
I've been a bit under the weather recently, so my mum, being the oh so generous mom that she is, bought me a little treat from my favorite make-up haunt, Benefit, to cheer me up...and did it ever!
Benefit launched their World Famous Neutrals kit a little while ago, and I have wanted to try it out ever since, but have never got round to buying it...I always feel a bit naughty when I buy Benefit goodies for myself, I usually save them for birthday and
Christmas
present wish lists, as the price points are slightly on the high side.
Anyway, back to the product.
The packaging is Benefit at its best - kitsch, cute, stylish and gorgeous, with a beautiful illustration of "Eyenessa" on the front. The sweet little box opens up to reveal a set of 4 pressed eye shadows and 2 cream eye shadows, all in stunning neutral shades, ranging from barely there nude to a deeper natural brown.
"Birthday Suit" is the first cream shadow. It's a slightly nutty brown with almost a hint of plum. It glides on easily and leaves a gorgeous crease free finish. I haven't tried out the longevity of the cream shadows yet, but I have in the past and they all last well, better if you apply a primer first.
"My Two Cents" is the second cream shadow and is a more bronzy shade. Again, it has a lovely creamy consistency and glides on well.
The 4 pressed shadows are "Call My Bluff," a barely there nude, which leaves just a glimmer of natural colour, "It's Complicated," a soft pinky bronze, "Gilt-y Pleasure," a natural, subtle gold and "Kiss Me, I'm Tipsy," a beautiful plummy brown.
The kit also includes a mirror for on the go touch ups and a fold out "Tips and Tricks" guide for ideas on how to create gorgeous day and night looks.
I really love this kit, it incorporates all the things I love about Benefit, with my favorite shades of eye shadows. The best thing, these colours suit pretty much every skin colour, so it's a great treat for you or will make a fab gift.
Have you tried out this sweet little kit? What are you thoughts on Benefit make up? Enjoy x